For the last four years, it has been something of a Mercedes procession in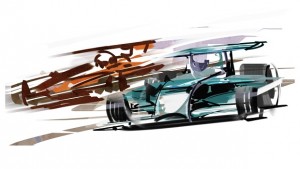 Formula 1. Lewis Hamilton in 2014, 2015 and 2017 and Nico Rosberg in 2016 have claimed the last four Driver's Championship and Mercedes in each of those seasons have pretty much had the Constructors Championship crown sewn up with a fair few races left to go in each season.
However, testing before the 2018 F1 season got underway seemed to show that Ferrari and Red Bull in particular had started to reel in Mercedes, while the performance of the Mercedes car was seemingly starting to be problematic.
This is not a rare occurrence though, these pre-season false dawns have occurred in previous seasons too but for the 2018 season following the opening 3 races of the calendar, it does look like being a very interesting year in Formula 1
The F1 Season So Far
The season began on March 25th in Australia as is customary and it was the tactical nous of Sebastian Vettel and Ferrari that saw them clinch victory ahead of Lewis Hamilton who cut a frustrated figure in second. Ferrari's other driver finished third on the podium to signify a great start to the season for the Tifosi
In Bahrain, Vettel was once again dominant, holding off Valtteri Bottas to take his second win of the season and ensure he put maximum points on the table after two races. Hamilton finished third once again and was not happy with the balance of his car, with the three cars well ahead of almost all the other cars in the race.
Then on the 15th April, the China Grand Prix saw another second place finish for the flying Finn Valtteri Bottas while Kimi Raikkonen claimed another third spot for Ferrari. However it was Daniel Ricciardo who claimed the win with some fantastic driving for Red Bull. Lewis Hamilton finished fourth with Sebastian Vettel a lowly 8th place on the grid after a clash with Fernando Alonso earlier in the race.
Driver's Championship Standings (after 3 races)
Sebastian Vettel (Ferrari) – 54
Lewis Hamilton (Mercedes) – 45
Valtteri Bottas (Mercedes) – 40
Daniel Ricciardo (Red Bull) – 37
Kimi Raikkonen (Ferrari) – 30
Fernando Alonso (McLaren) & Nico Hulkenberg (Renault) – 22
Max Verstappen (Red Bull) – 18
Pierre Gasly (Toro Rosso) – 12
Kevin Magnussen (Haas) – 11
Stoffel Vandoorne (McLaren) – 6
Carlos Sainz Jnr (Renault) – 3
Marcus Ericsson (Sauber) – 2
Esteban Ocon (Force India) – 1
Constructors Championship
Mercedes – 85
Ferrari – 84
Red Bull – 55
McLaren – 28
Renault – 25
Toro Rosso – 12
Haas – 11
Sauber – 2
Force India – 1
How has this affected the betting on the F1 Outrights?
Mercedes less than stellar start to the campaign has seen the odds drift on both Lewis Hamilton and the constructor in the outright betting markets. Hamilton, who had started the season as the clear favourite to land his fifth F1 World Championship, is now the 11/10 second favourite with Coral Sport behind Sebastian Vettel who is a 10/11 shot. Outside of those two though, you get longer odds on the other drivers.
Valtteri Bottas comes next at 20/1, with Max Verstappen 33/1 alongside team mate Daniele Ricciardo. Ferrari's Kimi Raikkonen at 50/1, is the only other driver that is rated as a better than 500/1 chance to win the championship.
In the constructors betting, Mercedes who were massively odds on at the start of the season have seen their odds drift out to 4/7, still odds on to win but less than what they were. Ferrari have come right in to 11/8, while Red Bull are the only other team rated below a 2000/1 chance with Coral at odds of 9/1.
When and where are the remaining races in the 2018 season?
The remaining 18 races and their respective dates are as follows:
29th April – Azerbaijan Grand Prix (Baku)
13th May – Spanish Grand Prix (Barcelona)
27h May – Monaco Grand Prix (Monaco)
10th June – Canadian Grand Prix (Montreal)
24th June – French Grand Prix (Le Castellet)
1st July – Austrian Grand Prix (Spielberg)
8th July – British Grand Prix (Silverstone)
22nd July – German Grand Prix (Hockenheim)
29th July – Hungarian Grand Prix (Budapest)
26th August – Belgian Grand Prix (Stavelot)
2nd September – Italian Grand Prix (Monza)
16th September – Singapore Grand Prix (Singapore)
30th September – Russian Grand Prix (Sochi)
7th October – Japanese Grand Prix (Suzuka)
21st October – United States Grand Prix (Austin)
28th October – Mexican Grand Prix (Mexico City)
11th November – Brazilian Grand Prix (Sao Paulo)
25th November – Abu Dhabi Grand Prix (Abu Dhabi)
Which driver will come out on top in 2018?
Looking at the performances in the first few races, it does appear to be a straight race between Lewis Hamilton and Sebastian Vettel for the driver's championship. Although Daniele Ricciardo's win in the last race was welcome, the two main contenders are in more reliable cars and crucially, quicker ones.
Hamilton's problems early in the season will likely be overcome in the coming weeks, but in this time period, Vettel will look to try and extend his lead over his British rival. This has happened in the past, with Hamilton clawing in Vettel a couple of years ago to win the title.
As the odds from Coral suggest, it is a toss up between the two at the moment, but history suggests that any issues Mercedes may have early in the season, tend to be worked through and as a result when that happens they dominate. As such, while Hamilton is better than even-money, I would strongly suggest him as the better value bet.
Vettel has supreme talent though and if Ferrari can keep pace with Mercedes in terms of development, then he stands a good chance of ending Mercedes dominance. However that is a very big 'if' based on past seasons performance.
Which constructor will come out on top in 2018?
For me, Mercedes are the sensible bet here. Even with a car not at its best they have produced very consistent results finishing second in each race contested and usually in and around the podium. When the car is improved to how their drivers like it, then I feel Hamilton and Bottas will score more than enough points to secure a fifth title in a row for the German team.
The next race of the season takes place in Azerbaijan at the weekend and it is sure to be an interesting one after the events of the last race in China.