After an exciting pre-season, where all teams played four warm-up fixtures to get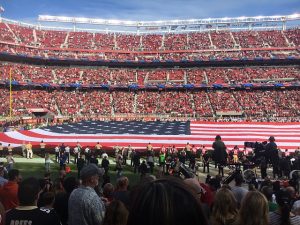 themselves ready for the big kick-off, the new NFL season gets underway this coming weekend with the first game taking place in the early hours of Friday morning as the current Superbowl winners, the Philadelphia Eagles, take on the 2017 Superbowl losing finalists, the Atlanta Falcons.
The match is a repeat of a playoff encounter between the teams in January 2018 when the Eagles came out on top 15-10 in an exciting clash that saw just two touchdowns scored (one for each team).
We're going to bring you our tips for the teams to watch for the forthcoming NFL season, with a view to the team potentially being a Superbowl contender. All odds in this article are provided by bet365 Sport (and you can sign up with the latest bet365 Sport Welcome Bonus by following the link).
All odds stated in the article were correct as of 11am GMT on Wednesday 5th September 2018.
NFL Week One Fixtures
Atlanta Falcons @ Philadelphia Eagles
Buffalo Bills @ Baltimore Ravens
Cincinnatti Bengals @ Indianapolis Colts
Houston Texans @ New England Patriots
Jacksonville Jaguars @ New York Giants
Pittsburgh Steelers @ Cleveland Browns
San Francisco 49ers @ Minnesota Vikings
Tampa Bay Buccaneers @ New Orleans Saints
Tennessee Titans @ Miami Dolphins
Kansas City Chiefs @ Los Angeles Chargers
Dallas Cowboys @ Carolina Panthers
Seattle Seahawks @ Denver Broncos
Washington Redskins @ Arizona Cardinals
Chicago Bears @ Green Bay Packers
New York Jets @ Detroit Lions
Los Angeles Rams @ Oakland Raiders
Our Week One Money Line Accumulator
Looking at the games above, I have decided to put the following five results together for my first NFL Money Line accumulator of the year:
Philadelphia Eagles to beat Atlanta Falcons – 10/13
Houston Texans to beat New England Patriots – 11/5
Miami Dolphins to beat Tennessee Titans – Evens
Carolina Panthers to beat Dallas Cowboys – 20/29
Los Angeles Rams to beat Oakland Raiders – 10/21
Placing this fivefold accumulator with bet365 Sport means I would get odds of 27.24/1 on the bet. This means a £10 stake would return £272.40 in winnings, plus you would also get your £10 stake money back.
Who Stands a Chance of winning the Superbowl?
One of the most popular bets made at this point of the NFL season is on which team out of the 32 possibilities, will go on to be the Superbowl Champions in February 2019. To claim the Superbowl win, teams will play a 16-game regular season, followed by at least three (possibly four) games in the Playoffs, of which they must win all of those games.
This is an arduous task for even the best teams and factors such as the weather conditions, injuries to players and even calls by the officials can have a massive influence on a team's chances over the course of the season.
However, from the current crop of 32 teams there are a number of stand outs for teams who could well be in the mix.
Outlined below are the current odds with bet365 Sport on all 32 teams winning the Superbowl in February 2018.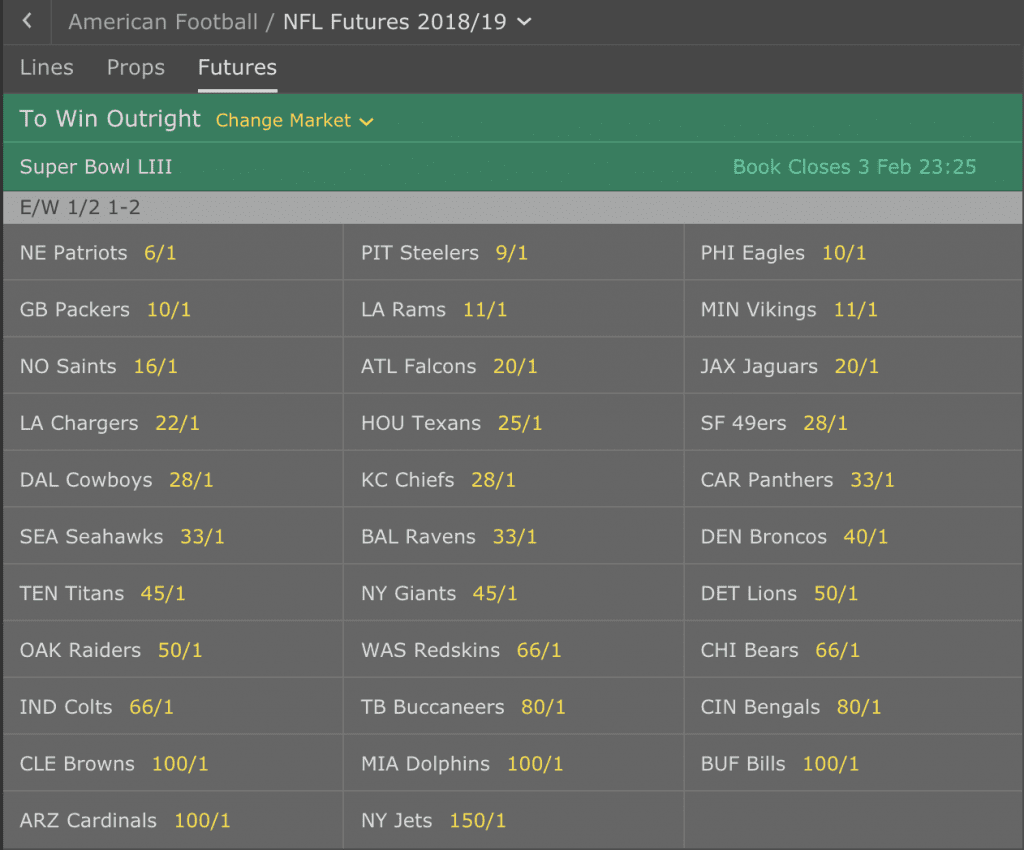 *Odds correct as of 11am on Wednesday 5th September 2018\
Teams to consider as potential Superbowl winners
I have created this list in order of the teams I feel are most likely to win the Superbowl
Los Angeles Rams – 11/1
The Rams were excellent last season in the regular season, winning their division. The NFC West, in style, they faded a little in playoffs, ostensibly down to the injury to quarterback Jared Goff. However with Goff now fit, the key members of that young squad back for this season and the off-season signings of veterans Marcus Peters, Aqib Talib, Brandin Cooks and Ndamukong Suh, this is an explosive team stacked with talent on both sides of the ball. Having a relatively comfortable division will help them and if they can secure homefield advantage in the playoffs, they'll be incredibly tough to beat.
Houston Texans – 25/1
Injuries to quarterback DeShaun Watson and defensive lynchpin JJ Watt derailed the Texans last season and if both of these key men can stay fit, then the Houston team have the potential to be the AFC's representative in Georgia in February. They have a tough start away to New England, but this is a Texans team with a mighty offense and they should have beaten the Pats last season. I think they'll do so this year and could well be the surprise team in the AFC. However so much does defend on Watson and Watt both staying fully fit for the full campaign and that has been their Achilles heel in recent years.
Pittsburgh Steelers – 9/1
If the Texans are not going to be the AFC's representatives in the Superbowl, then I think the team most likely to be there instead of them is the Steelers. This is a talented and experienced team which, even with LaVeon Bell's contract holdout still ongoing, still have enough talent on offense to score plenty of points, even against the most talented of defences. Their issue may well be stopping points being scored against them, with the relatively modest offenses of Jacksonville and Baltimore running up 45 and 38 points against them last season.
Minnesota Vikings – 11/1
A very talented defensive side, the Minnesota Vikings added some silk to that steel last season to qualify for the playoffs and they produced some outstanding football, with a last gasp victory over the New Orleans Saints before they were eventually well beaten by 38-7 by the eventual Superbowl Champions, the Philadelphia Eagles. That team is largely back this year and with some talented new additions, meaning that they should be set once again for a real tilt at the Superbowl.
Jacksonville Jaguars – 20/1
Without doubt, the Jaguars possess the most talented defense in the NFL at the present moment and in recent times, several Superbowl winners, most notably the Denver Broncos in 2016, have been built upon the most solid of defensive foundations. The reason I rank Jacksonville lower than many would expect with such a talented defense is simply their quarterback situation as I don't feel that Blake Bortles is good enough to win a Superbowl and also the disciplinary issues that could potentially disrupt their season, notably surrounding talented cornerback Jalen Ramsey.