Many people have assumed that with several prominent racetracks closing, that the death knell was being sounded in the Greyhound Racing industry.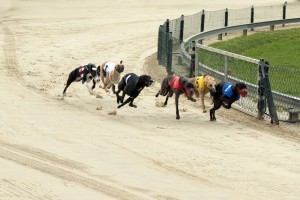 However, thanks to new sponsorship deals and a thriving audience which peaked at almost three million spectators last year, not to mention the additional excitement due to the availability of online and mobile betting it is fair to say Greyhound Racing is undergoing a muted rebirth in the UK.
This is further enhanced by regular TV coverage of meets on Sky Sports thanks to its Sky Dogs TV show throughout the year.
Let's start to understand Greyhound Racing's important place in the UK betting scene by examining a little about its history as a sport in the UK.
A potted history of UK Greyhound Racing
The first greyhound racing meeting in the UK took place in 1926 at Belle Vue Stadium in Manchester. An American, Charles Munn had brought his idea of racing dogs from the United States, where it was already established, keen to find backers in the UK, which already had a burgeoning betting and racing industry thanks to the well-established horse-racing scene.
The meet proved a success and by 1927, there were 40 tracks across the UK. The sport peaked in popularity in the austere times after the Second World War, when attendances were over ten times what they are nowadays.
After suffering decline from the 1960s through to the 1990s, the birth of the online betting industry, combined with new sponsorship and television rights have halted the decline of the sport and attendances are now at a sustained and relatively healthy level.
What are some of the benefits of Greyhound betting compared to horse racing betting?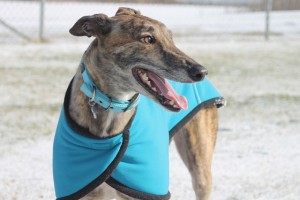 Initially, it may appear that compared to horseracing which can have more runners, thus more variance across betting and greater differential in ability, greyhound betting is the poorer relation. However, eagle-eyed punters will have already realised that these so called 'limitations' can actually be a boon for the profit-seeking punter.
Indeed, there are many reasons why greyhound racing remains a very popular betting activity today compared to horseracing betting and some of these key features are detailed below:
Each greyhound race has six runners, with the same six colours of vest attributed to the trap the greyhound is drawn in. This makes it very easy to pick your dog and follow it on the track when it is racing.
The fact there are six runners in a race also makes each way betting far easier as only the top two are ever paid out in a greyhound race.
Given that greyhound races are generally much shorter than horse races both in length and duration, this means that the typical greyhound meeting will have considerably more races in the same time span, or shorter time span, than a typical horse racing meeting. This gives the punter more betting opportunities.
Greyhound meetings can be held during the day and also at night time. Only a few racetracks in the UK are equipped to host horseracing during the evening.  This also allows TV companies to schedule events during the evening when they can attract more viewers and larger attendances than during the daytime.
There is still a good range of odds across the six runners in a typical greyhound race ranging from odds on favourites to the longer priced outside bets.
The unpredictable nature of greyhound racing where dogs can position themselves poorly, be impeded, run wide or even be tripped means that even races with a clear favourite can still be unpredictable in the same way a horse race is unpredictable.
There's no close season for greyhound racing so like horseracing, it can be bet upon throughout the year.
Bet365 Greyhound Offer 1 – Best Odds Guaranteed
Bet365 offer a similar deal to their greyhound betting customers as they do their horse racing punters in that regardless of whether the punter takes the early price on offer for the dog during the day, or the starting price, whatever is the best price out of the two, will be the odds they are paid out at.
This means you can place a bet at any time during the day safe in the knowledge that your returns will always be the maximum amount possible should you win.
Bet365 Greyhound Offer 2 – Sky Dogs 2/1 Offer
Several times during the month, Sky TV will visit one of a number of tracks to bring customers live coverage of a greyhound meeting. The Sky Dogs 2/1 offer is a very similar promotion to the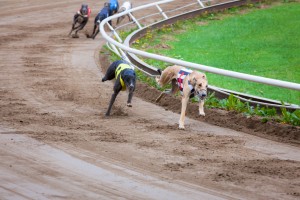 ITV Racing 4/1 offer for horseracing.
Simply put, place a bet on any greyhound race shown live on Sky TV and if your dog wins at odds of 2/1 or greater, then SkyBet will offer you a risk free bet on the next live race to the same stake as your previous winning bet (maximum value £100).
If your risk free bet wins, then you receive your payout as per normal PLUS another risk free bet on the next live race if your dog was odds of 2/1 or better. If your bet loses, then SkyBet will refund your stake as a free bet. You can realise up to £500 worth of risk free bets each day there is live greyhound racing on Sky TV.
Bet And Watch Live Greyhound Racing Streaming With Bet365
One of the best features with Bet365 is that you can watch extensive coverage of a great many greyhound races across the UK from both major service providers via your Bet365 Account in one of two ways through the Bet365 Live Streaming service.
If your race is being shown by the RPGTY Races service then the only qualification to watch the stream is that you have a funded account, or have placed a bet within the last day in order to qualify to watch the stream on your PC or mobile device free of charge.
On the other hand, if you are watching a race covered by BAGS Live Streaming service then you need to have placed a win bet of £0.50 or an each way bet of £0.25 on the day of the race in question in order to watch the race being live streamed on your choice of device.
Bet365 also provides a number of other streams of greyhound races and the minimum bet requirement to watch Live Streams of these races is £1.  You can then tune in to Bet365 Live Streaming to tune in to the race a few minutes before it starts.