How would you like the chance to win a cash prize of up to €100, or maybe even the top prize of a fantastic iPad Mini 2 tablet every day? Well if that sounds like something you would be interested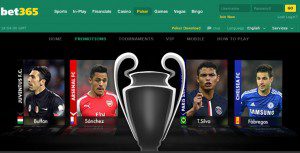 in then you need to hurry down to Bet365 Poker and participate in the last few days of their Team of Champions promotion.
The offer runs until the 2nd March, so you have this coming weekend to participate in this exciting, Champions League-themed promotion.
The Team of Champions is a very simple offer to participate in and the great news is that you can build your team up at the rate you want to. Play enough over the weekend and you could still earn yourself not just a guaranteed bonus, but also a chance of winning a prize in the daily prize draw.
Of course, you can't enter if you haven't signed up an account at Bet365. If you are not a member of Bet365 Poker, then there has never been a better time to join with a brand new revamped new player offer. Click here for all the latest Bet365 sign up bonus codes and information to ensure you can participate in this and other promotions.
Team of Champions structure explained
The aim of the Team of Champions promotion is for players to build up a team of 11 players from the Champions League. They win players for their team by earning tickets. Tickets are earned by earning a stated number of coins by playing real money poker games on Bet365 Poker, with the chance to earns twice as quickly by playing in the Premium Table games.
Once a player has earned a certain number of tickets, these tickets are traded in for the next player in your team. Once you have completed your team then you progress onto the next phase of the competition, right from the round of 16, through to the quarter finals, semi finals and the final.
As you complete your team at each stage, you win yourself a guaranteed bonus prize which starts at €1 for the round of 16, €5 for the quarter finals, €20 for the semi finals and lastly €50 for the final.
You need to earn 2 coins per player at the Group Stage, 10 coins to gain a player for your team at the Round of 16 stage, 50 for the quarter finals,  200 coins per player for the semi finals and finally 500 coins per player in the final section.
The amount of coins you need to earn to win a player for your team increases as you progress through the tournament. However, by playing on the Premium Tables you can earn coins twice as quickly as playing on other tables on Bet365 Poker.
Daily prize draw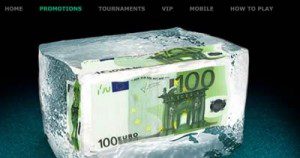 To sweeten the deal and to give players a chance of winning money even if they don't manage to complete the team they are working on currently, Bet365 Poker also run a daily prize draw for any player that has earned a card for their team within the previous 24 hours.
Of course, the more players you earn for your team in the preceding 24 hours, the more prize draw entries you will earn for the next prize draw and thus, you'll have more chance of winning a prize.
Every day there are a total of €1,500 in prizes available in the draw, which includes a top prize of a fantastic iPad Mini 2, as well as cash prizes of the following amount:
2nd and 3rd places – €100
4th and 5th places – €50
6th to 10th places – €25
11th to 20th places – €15
21st to 50th places – €10
51st to 100th places – €5
101st to 200th places – €2.50
Remember, every day the promotions runs through until the 2nd March, you will be able to qualify for a daily prize draw just by earning one player for your team, so that means you'll still have several prize draw entries open to you over the course of the weekend.
Each prize draw is a random draw, so whether you have got one prize draw ticket, or the maximum possible 11, you can still win a prize. All that you need to know is that to win it, you've got to be in it.
Mobile friendly
The Team of Champions promotion is available for Bet365 players who play via mobile as they can earn their coins by playing on the cash table games and rush poker games available on the downloadable app.
Better still, mobile players can also access the Premium Tables and earn their coins at double the rate of other cash games, sit and go's and multi table tournaments on the site.
You can download the Bet365 Poker app from the Bet365 Poker mobile site and there is a download available for Android and Apple devices.
Opt In Now
To participate in this promotion you need to Opt In to it by clicking on the button on the promotional page of the offer on the Bet365 website. Once opted in, all your real money playing on the site will contribute towards you earning your next ticket.
Remember you only have until the 2nd March to participate but that still means there are three more iPad Mini 2's up for grabs, plus almost €5,000 in prize money to be won.