This weekend one of the biggest annual sporting spectacles in the world will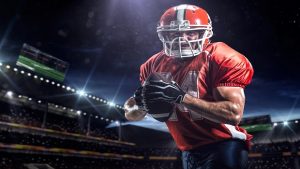 take place in Minneaopolis, Minnesota as the New England Patriots take on the Philadelphia Eagles in Superbowl LII.
The game is live in the UK on BBC TV and also Sky Sports and kicks off at 11.30pm UK Time on Sunday evening. As well as 60 minutes of top class Gridiron between the two outstanding teams of the year, fans will also get to see Pink sing the US National Anthem prior to the game, while Justin Timberlake will be the focus of the spectacular Superbowl Half-Time Show.
This is a massive sporting event, watched by an audience of billions across the globe, and interest in betting on such a huge sporting event is always very big. Which is why you should check out all the different betting markets and promotions available that you can find at Coral Sport.
We'll bring you some of our top tips for the Superbowl later, but first let's take a quick look at how both teams reached the Superbowl this year and some of their key personnel.
Superbowl LII Preview – New England Patriots
Factfile
The Patriots are based at Gillette Stadium in Foxborough Massachussets and they were formed in 1959, playing their first season in 1960.
Current Head Coach Bill Belichick has led the team to 8 AFC Championships (they have a 10 in total).
The Pats have also won the AFC East title every year since 2009 (9 years in succession)
Under Belichick, the Pats have won five Superbowl titles in 2001, 2003, 2004, 2014 and 2016.
They have also lost four Superbowl games in 1985, 1996, 2007 and 2011.
The ten Superbowl appearances made by the Patriots including this year, is an NFL record.
Their five Superbowl victories ties the NFL record with the Pittsburgh Steelers. A win at the weekend will see the Patriots be the outright leader with six Superbowl victories.
They also hold the record for the biggest ever comeback in Superbowl history with last year's win over Atlanta Falcons when they trailed 28-3 at one point but came back to win 34-28, scoring 25 unanswered points in the fourth quarter and overtime.
How the Patriots reached the Superbowl
1st in AFC East (13-3 record) – Seeded 1st in AFC Playoffs
Wildcard Round – Bye
Divisional Playoff – v Tennessee Titans (won 35-14)
AFC Championship – v Jacksonville Jaguars (won 24-20)
Patriots Star Men
Tom Brady (Quarterback), Rob Gronkowski (Tight End), James Harrison (Linebacker), Danny Amendola (Wide Receiver), Brandin Cooks (Wide Receiver)
Superbowl LII Preview – Philadelphia Eagles
The Philadelphia Eagles were founded in 1933 and play their games at Lincoln Financial Field in the city of Philadelphia.
Their current head coach is Doug Pederson who was appointed in January 2016 after former head coach Chip Kelly was fired. He has led the team to their first NFC Championship victory since 2004 this season.
The team also won the NFC east for the first time since 2013 this season. They have won the NFC East ten times in total.
The team have competed in a total of two Superbowls prior to this year losing in both, 27-10 to the Oakland Raiders in 1981 and then losing 24-21 to the New England Patriots in 2005.
How the Eagles reached the Superbowl
1st in NFC East (13-3 record) – Seeded 1st in NFC Playoffs
Wildcard Round – Bye
Divisional Playoff – v Atlanta Falcons (won 15-10)
NFC Championship – v Minnesota Vikings (won 38-7)
Eagles Star Men
Malcolm Jenkins (Safety), Alshon Jeffrey (Wide Receiver), Jay Ajayi (Running Back), Nick Foles (Quarterback), Zach Ertz (Tight End) Fletcher Cox (Defensive Tackle)
The Eagles star quarterback Carson Wentz, who had enjoyed a stellar season in 2017, is out on injured reserve after being injured in Week 14 of the Regular season.
Where will Superbowl LII be decided?
One of the most intriguing aspects of Superbowl LII is that it is going to be a tactical battle between the two head coaches. The Eagles approach to the game is likely to be similar to most games they have played this season. Their defense has been rock solid and their offense, while unspectacular, does not have a real weak area, nor a great strength.
That will be interesting as New England's main defensive tactic is to take away their opponents biggest offensive strength and to force them to try a Plan B against them. Against the Eagles, that is not going to work as the Eagles offense is very well balanced, even with Wentz out injured and Foles in as his replacement at quarterback.
In terms of winning the game, if New England can keep Tom Brady in the pocket and give him time to pass, then they will likely win the game. Brady is almost unstoppable at times especially if he is given time and with his intelligent receivers making runs and cuts, if the Eagles cannot get to Brady then their chances are slim.
However, if the Eagles defense can get to Brady and pressurise him, then England's big offensive gameplan can come undone. Teams that do well against the Patriots are those that force Brady out of the pocket and to use his legs, which a 40 year old quarterback does not want to do. If the Eagles defensive line can do that, then they stand a superb chance of winning.
Nick Foles can put points up against any defense in the league and the Patriot's defense, while much improved, is still not one of the elite units, especially when they are facing a very balanced offense. The key is whether the Eagles defense can stop Brady marching upfield. If they can, the Eagles will win.
Our top Superbowl LII Tips from Coral Sport
On the Money Line bet with Coral, the New England Patriots are the 4/9 favourites to win the game, with the Philadelphia Eagles a 7/4 outside chance. My advice is to take the 7/4 available on the Eagles to snatch their first Superbowl win.
The reason for this is simply I think the Eagles have a more rounded team than the Patriots who rely. Heavily on defensive scheming to stop one key player and on Tom Brady's brilliance. I don't think the Patriots can scheme that effectively for such a well-balanced offense as the Eagles have and I also think the Eagles defence can rattle Brady.
I think it will be close, but I am backing the Eagles to stun the world and claim the win here.
I think there are a number of outstanding betting options here in a game that I think will see an above average number of touchdowns compared to most Superbowl games. My trio of choices here are as follows:
Rob Gronkowski (New England) – Even money
Zach Ertz (Philadelphia) – 7/5
Danny Amendola (New England) – 23/10
Finally, I'd wrap things up with a bet on the Over/Under 47.5 points market with Coral and I'd take the 10/11 on offer on there being Over 47.5 points in the game.