It's been a little while since Sky Poker first released their "Spin Up" tables onto the site and it is fair to say that this new version of a cash table game has been enjoyed by many customers since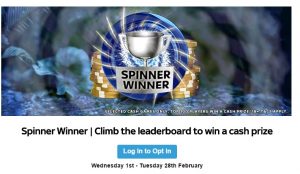 its release. However there has never been a better time to play Spin Up poker with Sky Poker than this month thanks to their Spinner Winner promotion.
We'll learn more about Spin Up poker and this promotion at Sky Poker below, but first if you would like to participate then you need to be a Sky Poker customer. Click on the following link for the latest Sky no deposit bonus information and everything you need in order for you to sign up easily and quickly.
Let us now begin by taking a brief look at what Spin Up poker actually is, before we examine how the new Spinner Winner promotion at Sky Poker operates.
How do I play Spin Up Poker at Sky Poker?
The Spin Up tables are located in the Cash Games section of the Sky Poker site or app and you can play for a wide variety of stakes, ranging from £0.10/£0.20 microstakes games, up to £5/£10 games for those who prefer to play for a little more cash.
Essentially, Spin Up poker is a cash table game but with one crucial difference and that is that the players playing Spin Up poker are only allowed to take a very small amount of money to the table with them.
The maximum buy in a player can bring to the table is ten times the big blind, with the minimum buy in just three times the big blind. So what this means is that if you want to play at the £5/£10 tables, the maximum you can sit down with is £100, the minimum is £30.
Other than this single rule, the remainder of the game is exactly the same as you would find at any other cash table game in terms of how the dynamics of a hand plays out. That includes all the betting rounds and how the cards are revealed.
The net effect of having such a small buy in is that more players can afford to play these games at higher levels  and also that players are forced into acting more quickly as with every Small and Big Blind they pay, a significant chunk of their cash is eaten away. As such, the action at the Spin Up tables tends to come a lot more frequently and also over a wider range of starting hands, than you would find at a typical cash table.
What this means is that Spin Up Poker is certainly a faster and more volatile game than you would find at an ordinary cash table. Large amounts can be won relatively quickly as players are forced All-In with a great deal more frequency, yet with the buy ins being relatively small, the amount you could lose is also mitigated.
How does the Spinner Winner promotion work?
The first thing you need to do when you want to play in this promotion is head on over to the page on the Sky Poker website or app that outlines the promotion. Here you will find a blue Click to opt-in button, which you need to click whilst logged in to your Sky Poker account.  You can also enter the code SPINUP on the Bonuses section when you click on the My Account tab.
Once you have opted in to the promotion using either of the above methods, you can now head to the tables and start to play. The only exception to this is if you are a Priority Club member with Sky Poker, who are not allowed to participate in this competition.
The competition runs on a weekly basis with four qualifying weeks:
Week 1 – Wed 1st to Tue 7th Feb
Week 2 – Wed 8th to Tue 14th Feb
Week 3 – Wed 15th to Tue 21st Feb
Week 4 – Wed 22nd to Tue 28th Feb
The competition is a league basis, which means that players are ranked according to how many Sky Poker points they earn in the Spin Up tournament. To earn points, a player simply has to play at the Spin Up tables and earn themselves Sky Poker points each day. Every day, all players competing in the promotion have their points total recorded and each day the top 100 players are ranked in terms of the number of Sky Poker Points earned at the tables.
When the rankings are completed for that day, the player that finished first receives 50 League Points, the second player gets 45 League Points and so on all the way down to those players finishing 51st to 100th on the daily table who will receive 5 League Points each.
Over the course of the week the number of League Points accrued by each player is added up and the League Table is produced and updated each day to show you clearly which players are in position to win a share of the cash available.
At the end of the qualifying week, the final leaderboard is shown and the players ranked from 1st to 100th will earn a cash prize ranging from £1,000 for the player finishing first down to £10 for those players finishing 51st to 100th in the competition.
Once the qualifying week is complete at just before midnight each Tuesday in February, the points values for all players are reset and a new competition begins at midnight on Wednesday.  There is a total prize fund available of £5,000 every week to be distributed amongst the top 100 League Points scorers in the competition.
Are there any tips for maximising my chances of earning cash from this promotion?
The one key thing to remember for this promotion is that your Daily League Points award is based on the number of Sky Poker Points you earn playing at the Spin Up tables only. While you can play any Spin Up game to qualify for this offer, the amount of Sky Poker Points you earn is directly related to the size and amount of money you bet.
Therefore, if you want to stand a better chance of success in this offer, you need to play at a table which not only can you afford, but which will generate the larger amounts of Sky Poker Points on each hand you play that you need in order to finish higher up the Daily League table.  As such, players need to target the higher value Spin Up games in order to maximise their chances of earning some cash through this promotion.