Plus ca change, plus c'est la meme chose is the famous saying, translating as "the more things change, the more they stay the same" and in truth, in the betting and gambling industry, it is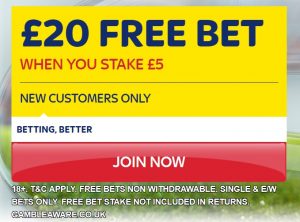 rare that  a company will go back to a previous offer to entice new customers to join the site.
That is of course unless it is such a great value introductory offer that it is quite simply screaming out to be used again to attract a new generation of punters to the site.
That is precisely what has happened at the fantastic sports betting site SkyBet who have replaced their previous sports betting sign up offer with the return of one of their most popular ever deals. Stake £5 and you will receive £20 worth of free bets as a new customer with SkyBet.
If that sounds good enough for you to sign up then don't delay, follow the forthcoming link https://www.skybet.com/lp/acq-bet-5-get-20?sba_promo=BRD5GTJ20&btag=a_1171b_2c_ now and you can be signed up and having those free bets in your SkyBet account in no time.
Alternatively, if you would like to learn a little more about SkyBet and it's great value introductory offer for new customers, then read on but it is worth remembering that this may well be a limited time offer, so you are best taking full advantage of it now before SkyBet replace it with a different offer once again.
What is SkyBet?
SkyBet is the sports betting platform of Sky's online gambling suite. It was the first of the many different Sky sites to be devised and it sits alongside its sister sites Sky Poker, Sky Vegas, Sky Casino and Sky Bingo offering customers a wealth of different betting and gambling options all from a single account.
That's because no matter which Sky product you use to sign up with the company, your account is deemed a SkyBet account. You then use this single account to play on any of the Sky family of sites using the same log in for each.
This is important to note as unlike Bet365, who allow you to take advantage of each individual sign up offer for each of their sites, with Sky's family of sites you can only use one sign up offer when you join any of the five sites. Once you have signed up, you cannot use any of the other offers.
With SkyBet, the options you have are all sports betting based with options available on a wide choice of sports, with particular focus on the sports that have a strong relationship with the Sky Sports television channels. That means sports such as American Football, Darts, Football, Cricket, Golf and Motor Sport all have excellent coverage on SkyBet in support of their showing on Sky's dedicated sports channels.
SkyBet offers punters good value betting promotions by means of its Enhanced Accas and Price Boost promotions which are available each day on the site. The site will also run plenty of other promotional items for specific sporting events across a wide range of sports, most notably football, tennis, darts and golf.
You can also use your SkyBet log in details to play in a number of free to enter games such as Soccer Saturday's Super 6 prediction game (which can see prizes of £250,000 or even £1,000,000 up for grabs), Sky Sports Fantasy Football, Sky Sports Six-A-Side Fantasy Game and the Sporting Life Pick 7 Horse racing prediction game.
Sky also offer a Request-a-bet service via their Twitter feed which allows punters to request odds on a bet that they have put together. Sky will then review the bet and if they are able to, offer the punter odds on the bet.  At the moment, you can receive a free £5 bet when you place two £5 RequestABet wagers on the same football match with SkyBet as a special bonus offer.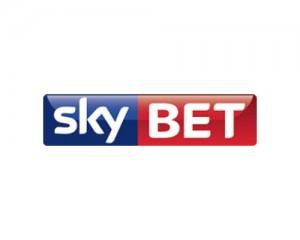 Bet £5 Get £20 Free Bet Sky Bet Offer Explained
SkyBet's best value promotional offer is back and available to all new customers who do not hold an account with any of Sky's family of sites.
To access the offer all you need to do is follow these simple steps:
Step 1 – Head to SkyBet and click on the Join Now button.
Step 2 – Enter your details to register with SkyBet as a new customer.
Step 3 – Deposit at least £5 into your SkyBet account – not using Moneybookers or Neteller.
Step 4 – Peruse the Sports Betting markets until you find a bet that you would like to place that has odds of even money or better available on it with SkyBet.
Step 5 – Click to add this bet to your Bet Slip and place a bet of at least £5 on that selection in a single transaction.
Once your bet has been accepted and your account confirmed as being from a genuine new Sky customer then you will receive your £20 worth of free bets in the form of two £10 Free Bet tokens.
Free Bet tokens are non-withdrawable and if your Free Bet stake generates a return, then your stake money is not included in those returns.
That means if you use one of your £10 free bets on a win bet on a selection of 2/1 and your selection wins, then you would receive back £20 in cash, not £20 in winnings plus your £10 stake returned as you would for a bet placed with your own cash.
You can use your free bets on any Single or Each Way betting market.
Free £5 Bet Each Week With Sky Bet Club
In addition to this exciting offer from SkyBet, you can continue to receive free bets worth £5 every week as a member of Sky Bet Club. With this promotion all you need to do is Opt In to the promotion on the promotional page on SkyBet and then when you have opted in, you need to place bets totalling £25 each week across a range of sports betting markets.
If you spend £25 or more a week on bets, then that means you will receive a free £5 bet from SkyBet the following week. Every week you wager £25 in free bets with Sky Bet Club, you will receive an additional £5 free bet.
However, if you do not make £25 worth of qualifying bets in any given week with SkyBet once you have become a member of Sky Bet Club then your membership will lapse and you will need to join again to start to receive the free bets with your £25 betting spend.
SkyBet offers a massive range of sports betting opportunities, free games and plenty of great bingo, poker and casino gaming across its family of sites. There has never been a better time to join via SkyBet so take advantage of this outstanding new player offer now.