Last year, one of the most popular promotions on Sky Vegas was the Sky Vegas Million and given its enormous popularity, it is unsurprising that Sky Vegas have once again decided to run the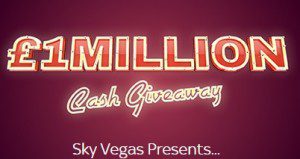 same promotion this year.
So let's learn a little more about arguably Sky Vegas biggest promotion of the year and how you can participate and give yourself a chance of winning a top daily prize of £5,000 and perhaps even a huge weekly prize of £25,000.
If you haven't yet joined up, no worry. There's still time to take advantage of this promotion while at the same time securing yourself a Sky no deposit bonus code.
What is the Sky Vegas £1 Million Cash Giveaway?
As the name suggests, the Sky Vegas £1 Million Cash Giveaway is a promotion that allows punters the chance to win their share of over 2000 prizes every day including a top prize of £5,000. Prizes are allocated each day via a prize draw, where the players have to earn tickets by playing games on Sky Vegas and playing through a certain amount of money to earn tickets.
In addition to the 2000+ daily prizes, there is also an additional £25,000 weekly prize draw for those players who earn over 500 Daily Tickets and thus earn a Golden Ticket. Golden Tickets do not expire and that means that once you earn one, it will be entered into every subsequent weekly prize draw.
Do UK casino players need to opt into this promotion?
No, unlike other promotions on Sky Vegas which require the user to opt into the promotion by clicking a button, all players are automatically included in this promotion on Sky Vegas.
The only requirement is that you earn tickets by playing the eligible games on the site in the qualifying period.
How to win the biggest share of the prize money
There are essentially two stages to the promotion and the second stage (Golden Tickets and the weekly prize draw) follows on from participating in the first, which is a positive as it means that you don't need to do anything extra beyond your usual participation on the site to earn give yourself a chance of winning prizes.
The first part of the process is earning tickets into the next daily draw. This is achieved by playing in any of the 350+ games on the Sky Vegas site that are participating in the promotion. You can play via the Internet on a PC/Laptop, or you can also play via a mobile device too.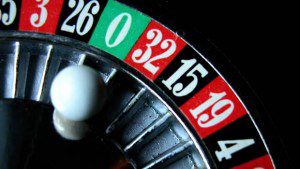 To earn your first ticket you simply need to play any of the qualifying games and spend £10 on your choice of game. That will earn you your first daily prize draw ticket (which will be entered into the following days draw).
You can earn as many daily prize draw tickets as you like for each draw, but the qualification criteria once you have earned your first prize draw ticket does change depending on the type of game that you play. If you play slots then you need to spend another £10 to earn a second prize draw ticket, but for casino games, you need to spend £50 to earn your next ticket.
You can earn as many daily prize draw tickets for each draw as you like, but daily prize draw tickets only last for one draw, so to enter several draws within a week, you may want to play the games on Sky Vegas over the course of the week to maximise the number of draws you are entered into.
Each daily prize draw sees over 2000 prizes available. The prizes available are as follows for each daily draw:
x £5,000, 2 x £1,000, 3 x £500, 25 x £50, 250 x £10, 750 x £5 and 1000 £10k Scratchcards awarded.
Sky Vegas will announce the winners of these competitions each day with the winners of the big prizes earning a place on the Sky Vegas Wall of Fame.
How t0 earn a Golden Ticket to enter the weekly draw for a £25,000 prize
If you are thinking Charlie and the Chocolate Factory, then the good news is, you don't have to hit the jackpot like Charlie Bucket did in order to land yourself a Sky Vegas Golden Ticket.
Once you have earned a total of 500 Daily Tickets, then you will earn yourself a Sky Millions Weekly Draw Golden Ticket. This ticket is entered into the next and every subsequent weekly prize draw where there is a single prize of £25,000 to be won.
The first Golden Jackpot Draw takes place this week, so if you want to earn your ticket and have it entered into the maximum of seven prize draws due to take place while the promotion is running, you'll need to earn your daily tickets before the end of play on the 2nd April.
Of course, if you miss this deadline then you can still collect a Golden Ticket after this date, it is just that it will only be entered for the prize draws remaining.
The best thing about earning a Golden Ticket is not just that it can be entered into every subsequent draw after you have earned it, but that you can earn as many of them as you like. Keep earning daily tickets and you'll keep earning Golden Tickets, giving yourself more chances to win the £25,000 top prize.
And if you win one £25,000 prize one week, then your tickets will still roll forward into the next draws, giving you more chances to win another £25,000 prize in any of the following draws too.
Are all games included as part of the Sky Vegas £1 Million Cash Giveaway promotion?
Over 350 games on the Sky Vegas platform are included in the promotion, but there are a small number of games that are not included, these are:
All side games playable on Sky Casino and Sky Bingo
All Live Casino games
All Baccarat games
All Video Poker variants
Caribbean Stud Poker
Triple Chance Hi-Lo Mini Game
Texas Hold'em Shootout
Poker Keno
Celtic Spirit
You can, of course, still play these games while the promotion is running but any play on them will not count towards you earning your daily tickets.
When does the promotion run?
The Sky Vegas Milllion promotion started on Friday 27th March and will continue until Sunday 17th May.
Do you need a dedicated Sky Vegas account to participate?
No, you don't need a dedicated Sky Vegas account to play in the promotion. If you own an account with any other Sky service, such as Sky Poker, Sky Bet, Sky Casino or Sky Bingo, then you can use this account to log in and participate in the Sky Vegas promotion.