If you are looking for some top-notch poker action this festive season then you are spoilt for choice. Last week we mentioned that Bet365 Poker had a new promotion for the month of December and now Sky Poker have announced a festive themed offer and a brand new competition coming in between Christmas and New Year 2014.
We'll take a look at each of these exciting developments from Sky Poker in more detail below.
But first – whether you are looking for a bonus in the run up to Christmas, or some superb poker action following, there are double the reasons to take advantage of the Sky Poker bonus no deposit required free £10 that you can receive when you join Sky Poker today.
The Sky Poker Xmas Challenge 2014
Everybody has head of the advent calendar, a staple decoration of December which allows you to open a little door on a calendar each day, counting down the month until Christmas Day.
In years gone by the advent calendar was usually just a picture hidden behind a door that you would open every morning throughout the month, but now you can get them with chocolate behind each door or even a small piece of Playmobil or Lego each day, culminating in a Christmas scene completed on Xmas Day each year. With Sky Poker however, behind each door of its virtual advent calendar lies the chance of earning yourself a little poker-themed bonus.
With the Sky Poker Xmas Challenge 2014, you can visit the Sky Poker site each day and click on the door corresponding to the date (from the 1st to the 26th December inclusive, though no challenges will be made on 24th or 25th December). When you click on the date (which comes in the shape of a poker chip), it will reveal what today's special offer is.
There are a number of different types of special offer available on this promotion. This includes offers such as:
Freeroll tickets for guaranteed events, provided that you collect enough Sky Poker points, or perform other simple to complete tasks on the site. Prizes can be cash or prize based with top quality technology prizes available.
Competitions where the user has to follow Sky Poker on Twitter or Facebook and perform another task in the hope of winning a fantastic prize (for example on the 2nd December, if you followed Sky Poker on Twitter and guessed how many hands would be dealt on the site during the day, the winner would win an iPhone 6).
Cash Bonuses paid out for players who perform a task, or who collect the highest number of Sky Poker points within a given timescale on a specific type of game (such as cash table games, sit & go games or MTT's).
Time-dependent events where a player can gain entry into a prize draw if they play on Sky Poker between a certain time (sometimes on a specific type of game).
And many, many more to come.
It is also worth noting that the final date on the Sky Poker Xmas Challenge 2014 advent calendar is a gold chip demarcated by a big present. Although details of what the promotion for this date (December 26th –Boxing Day) will not be announced until the day, it seems likely that given the gold coin and big present, it will be the biggest and best prize of the entire offer.
There are still plenty of days left to take advantage of the offers leading up to then. Simply check out the Sky Poker Xmas Challenge 2014 promotion page for all the information about the latest daily offer.
The Sky Poker UKOPS XII 27th to 30th December 2014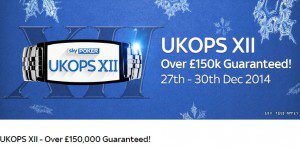 So you have had your fill of turkey and booze, Christmas and Boxing Day have passed and now it is time to take a rest from the festivities and charge up the batteries ahead of New Year. What better way to do this than by taking part in four days of top quality poker action with the Sky Poker UKOPS XII from the Saturday 27th until the Tuesday 30th December 2014.
Sky Poker are offering four days of high quality poker action right bang in the middle of Xmas and New Year and there is a guaranteed prize fund of at least £150,000 across the four days of poker action, meaning that several winning Sky Poker players could celebrate the start of 2015 with a massively increased bankroll.
In addition to the cash prize, there are some exclusive UKOPS bracelets available for the winners of the series top events (High Roller or Main Event). Furthermore, after taking on board advice and comments from its customers, Sky Poker have announced that prior to each evenings' main action, there will be a series of warm up events held throughout the afternoon for players to participate in.
You can of course buy in to the main events for UKOPS XII, but these are larger buy in events and can prove expensive for the medium to smaller stakes player. So Sky Poker is currently running an extensive range of satellites offering players a number of ways to secure their seat in the final, without having to pay the full buy in price if they do not wish to do so.
The structure to each day of the UKOPS XII is the same. There are three warm up events held at 2pm, 4pm and 6pm UK time each day for a range of buy ins starting from as little as £5.50 up to a maximum of £22.
Then in the evening there are five events to select from (Micro, Main, Mini, Challenger and Side tournaments) with buy ins ranging in price from £2.20 to £3.30 for the Micro events, up to £110 for the Main Event.
The only change to that schedule is on the first night of action when at 7.30pm UK time there will be a special High Roller tournament: A £25,000 freezeout event that has a buy in of £530 and guaranteed prize funds of at least £25,000.
The top prize Main Event takes place at 9pm on Sunday, the £40,000 UKOPS ME, which has a direct buy in of £110 and for which there is a guaranteed prize fund of at least £40,000 available for those who cash out.
As usual, Sky Poker TV will be covering all the action from the tables live throughout the four-day event so if you participate and take part in a particularly interesting hand, or reach the latter stages of a tournament, then you could well see your hands replayed live on the channel.