If you are looking for a fresh challenge away from the offers at Bet365 Poker this week, then why not take a look at what is happening at Sky Poker? It's been a busy few weeks at the site and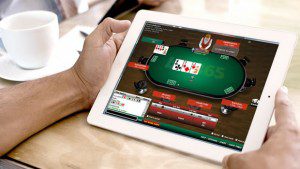 there have been some exciting new developments of late, in addition to all the usual fantastic Poker games you can participate in when you log in.
There's the usual Sky Poker bonus code deal you can claim by following the previous link if you are not yet a member of the site, and I'd strongly recommend you do if you have an Android smartphone or tablet because now you too can join the party.
What's the deal with Android devices at Sky Poker?
For a relatively long time, Sky Poker only offered its service to iOS devices, the trusty iPhone and iPads that are Apple's flagship mobile devices. Android users were left somewhat trailing behind but that has all changed now with the release of a brand new mobile app specifically for Android devices.
As you cannot download gambling apps from the Google Play store, you can download the Android app direct from the Sky Poker website by visiting the page dedicated to it. Click on the pink Download Now button to download the app to your device.
Remember though, you may need to Enable Unknown Sources in the security options on your Android device in order to download the software to it. Once downloaded, a screen will appear asking if you want to install the Sky Poker app. Click "Yes" to start the process and soon you'll be able to log in and play from your Android device.
Is the Android App offering the same level of functions as the iPod/iPad version?
At the moment, the Android app is still very much a work in progress for Sky Poker and it has taken them a considerable time from the launch of their first full iOS app to get their Android version completed.
Currently, some of the features you can find on the iOS app are not yet available on the Android app, such as Touch ID and the Quick PIN sign in options. However, Sky Poker are currently working on adding several features to the app when Version 2.0 of the app is released within the next few months.
This new version, when released, will download in the background on your chosen device and you will then be prompted to upgrade to the new version once it has downloaded and is ready to update the original app.
However, while some features are not yet active on the Android app from Sky Poker, the good news is that players can elect to play a large number of different games from Sky Poker on their new device, which is good news for the Android poker fan.
Pocket your own Android device to play on with Sky Poker's Android Giveaway
When Sky Poker first released their latest mobile app for iOS devices, they ran a competition which offered its customers the chance to win one of Apple's famous mobile devices to help publicise the launch of the mobile service.
Well, not wanting to be accused of favouritism, Sky Poker have decided to run a very similar offer for punters who would like to try and win a brand new Android device to try the new Sky Poker app on. This is Sky Poker's Android Giveaway promotion.
The competition is running at the present time from the 1st to the 28th May and on each day Sky Poker are giving away one Samsung Galaxy Tablet to a lucky prize draw winner. It is worth noting that if you are a member of Sky Poker's Priority Club, then you will not be permitted to enter this competition or win a prize.
To participate, first you need to head on over to the promotional page on Sky Poker and click on the pink coloured "Click To Opt-In" button on the site. Once you have done this then you are included in the promotion from then on and your playing on the Sky Poker site can earn you a chance of winning a tablet in a prize draw.
If for whatever reason the Click To Opt In button does not work, you can enter the promotion by entering the code "ANDROID" into the code section in your account details. This will also trigger the promotion for the user.
To earn a ticket into each of the daily prize draws running from the 1st to the 28th May, all you need to do is to earn 10 Poker Points or more playing at Sky Poker during the 24 hour period previously. When you do, for every 10 Poker Points you earn in that qualifying period, you will receive one free ticket into the next prize draw. You can enter multiple tickets into a single draw and of course you can enter multiple draws over the duration of the promotion.
Each day Sky Poker will enter all the prize draw tickets won by all its players into a draw and one lucky player will be drawn at random to win a fantastic Galaxy Tab E 9.6" tablet, with 8GB of disk space, WiFi enabled in a pearl white colour.
Sky Poker have stated that only one prize will be awarded per customer, so if you are lucky enough to win one of these prizes, then you are not eligible to win another in a subsequent prize draw.  Winners will be contacted by suppliers within 14 days following their win and at this time delivery of the prize will be arranged. There is no cash alternative option.
How does the Sky Poker Android App compare to the iOS version?
If you are in the position where you are able to select between the two versions of the app when using Sky Poker, then given the limitations outlined previously regarding the Android App at present, I would still be very much inclined to use the iOS version for the time being.
However, Sky Poker's Android app is still very much in development and as it is more widely used, bugs are discovered or fixed and Sky Poker continues to develop the app, then it is likely that within the next 4-6 months Android users should eventually have an app that at least matches the high quality of Sky Poker's mobile service for Apple devices.
The current Android app is still at a developmental stage, so it would be unfair to compare it at the present time to the highly polished finished article that is the iOS app, but suffice to say that if you are one of the 28 lucky prize winners, or you have an Android device, Sky Poker are now offering a decent service to you, and that was not always the case in the past.