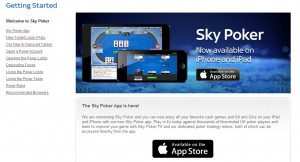 A couple of months ago, we revealed that Sky Poker had finally released the first version of their eagerly anticipated app. While this was great news for a large number of Sky Poker UK customers who wanted to play via their iPhone or iPad, the bad news was that only cash games were currently available to play via the app version.
You could still play Sit & Go and Multi Table Tournaments via your mobile device, but in order to do so, you had to access the Sky Poker site via a browser, rather than through the app, which kind of defeated the purpose of downloading the app in the first place.
However, after a big upgrade to the Sky Poker app software this August, the good news is that customers who have downloaded and installed the new Sky Poker app now have access to cash table games and Sky Poker's extensive range of Sit & Go games too.
One thing to remember is that if you are going to register for Sky Poker via your mobile, you can still receive the fantastic Sky Poker no deposit bonus of £10 by following registration instructions.
Upgrade to Sky Poker app will change overall player experience
This is a significant development for mobile poker players who want to use the excellent Sky Poker platform for their mobile poker needs. Of all the different types of tournament poker available you can play, smaller sit and go events are without doubt the most compatible type with the mobile platform.
There are several reasons for this. Firstly there is the issue of time. Most sit & go events on Sky Poker are relatively small scale operating on one table with usually between 2 to 9 players maximum at the start of the game.
This means that it does not take a huge amount of time to run through a tournament from start to finish, as opposed to a larger multi-table tournament that can often take several hours, sometimes over two days, to complete in its entirety.
The fact of the matter is, how mobile players tend to use their device for access to play poker often means that they are looking for games that can be played quickly, or over a limited amount of time, yet which can still offer them plenty of poker action. Sky Poker Sit & Go games are the ideal choice for this.
Sit & Go games on Sky Poker, such as the popular Double Your Money and Six-Max tables, are games that are available right throughout the course of the day at various buy in levels to suit all different bankroll sizes, from micro stakes games, right up to games with buy ins of hundreds of pounds or more.
What other events are on offer?
Of course, there are likely to be more players playing at the lower stake levels, so you'll find that there's plenty of these Sit & Go events to play direct from your mobile app, as well as a fewer higher stakes games if you are a higher roller.
The great thing is that you can access all types of Sit & Go games via the new app including TV games. These are the games that are identified by a blue TV icon being shown next to them in the listing. These games are reviewed by Sky Poker TV channel researchers and some of the hands from these tables may be used on a Sky Poker television show at some point in the future.
Therefore, if you play at these tables via your mobile, then you could well be the star of a future Sky Poker TV show (but just hope it is because of your superb play at the table, and not as an example of how not to play a hand).
You can also play a wide range of Heads-Up games  via Sky Poker's new mobile app. These games include Russian Roulette tables where both players pay the stated entry fee and then are placed all in with the first hand with the winner of the hand taking all the money and the loser leaving with nothing. You can also play a wide number of traditional Heads Up encounters where two players face off in an attempt to win all the chips at the table and double their initial buy in.
With most Sit & Go tables at Sky Poker, you also have a choice of game speeds to play. There are four speeds of games, traditional, speed, turbo and hyper with each game progressively faster compared to the last.
How do Sky Poker ensure the games are faster? Well they achieve this in two ways. Firstly, they reduce the amount of starting chips each player has, so for example in a traditional game, you start with 2000 starting chips, in a Speed game that is reduced to 1,500 chips, turbo games see each player start with 1,000 chips while in hyper games, each player only has 500 chips.
In addition to varying starting chip levels, the speed at which the blinds increase also speeds up from each game type. In a typical game, the blinds will increase every 7 minutes or so, in a speed game they increase every 5 minutes and in a turbo or hyper game, the blinds increase every two minutes.
The upshot of this is that the fewer the chips you start with and the faster the blinds increase, the faster games will play out with players forced to make decisions more quickly than they would normally have to in slower paced games.
Sky Poker app now offering Omaha as well
It is also worth noting for fans of Omaha and Omaha Hi Lo, that both these types of games are available in the Sky Poker Sit & Go options on the app.
Eventually, the Sky Poker app will include every aspect of the Sky Poker website, all easily available, accessible and downloadable in a single app. Currently, the app is only available for iPad and iPhone users, though Android smartphone (such as the Samsung Galaxy S5) and tablet users can access the full range of Sky Poker games and features via their browser by visiting the Sky Poker site.
The good news is that Sky Poker are not resting on their laurels with this new upgrade. Already, they are looking at ways to introduce MTT's onto the app and in addition, other features to be included in subsequent upgrades include a progress meter detailing your Sky Rewards points and the capability to multi-table on your mobile device – a feature which would be a first in the fledgling mobile poker industry.