As you will already know if you are an eagle-eyed reader, Sky Poker are running a very popular Viva Las Vegas promotion which we have already brought you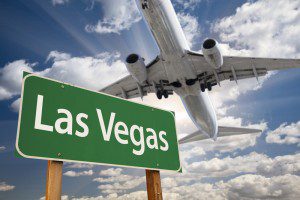 information on in several articles over the past couple of months.
The highlight of this promotion is the chance to win a trip to Las Vegas, accommodation, transport and spending money provided, along with entry into one of two big poker tournaments that are scheduled to take place while you are staying in this spectacular corner of Nevada.
Sky Poker have been running a number of different promotions offering players the chance to win one of the different packages available through this promotion. There are promotions currently running for Sit & Go gamers, tournament players and cash table gamers meaning that there is more than one way you can play to try and win one of these fabulous trips.
However, Sky Poker have also just announced that for the four weeks in May, starting on Monday May 4th 2015, there will be a special competition running. These are called Mayhem Freerolls and the great news is that they will cost you nothing to enter, but still offer you four chances of winning a fantastic Las Vegas packages worth at least £3,200.
This new offer is based on the Bounty Hunter-type of game that is especially popular on Sky Poker and it promises to be one of the most exciting ways to try and earn your own £3,200 prize.
If you are a Sky Poker player who loves the thrill of eliminating players, the Mayhem Freerolls are the ideal choice. If you are not yet a member, check out our page about the Sky bonus no deposit offer by clicking on the link.
Sky Poker Mayhem Freerolls information

The first thing to note about the Sky Poker Mayhem Freerolls is that while they are technically free to enter, in as much as you don't pay a tournament fee to participate, you do have to earn enough Sky Poker Points in the 24-hours prior to the freeroll starting to earn yourself a token to play in the tournament.
For example, the first freeroll takes place on Monday 4th May at 7pm GMT. Therefore, to earn a place in this freeroll, you need to earn 25 Sky Poker Points between 7pm on Sunday 3rd May and 7pm on Monday 4th May in order to gain your free entry.
Then when the next freeroll is scheduled to take place on Tuesday 5th May, the qualification period for this will be from 7pm on Monday, to the 7pm on Tuesday and so on.
In short, if you earn 25 Sky Poker points each day that the promotion is running, then you will be able to play in all of the freeroll events.
Each freeroll event also has a £1,000 prize fund too, meaning that you will also have the chance to win your share of a guaranteed £1,000 prize pool in every freeroll that you contest.
How is the Mayhem Freeroll competition organised?
Each Mayhem Freeroll competition is organised into four weekly leaderboards and each week will see seven freeroll events open for players to qualify for. Each week, players will compete in the Mayhem Freerolls and earn bounties by eliminating other players from the competition. The player who earns the most in bounties from the competition across the qualifying week, will be the winner.
The leaderboards run from the following dates:
Week 1: Monday 4th May to Sunday 10th May
Week 2: Monday 11th May to Sunday 17th May
Week 3: Monday 18th May to Sunday 24th May
Week 4: Monday 25th May to Sunday 31st May
There are a total of 100 prizes available through the leaderboard competition each week given to the top 100 players in the competition who earn the most in bounties from their Mayhem Freeroll playing. The prizes are as follows:
One lucky winner will receive a £3,200 Las Vegas Package
There is a £500 prize for the runner up
£250 for third
£150 in cash for fourth
£100 for the player finishing 5th
Those placing 6th to 10th will receive £50 each
11th to 20th receive £25 apiece
21st to 50th take home £10 each and lastly
51st to 100th earn a £5 cash prize
If you are the top prizewinner then your £3,200 Las Vegas Package consists of:
Entry into a No Limit Hold'em Tournament worth $1111 taking place on Tuesday 30th June
Seven Nights accommodation and breakfast for you and a guest at the 5* Palazzo Hotel in Las Vegas
£1,000 in cash credited to your Sky Poker account to be used for travel and spending money
Access to the Sky Poker hospitality suite with food and drink available at certain times
A group dinner with all other Sky Poker Las Vegas package winners
Entry to the official Sky Poker Party to be held on the 4th
The dates of the package are not adjustable and the package is available from the 28th June through until the 5th July only.
What is a Bounty Hunter game?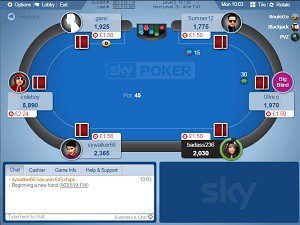 If you have never played a Bounty Hunter game on Sky then it is a version of No Limit Hold'em that is the same in almost every respect, apart from how the tournament fees are used and distributed amongst the players.
In a standard tournament on Sky Poker a player pays a tournament fee to Sky (around 10% of the buy in) and a buy in which is the bulk of what you pay and which is used to add to the pot to increase the amount of money available to be won.
In a Bounty Hunter game, your tournament fee is split (sometimes 50/50, but more often around 25/75) with the larger amount being your pot contribution but the smaller amount is placed on your head as a bounty. When a player eliminates you from the tournament, they earn 50% of your bounty as cash (which is credited to their account) with the other 50% added to their own bounty.
So for example, let's say there is a £10 + £1 buy in Bounty Hunter on Sky Poker. Of your £10 tournament fee, £7.50 is put in the pot for the winning players, but £2.50 is placed on your head as a bounty.
When a player eliminates you, they earn £1.25 in cash added immediately to their cash account and the remaining £1.25 of your bounty would go on their head, increasing their Bounty by £1.25.
The more players you eliminate, the more cash you earn and the bigger your bounty grows, but also the more popular you would be to be eliminated by other players as they would earn more from eliminating you as you now have a bigger bounty on your head.
Bounty Hunter games focus chiefly on eliminating players and poker players who enjoy this style of poker will certainly enjoy Sky's range of Bounty Hunter games.