One of the most impressive things about Sky Poker is that the company do genuinely like to try and offer their customers new things to try. We've already learned about the forthcoming UKOPS XI event in between Christmas and New Year, but there's something else new to try on the site if you find yourself itching for some poker during the festive season.
The new games are the Sky Poker Head Hunter Sit & Go games and they differ slightly from the typical Bounty Hunter games that you find in Sky Poker.
If you want to play in any Head Hunter games then why not check out the latest Sky Poker bonus no deposit information by clicking on this link and join right now?
What are Bounty Hunter poker games?
Bounty Hunter games differ from traditional poker tournaments in how they use the buy in fee that each player pays to participate in the event. Usually, in a traditional poker tournament, a player pays a buy in fee and a tournament fee.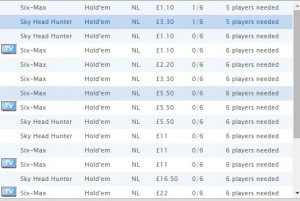 The tournament fee is paid directly to the poker room provider (in this case Sky Poker) but the buy in fee in a traditional tournament is combined with all the other buy in fees (plus any guarantees offered by the poker room) to make the pool of cash from which all those who cash out will be paid.
This is a standard method of ensuring that a tournament has a prize fund available to pay players. However, in Bounty Hunter games how the buy in is used, is slightly different.
In a Bounty Hunter game a proportion of the buy in is put into a central fund to pay out the players who finish in the cash positions, but a percentage is placed on the 'head' of each player. Each player has the same amount of bounty placed on their head at the start of the tournament.
In addition to receiving a cash prize if you finish in the cash positions, players can also earn money in a Bounty Hunter game by knocking another player out of the tournament by being the player who eliminates them at the showdown.
When a player eliminates another competitor, they earn the bounty from that other player. A percentage of which goes immediately into that players bankroll, and the remaining money gets added to the bounty already on the players head.
Therefore, as a player works through the tournament and eliminates more players, they also have a bigger bounty on their heads, thus making them a prime target for other players to try and eliminate.
This means you can devise separate strategies for Bounty Hunter games. If you are an aggressive player, you can try and eliminate others and win money from earning bounties from players you eliminate, or you can play a bit tighter and aim to finish in the cash positions and earn your money that way. Or, you can adopt a combination of the two strategies (which is what most players feel works best).
How do Sky Head Hunter games differ from Bounty Hunter games?
Head Hunter games differ from standard Bounty Hunter games in that none of the buy in cash you spend goes towards a final pot. Instead,  the entire buy in fee is placed on your head and you can only win cash by eliminating other players.
This fundamental difference means that this is a game that is better suited to a more aggressive type of poker player who will willingly take players on at the showdown, in the hope of winning big. It does tend to mean that looser players can do well in these events, until a tighter player who has landed a monster hand that is catches them out.
In the Sky Poker Head Hunter tournaments, when you eliminate another player you receive 60% of their buy in directly into your bankroll (and no other player can take that from you), however 40% of the head prize is then added to your bounty.
So, let us say for example you enter a £3.30 Sky Head Hunter tournament with 6 players in total at the table. £3 is your buy in and £3 is what your initial Bounty is at the start of the game, the same as other players.
However, for each player you eliminate, you earn 60% of their bounty (£1.80) which goes into your account and £1.20 is added to your bounty, making it £4.20.
The game then progresses until there is just one player remaining who takes all the bounties remaining, plus retains their own £3 bounty.
Is it possible to not win a Head Hunter event and end up with more money than someone who does?
No, if you win the event then you will always earn the most money of anyone at the table.
Let's say you play at the Sky Head Hunter table with 6 other players, each paying £3.30 to play. Each player starts with a £3 bounty on their head.
Now let's say your opponent eliminates four players while you don't eliminate any players.
Your opponent has therefore won four bounties, which mean they receive 4 x £1.80 into their account (£7.20). It also means they have a Bounty of £7.80 on their head (4 x £1.20 = £4.80 plus the £3 bounty).
In contrast, your Bounty is still £3 and you have not earned a penny from the event so far.
However, if you manage to defeat this player and knock him out to be declared the winner, then you take 60% of his bounty (£4.68) which is added to your bankroll and the remaining £2.12 is added to your bounty.
However, seeing as you are the last player in the tournament, you get to keep your Bounty, which now stands at £5.12. So you earn £9.80 from the tournament having paid £3 to enter, whereas your opponent has earned £7.20.
Of course, you can ramp up your chances of success and earnings by eliminating players along the way. The more players you eliminate on your way to winning, then the more of the money you will win that is available at the table.
What Head Hunter games are available at Sky Poker?
You can play Sky Poker Head Hunter games from as little as £1.10 buy in up to a maximum of £55 buy in.  They can be located under the Sit & Go heading under the Regular tab alongside the Sky Poker Six-Max games.
All Sky Head Hunter tournaments features six players and each player starts with 2,000 chips with the blinds increasing every 3 minutes.