As we are reaching the time of the year when all the major soccer competitions are decided and the season comes to a close, it is a perfect time to take on a new challenge at Bet365 Poker, which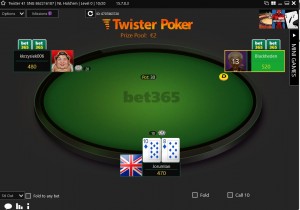 has something of a football theme. All you need to do is become a Hat-Trick Hero on a new promotion on the site and you could be in with a chance of earning yourself a share of €100,000 of prize money.
Remember, if you are not yet a customer than you can sign up today using our brand new Bet365 Poker bonus code and when you do, you'll not only receive a number of fantastic bonuses as a new customer, but you'll be able to take part in this and any other promotion that runs on the Bet365 Poker site from now on.
Let's learn a little about how you can grab yourself a trio of fantastic prizes, which will give you a chance at earning yourself a share of the large amounts of money to be given away each week.
Bet365's Hat-Trick Challenge
Each day of the promotion there are two different sets of Daily Challenges you can try and complete. Each of the challenges is comprised of three different "goals" and if you complete each of the three challenges then you score a goal for each.
Each goal you score will reward you with a prize, which is to gain entry into the €500 and €1,000 Daily All In Freeroll events that take place on each day of the promotion. In addition, if you then go on to complete a hat-trick by completing all the three parts of your daily challenge, then you can win another prize which comes in the form of Cash Game Tickets or General Tournament Tokens.
Alongside the Daily Missions outlined above, you can also try and complete the Weekly Missions. To do this, click on the Start Button within the Missions section of the Bet365 site and then all you need to do is complete four of the Daily Mission tasks within a week. If you do then you will receive an additional prize of a ticket into the weekly €10,000 "All In" Shootout event. Furthermore, you can earn an additional ticket into this event simply by completing another two tasks within the qualifying week.
Of course, once you have received a ticket for entry into any of the All In Freerolls that are part of the Hat-Trick Challenge, then you need to register for the event using the tickets. Entry into these events are strictly open to ticket winners from the promotion, so your chances of winning are greater than an event that people can buy into too.
The rules are relatively simple. You can only complete one of Goal 1, Goal 2 or Hat-Trick missions within a daily 24 hour qualifying period. However, once you have clicked start on a mission and complete it within a qualifying period, the other two missions will then become available and these must also be completed within a different 24-hour qualifying period each.
Once you click on the Weekly Mission start button, you then need to complete four Daily Missions (over four days) to earn a ticket into the €10,000 "All In" Shootout event. If you complete six missions (over six days) then you will earn a second ticket into this event.
What are the two different Hat-Trick Challenge Options?
If you are looking forward to participating in this event then you will need to understand what the two different Hat Trick Challenge Options are available to you. The first option is aimed at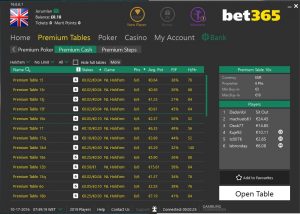 players who prefer to play cash table games, particularly those at the Premium Tables at Bet365 and the missions are outlined in the table below. They must be completed on Premium Tables with stakes of €0.05/€0.10 or greater.
Hat-Trick Challenge Option 1
| | | |
| --- | --- | --- |
| Goal No | Mission | Reward |
| 1 | Be dealt either A-A, K-K or A-K | €500 Hat Trick Challenge Freeroll Ticket |
| 2 | Win 15 Cash Game Hands | €1000 Hat Trick Challenge Freeroll Ticket |
| Hat Trick | Pay €50 or more in total rake | €10 Cash Game Ticket |
However, the second set of challenges which forms option 2 is based more on players who enjoy Sit & Go games, Premium Steps or Bet365 Poker's popular Twister Poker games. The challenges must be completed on games with a buy in of €2 or more on these tables.
Hat-Trick Challenge Option 2
| | | |
| --- | --- | --- |
| Goal No | Mission | Reward |
| 1 | Be dealt either A-A, K-K or A-K | €500 Hat Trick Challenge Freeroll Ticket |
| 2 | Be dealt three suited connectors | €1000 Hat Trick Challenge Freeroll Ticket |
| Hat Trick | Pay €25 or more in tournament fees | €5 General Tournament ticket |
Once you complete a mission and the qualifying period for that mission ends, then the other two missions will become available. Again, once you click start on a mission, the other mission will not be available until you complete the mission and the qualifying period ends.
When are Qualifying Periods and the Daily And Weekly Freeroll events scheduled?
The promotion runs for five weeks from the 1st May 2017, through until 19:59 GMT on the 4th June 2017 and each daily qualifying period runs from 00:00 GMT through to 23:59 GMT, with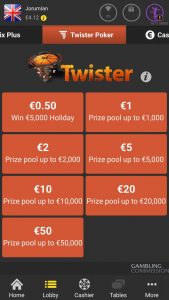 the exception of the final day of the promotion which ends at 18:59.
The weekly qualifying periods run from 00:00 on the Monday through until 19:59 the following Sunday,
The Daily Freeroll All In Tournaments take place each day of the promotion at the same time.  The €1,000 All In Freeroll Hat Trick Challenge event gets under way at 19:00 GMT daily. This is followed at 19:30 GMT by the €500 Hat Trick Challenge All In Shootout.
The Weekly €10,000 Hat Trick Challenge All In Shooutout takes place at 20:00 GMT on every Sunday of the promotion. These dates are as follows:
7th May
14th May
21st May
28th May
4th June
All freeroll events do have restrictions on the maximum number of entrants and so you will need to ensure you are registered before the start time to be assured of entry into the event. All events are "All In" tournaments, which means players do not need to be present to play in the event as all players are placed All In every hand until they are eliminated or win the tournament.