When PokerStars Sports started up not long ago, there was just a smattering of sports available to bet on when the software went live. However since then PokerStars Sports have been busy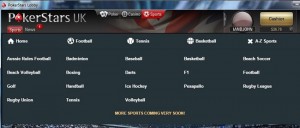 working away on additional sporting markets and just last week a whole new batch of sports were added to the site.
This means that in addition to the six sports that were available on the site when it launched a whole new group of sports have been added to the list and are now available to bet on at PokerStars Sports.
There are now a total of 18 different sports available via the PokerStars Sports service which you can place a bet on:
Australian Rules Football
Badminton
Baseball
Basketball
Beach Soccer
Beach Volleyball
Boxing
Darts
Formula 1
Football
Golf
Handball
Ice Hockey
Pesapallo
Rugby League
Rugby Union
Tennis
Volleyball
And the good news for sports fans who would like to use PokerStars Sports as their chosen mobile sports betting site, is that PokerStars have promised that there will be further sports added to this list very shortly.
Before you place a bet be sure you read our review to gain the best PokerStars Sports welcome bonus you can.
PokerStars offers UK punters a pleasing array of sports
The twelve new sports on the list offer a mix of sports that were very much needed, especially in the UK, if the site was going to have any long term viability.
They include Boxing, Darts, Formula 1 and Golf. However it is good to see that PokerStars are embracing the wide range of different sports that punters like to bet on nowadays, with the likes of Australian Rules Football, Beach Soccer, Beach Volleyball and Pesapallo (a kind of baseball game played predominantly in Finland) also included.
Indeed, there are some bookmakers that have been established online many years that may not offer betting on all of these options, which is a real coup for the new PokerStars Sports site.
New markets
While there may be a host of new sports available on PokerStars, that doesn't necessarily mean that there are a huge number of new betting markets available.
Aussie Rules Football for example only has one market available (Money Line bets) on the games that they are offering and it is also important to remember that some sports are only available at certain times of the week or year, especially for the less well known or popular sports.
New update – the verdict
So what is the verdict on the new update? Well, we're delighted to see a far wider selection of sports available even if the number of markets available in them at present isn't massive. We are sure over time that this will improve.
It was also important for PokerStars Sports to get as many of the core sports that people bet on in the UK up and running on the site. This update certainly addressed that adding several of these sports, but crucially not all of them, which we will come to a little later.
The addition of some lesser known sports is a nice touch and gives the site something that makes it stand out from other sites, but while this upgrade is welcome, it still leaves the site falling short in some areas.
We've already mentioned the markets available need to be increased, in addition, if the site is to be a genuine sports betting site in the UK, it quickly needs to address the lack of horseracing and greyhound betting on the site. These are two of the biggest gambling markets in the UK and their absence seriously impacts how attractive PokerStars Sports is to genuine sports betting enthusiasts.
Add to that an increased number of markets, especially for the newer sports on the site and you would have the makings of a strong sports betting site. PokerStars Sports has made a solid start and it is especially good on In Play betting and also football and tennis, but it needs to continue developing other sports in order to become a real contender in the sports betting industry within the UK.