If a new sports betting site is to have a long term future, then the owners will soon realise that being competitive in the odds market is vital.
Punters will scour any number of sites to find the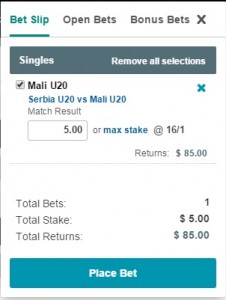 best deal for their bet and if you are uncompetitive in every market, then you will struggle to attract customers with even the best offers (as a side note, there is a PokerStars Sport new player offer – click the link to learn more about it).
So, how does PokerStars new Sports Betting service stand up when it comes to comparing the odds?
We decided to put it to the test by looking at a few example markets from recent sporting events and comparing them with odds available elsewhere.
Here's the results:
Market 1: Japan v Netherlands Women's World Cup Match Result
PokerStars Sports: Japan 6/10, Draw 12/5, Netherlands 5/1
Bet365 Sports: Japan 11/20, Draw 13/5, Netherlands 11/2
Market Best: Japan 4/6 (Paddy Power), Draw 13/5 (Paddy Power), Netherlands 6/1 (BetVictor)
In this market you can see that when you compare PokerStars to Bet365, PokerStars Sports is offering a slightly better price on the favourites Japan, however they are not quite as competitive as Bet365 in the other two markets, however this difference is negligible.
The same can be said when compared with the market best, with the biggest difference being the one point difference between the 5/1 you get with PokerStars Sport on a Holland victory, compared to the 6/1 you could get with BetVictor.
Market 2: David Ferrer v Marcos Baghdatis ATP 250 Nottingham Match Betting
PokerStars Sports: David Ferrer 3/10, Marcos Baghdatis 5/2
Betfair: David Ferrer 3/10, Marcos Baghdatis 5/2
Market Best: David Ferrer 4/11 (Sportingbet), Marcos Baghdatis 5/2 (PokerStars Sports)
When we looked at a second market here, you can clearly see that when it comes to tennis offerings, PokerStars Sports really do seem to be bang on the money when it comes to offering the strongest odds.
Betfair are a sports book and betting exchange that is renowned for offering good prices and you can clearly see that PokerStars Sports matches them for this match.
Furthermore, PokerStars Sports are also offering the current market leading price for backing Marcos Baghdatis, while the odds on David Ferrer are also competitive compared to the market best.
Market 3: Hurricanes v Brumbies Super 15 Rugby Union Match Result
PokerStars Sports: Hurricanes 4/11, Draw 18/1, Brumbies 12/5
Ladbrokes: Hurricanes 4/11. Draw 20/1, Brumbies 2/1
Market Best: Hurricanes 2/5 (Stan James), Draw 25/1 (888 Sport), Brumbies 40/17 (888 Sport)
Once again, you can see that when it comes to odds comparison, PokerStars Sports does very well indeed. It matches the price offered by Ladbrokes and beats the 2/1 Ladbrokes are offering on a Brumbies win, although they are two points less on the very unlikely prospect of a draw.
The site also compares very well once again for Hurricanes and Brumbies bet against market leaders, though if you were wanting to back the draw, then you could find much better value with 888 Sport.
What is absolutely clear here is that PokerStars Sports, although it is a new site and it doesn't offer as many sports as some of its competitors as yet, the markets that it does offer sports for are generally good value.
PokerStars Sports may not offer the best price on every sporting market, then again no sports betting site does, but across all the different markets we have looked at above, PokerStars Sports offers a competitive price against other bookmakers in the UK market, even some of those that have been around for many more years than the new boy.
As the site develops, more sports are added and more promotions are forthcoming, I think punters will find that in the long term PokerStars Sports will offer great value odds for many top sporting events.
As such, if you are a punter seeking longer-term odds value, then you should keep a close eye on the site over the coming weeks and months.