What is the best way to improve your skills at the poker table? Well obviously, playing and gaining experience is the direct way to improve your game, but if you are starting as a beginner with a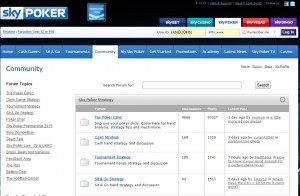 limited bankroll, you may find this a rather expensive option when it comes to gaining poker experience and knowledge.
Of course, there's a whole host of poker strategy books and guides available too. Some of the most important include the likes of David Sklansky's "The Theory of Poker"  (which is regarded by many as the authority tome on the game), Doyle Brunson's "Super System: A Course in Power Poker" and Dan Harrington's 2006 book "Harrington on Hold'em".
Now while these books are great at giving you a strategic view of the game and putting various theories of how to play forward, it is difficult sometimes to put the strategies you have read about in these pages into action on the poker table. This is especially true if you are a novice and are still coming to terms with some of the more subtle nuances of the game.
Certainly, spending some time reading about poker strategy (and more importantly, understanding it and how to effectively use it at the table) combined with gaining experience at playing at the right level of table for you can certainly help you develop your skills, but that is only two thirds of the poker triptych. There's something missing that will massively help you in developing your game.
The third aspect which is absolutely fundamental to improving your game, is to review your own play at the tables. Fortunately, if you are a member at Sky Poker (and if you are not then why not join today, there's a superb Sky Poker no deposit bonus waiting for new players to get you started on the site) then you have the perfect platform on which to do this.
This is called the Sky Poker Community and its value to a novice player and even a player with a good deal of experience, is undervalued by many that use the site.
What is the Sky Poker Community?
The Sky Poker Community is actually two separate things. The first thing it is is a web-based forum where Sky Poker members that have joined the site can post on the forum in a wide range of different subjects.
Of course there are many poker-based sub-forums within the Sky Poker Community, but there are also other sections which are not to do with poker (such as the Betting Chat section or The Football Corner) where Sky Poker players can post about these issues.
There are several different sub-sections in the Community to do with poker however and five of these are directly related to poker strategy.
The Poker Clinic
Cash Game Strategy
Tournament Strategy
Sit & Go Strategy
Poker Chat
The other sections to do with poker, though not necessarily about strategy per-se are:
Sky Poker Premiership 2015
Blog Competition
Team Talk
Sky Poker Live – TV & UKPC
Brags Beat and Variance
Feedback Area
It is therefore self evident that if you want to learn about poker strategy, and specifically about improving your own poker strategy based on a particular form of the game, then one of the five forums listed at the top of the list is the place to head.
However, unlike some forums where you can simply search for a term and read responses from players, Sky Poker allows you to go a step further and gain feedback from more experienced players about how you played a specific hand. We'll examine this in greater detail below.
How can I use the Sky Poker Community to improve my poker game?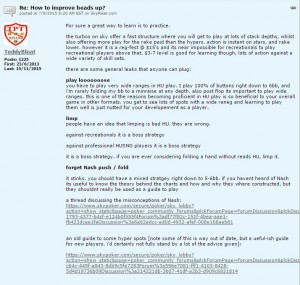 Without doubt, one of the most useful and important features of the Sky Poker Community, is the ability to gain feedback from more experienced members of the community about how you played a hand. Indeed, most of the posts on the strategy pages are from players asking opinions and feedback on how they played a certain hand.
How is it possible to remember all the details from a certain hand, you may ask? Well the good news is that Sky Poker records all the data about all the hands an individual competes in on the site. This information is stored in that individual players Hand History section (which can be found under the My Sky Poker tab on the website/app).
All you need to do is to search through the games you have played and find the hand that played that you would like to ask the community about. Note down the unique ID number of that hand and then you can link the details of that hand into your post on the Sky Community.
What this does is give every Sky Poker player reading your post a breakdown of how the hand played out. It shows them which players had paid the small and big blinds, the hand the posting player had and details of how the betting rounds unfolded, along with of course, details of the flop, turn and river.
Within the main body of your post, you can then give other information about the table, perhaps such as a certain player who played tight/loose or was more passive or aggressive. The more information you provide, the more detailed the responses will be.
Once you have made your post, members of the Sky Poker community will analyse how the hand played out and give you feedback about the decisions you made and how they would have played the hand, explaining their reasoning. For a novice player, this is akin to having a vastly experienced player sitting alongside them and explaining why they made the wrong choice and then showing them an alternative way of playing the hand, which would perhaps have offered a greater chance of success.
The great thing is about the Sky Poker community, is that you can post as many hands up as you like to gain an insight into them and you can use or disregard any of the information you receive from other players as you see fit.
Is the feedback from within the Sky Poker Community worthwhile?
Of course, that depends very much on the poster. You may find you get the odd poster who makes a wry comment or just tries to be funny, however there are a number of posters on the Community who offer superb advice for the novice player on how to improve their game.
Not only will they give you an alternative view and strategy, but they'll explain the reasons why they would have made that choice. Given that these players tend to be the most experienced (and profitable) players on the Sky Poker site, that makes their advice well worth listening to.
The Sky Poker Community is a fantastic resource that is more than just a hub of information. When used as a tool to evaluate your own performance, it can lead to players making very quick progress in their poker development.