There can be no denying the influence Sky Television has had over the last quarter of a century on English Football. With the FA Premier League now the wealthiest football league in world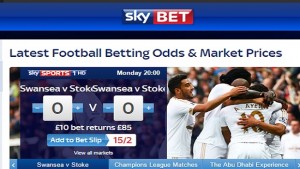 football, and the ever increasing size of the television deals Sky (amongst others) pay in order to show live games, English football at the highest level at least, enjoys both worldwide acclaim and sparkling financial health.
With such burgeoning interest in the game in England, Sky has an extensive system of TV shows and websites in order to support and promote the game. SkyBet was certainly a key part of this and given its parent company's close links with football, it is unsurprising that SkyBet do focus heavily on the game as part of its betting strategy.
Of course, SkyBet is not the only company to offer football betting, but what does it offer that is better value or slightly different to the types of betting available on other betting sites?
In this article, we'll examine the best value football betting markets on SkyBet as well as some of the markets available on the site that are not so easy to find elsewhere. If you aren't yet a registered member, don't forget that you can join today and take advantage of SkyBet's new player offer by clicking the link.
Betting on Live Televised Matches
Whenever Sky TV have a live televised game showing on one of their channels, especially for the FA Premier League, then there is usually a number of different betting markets available for that game. In addition to the usual betting markets available on the match, SkyBet also tend to offer a number of special Price Boost offers for selected markets on the game.
Price Boost offers are when SkyBet take a market that people are likely to be interested in betting on for an event and then Skybet enhances the price on that market to ensure it is at least equal to the best market price available for the bet across UK bookmakers, if not the best price available.
There can often be many Price Boost bets available for a single live televised games and they are a mixture of single bets (such as a bet on Bojan to score first) and multiple selection bets (Andre Ayew to score and Swansea to win inside 90 minutes). There can even be Double Chance bets available as a prize boost, such as in a recent game between Stoke City and Swansea City, Bafetimbi Gomis to score first and Swansea to win either 2-1 or 3-1.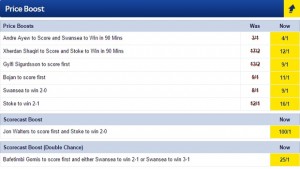 Another feature Live Televised games have is Pundits Tips, where some of Sky's most popular football pundits, including the likes of Phil Thompson, Jamie Redknapp, Charlie Nicholas and Matt Le Tissier will pick out the bets that they believe offer the punter a solid value bet.
Of course, there are a wide range of popular bets from the usual betting markets, such as picking the correct score, winning margin of the match and more, but SkyBet also offers you a few additional bets that are not so easy to find with other bookmakers.
You can bet on the Correct Score for the match but pick a group of scorelines you think have a chance to come true. So for example, you could back Swansea City to win 1-0, 2-0 or 2-1, or Stoke city to win by the same three scorelines, or you can back a draw at scores 1-1, 2-2 or 33.
There's also a section on Specials betting, which lists a number of bets that are not easy to find on other bookmaking sites including Goalscorer Treble bets where you can bet on three players scoring in the same game, Full Time Result and Both Players to Score bets, plus a large number of Player and Goal special bets.
Indeed, even for a relatively mundane Premier League game, the range of bets available from SkyBet are so wide and varied that they are definitely a wise choice for the football punter who likes to have the widest possible choice of bets available when betting on a match they are watching on TV.
Enhanced Accas
Accumulator Bets are one of the most popular form of football bets and with SkyBet each day there are football matches from around the world, then you can benefit from enhanced odds on a
selection of matches combined into accumulator bets.
SkyBet organise the accas they are offering enhanced prices on into groups depending on the number of selections included on the bet. So there's Special Treble, Special Fourfold and Special Fivefold bets available most often.
Unfortunately, you are limited to the selections that SkyBet put together for each enhanced Acca bet. You can elect to put together your own acca bet using your betslip of course, but the prices offered will not be enhanced.
In addition to these types of accumulator bet, you can also find Enhanced Accumulator options for the Over 2/5 Goals market and also the Both Teams to Score markets.
Football Coupons & Competitions
You can access all the most popular betting markets in one of two ways on SkyBet, either using their extensive range of football coupons (which groups matches and markets together on one easy to use form, such the European Elite list of matches from the top leagues and competitions across Europe, or the Result and Both Teams to Score market, which lists the odds for all the matches on which this bet is offered on any given day.
In addition to using the coupons to navigate your way to your chosen bet, you can also use the Competition section which lists all the most popular competitions both in the UK and also from abroad, allowing you to see forthcoming matches in each and place bets on the markets within.
There are also Quick Links to the most popular coupons and competitions available at the top of the home page under the main Football link.
Betting In Play
SkyBet's In Play service offers regular football action throughout the day from matches based all around the world. Of course, when a Live Sky TV game is televised you can get extensive in play betting on that match, but there are also plenty of other games that are played around the world each day which you can bet on In Play.
The one down side to this service is that there is only a limited live streaming option available. That is an improvement as until recently, there were no live streaming matches available on SkyBet. Now though SkyBet is now giving users the chance to stream a selected number of matches from a few leagues around Europe and in America via their mobile device.
However this option is still relatively rare on Sky with just a few live matches streamed each day.
Football betting is arguably the cornerstone upon which the SkyBet name has been built and it is good to see a site that offers such a huge range of football bets, many of which are not easy to find on other sites. This does mean that SkyBet remains a very popular choice for punters whose predominant form of betting is on this most popular of all world sports.