When it comes to seeking long term value, the one thing that matters to punters more so than any New Player Bonus, or on site promotion, is the knowledge that their chosen bookmaking sites is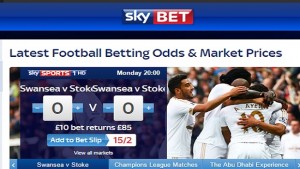 offering them good value when it comes to the odds on the most popular sports betting markets. None moreso than SkyBet.
Indeed, so important is getting the best odds to customers that sites like the Oddschecker site (which incidentally is also owned by the Sky family of companies) prove especially popular. Especially for punters that like to check up on whether the odds they are being offered for a specific market they are betting on, are the best available across a wide range of bookmakers.
When you join a site like SkyBet (and you can do so here by looking at the latest Sky no deposit bonus information) you want to be assured that the site offers you a good deal as a punter when betting with them.
The best way to do that is take a handful of popular betting markets and then compare how the odds on SkyBet stand up when viewed against competitor betting sites also available in the UK today.
Of course, that can be time consuming, so in this article, we have done the legwork for you. Here's what we found.
Random selection of time/date and events from SkyBet's betting markets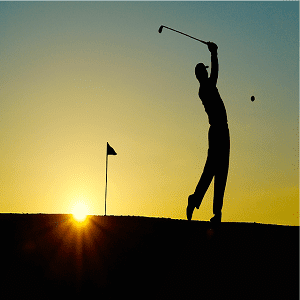 First up, to make this as fair an enquiry as possible, we have selected a random day when to conduct the investigation. Secondly, we will also pick from a wide select of different sports betting markets across a wide range of sports in order to give readers as broad a representation of the different odds available as possible.
By doing this, we avoid the likelihood of the results being 'skewed' by the inclusion of just a few sports which SkyBet may offer more or less favourable odds on compared to others. In addition, you can also gain a far broader impression of how the whole site compares in terms of odds, as opposed to just a few key sports betting markets.
In this investigation we looked at ten betting markets and compared how SkyBet's price offered for a bet compared to a rival (in this case Bet365 Sport) we also looked at what were the best price and worst prices available on that bet from a range of UK betting companies.
It is important to note that it is impossible for any site to offer the best price on all markets across all sports all the time, so instead we are looking more at how SkyBet odds generally compare with other bookmakers in the UK.
How ten betting markets compared
For this investigation we looked at a range of different bets available on the day we conducted the investigation, looking at markets for events taking place that day as well as future markets for events taking place in the future.
Here's our list of bets and how SkyBet compared with Bet365 and the best and worst of the UK betting industry.
| | | | | |
| --- | --- | --- | --- | --- |
| Bet Information | SkyBet Odds | Bet365 odds | Best Odds | Worst Odds |
| 1. Donald Trump to win the 2016 US Presidential Election | 4/1 | 10/3 | 4/1 | 11/4 |
| 2. Swansea to win their Premier League match with Watford | 7/5 | 7/5 | 17/12 | 11/8 |
| 3. Speredek to win the 14.45 at Plumpton (1/18/2016) | 9/1 | 8/1 | 9/1 | 7/1 |
| 4. Many Clouds to win the Grand National in 2016 | 14/1 | 14/1 | 16/1 | 12/1 |
| 5. Team Europe to win the 2016 Ryder Cup | 11/10 | 6/5 | 11/8 | Evens |
| 6. New England Patriots to win the 2016 SuperBowl | 9/4 | 11/5 | 9/4 | 15/8 |
| 7. Raymond van Barneveld to beat Phil Taylor in the Premier League Darts (4th Feb 2016) | 9/4 | 9/4 | 9/4 | 2/1 |
| 8. The Fourth Test between South Africa & England to end in a draw | 3/1 | 11/4 | 11/4 | 33/10 |
| 9. England to win the Euro 2016 tournament | 11/1 | 11/1 | 12/1 | 9/1 |
| 10. Andy Murray to win the Australian Open Tennis Tournament 2016 | 11/2 | 5/1 | 11/2 | 9/2 |
As you can see, we have taken a broad range of sports that are taking place both within the next day or so, within the next week as well as several months of events and we have even included one non-sports bet for punters who often indulge in bets not involving sporting contests.
From the results above, you can see that SkyBet compares very favourably both to Bet365, as well as all other companies in the UK offering betting odds on those selected markets. Frequently, SkyBet offered the top price in the UK on that market and even when the site didn't, they still offered a competitive price.
For a punter that is a positive because they know that most of the time, they are going to get a good deal at SkyBet if these results are representative of how the sites odds compare, but there is also one other aspect of the SkyBet site which has a marked impact on the value of odds offered and that is its Price Boost promotion.
The Sky Price Boost effect
One of the best promotions on the site and one that is used in excess of 250 times every week is the SkyBet Price Boost promotion. In this promotion, SkyBet offer a popular betting market for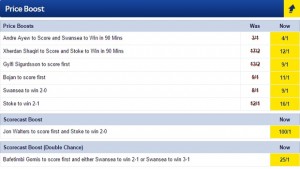 an event that is usually taking place that day and to make the bet more attractive to punters, they will offer an enhanced price on that selection.
This enhanced price generally makes this bet the best value you can find in the UK betting market, or at least level with the best odds you can get on that bet. Furthermore, the Price Boost offer can be used several times across several different bets in the same event meaning you can bet on multiple markets and receive the benefit of the price boost offer.
The Price Boost effect is positive in one respect in that it offers great odds on selected markets, but its value is only limited to those bets and if they are not bets that you like the look of, then its value is mitigated.
Conclusion
Overall, this investigation showed that SkyBet offers generally excellent odds across a wide range of betting markets. The site consistently offers prices that are near or close to the very best available in the UK and the value of betting here is also enhanced by the excellent Price Boost promotion which is available on a number of high profile markets each day.
All in all, in terms of value for money, SkyBet has shown it offers punters an outstanding deal and it is a site that is growing in terms of popularity with the bargain hunting British punter.