There's no doubt that for many football supporters, and especially those that tune in to Sky Sports for their Saturday football coverage, one of the most exciting innovations of recent years has been their hugely popular Super 6 Prediction game.
We have already outlined how you can play these games at BRC several times (click the previous link for details on how you can play if you are a newcomer to the game) but having played the game for many years, I thought it may be more beneficial to give you a few tips on how to play.
With a regular selection of Premier League games, Sky Bet League games, international fixtures and Champions League rounds, you are going to have plenty of chances over the course of the season to play Super 6. While it is a prediction game and as such, luck plays a huge part in securing a decent weekly score, there are some things you can do to help give you a chance of improving how much you score each week.
Outlined below are some useful hints and Super 6 tips that I've used over the past few years to varying degrees of success in getting a high score on Super 6. Feel free to adopt them as your own, or use them as you see fit in a bid to help you land that £250,000 weekly jackpot prize.
1 – Remember Super 6 is EXTREMELY difficult!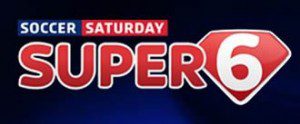 When Jeff Stelling says to correctly predict the scores of six matches, it doesn't sound like too onerous a task, but in actual fact, doing so is incredibly difficult! Managing your expectation levels here is key.
There is a reason SkyBet don't charge anything to enter this competition but still offer a top prize of £250,000 (as well as a number of other lesser prizes at various points of the season) and that is because it is very difficult to win the jackpot.
In recent years, thanks to more players playing the game, the jackpot has been won more frequently, but even so, there are weeks when nobody hits the maximum 30 point mark to claim the big win.
As such, what you want to do is focus not on winning the jackpot but improving your weekly score as if you can get a decent score, then you stand a chance of being in with a shout of the weekly consolation prize of £5,000 (unless Jeff Stelling is in a generous mood and decides to add a bit extra to that at the end of the show).
You should also always click on the Challenge Jeff option, a relatively new addition to the game which allows you to be entered into a prize draw to win one of ten smaller cash prizes (£500) along with all other Super 6 players who manage to achieve a higher score than presenter Jeff Stelling on that particular game week.
So, if you remember Super 6 is super-difficult then don't be discouraged if you hit some low scores in your first few weeks. It can feel at times that the game is impossible. It isn't, but it is extremely difficult to hit that magical 6/6.
Perseverance and understanding how tough this game is key to managing your expectation levels and to avoid you getting a little frustrated with the game.
It is worth remembering too that it is completely free to play, so you are not losing anything at all even if your selections are not winners.

BET365
BONUS CODE: BET247
Get up to €100 in Bet Credits for new customers at bet365
Bet365 Review
Min deposit €5
Up to €100 in Bet Credits
Bet Credits available for use upon settlement of bets to value of qualifying deposit. Min odds, bet and payment method exclusions apply. Returns exclude Bet Credits stake. Time limits and T&Cs apply. The bonus code BET247 can be used during registration, but does not change the offer amount in any way.

Deposit €5 on Signup
Get €20
New players only

Bet £10 get €30 in free bets
Credited as 2 x €15 bets
New Customers Only
Practice makes perfect in many cases and in the case of Super 6, seeing as it is free to enter then it is prudent for you to maximise your chances of a prize by ensuring you play every time a Super 6 game is available.
While most weekends see a Super 6 game available, do keep your eyes peeled too for midweek games involving International matches or even Champions League games. SkyBet can and do offer additional Super 6 game weeks throughout the season and it can be easy to miss these if you don't check back frequently enough.
Sky also do offer weeks when Sky Bet League action makes up the majority of the card, usually when there is an international break, or a much smaller than usual selection of games in the Premier League.
SkyBet altered how prizes are awarded on Super 6 a short time ago with less of a focus on monthly and seasonal prizes, and much more of a focus on weekly prizes, which is another reason to play every time that Super 6 is available, even if Premier League teams are not on the coupon during that week.
3 – Find out the Six Matches on the coupon as early as you can and do your research
SkyBet are generally very quick about getting a new coupon for Super 6 up and on the site within a few hours or so of the last game week ending. As such, finding out the six games on your coupon early is a real bonus as it gives you time to do some research.
Of course, you don't have to research a game, you can just guess or go with your gut instinct, but in over 20 years of betting, I have found that I enjoy more success with bets and prediction games like this when I put in a little investigative work beforehand.
For Super 6 games, I will generally look at the two teams competing and compare a number of key factors such as:
Their position in the League Table (if applicable)
Recent form (over the past 6 and 10 games)
Home and Away form of both teams both recently and over the course of the season
Are any key players injured or suspended for either team?
Who is the referee? How often do they tend to book or send off players?
What is the match situation? By that I mean, what is the context of a match. If it is a league game, are one or both of the teams in a battle at the top of the table, or at the bottom? Or is it a one-off cup tie which may see managers field weakened teams, or a two-legged tie, such as in the Champions League. By contextualizing the game you get a better idea of how the managers are likely to approach the game.
The relative strengths/weaknesses of each team and how they match up against each other.
How many goals the teams tend to score, at home, away from home
How many goals each team tends to conceded, at home and away from home
Historical record between the teams over the years
Once I have done this I will weight each of the factors and then decide on a result (Home Win, Draw or Away Win) which I feel is most likely and then from that try and figure out a scoreline that is also most likely.
Of course, it is the nature of football that things don't go always to plan, but sometimes they do and when it does, your research into a game can pay off handsomely.
I will then repeat this for each of the six games and then I'll have my six scores to enter as my predictions for that game week.
4 – Place your initial predictions, but revisit them in the week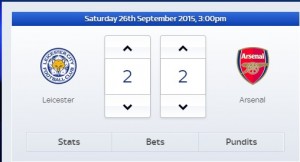 One of the best features of Super 6 is that if you make your guesses early enough, you don't have to stick with your initial predictions. You can login and edit your current predictions at any point up until the first game on the coupon kicks off (which is usually 3pm on a Saturday).
As I usually get my predictions in early, sometimes during the week you can hear some team news that may well impact the result. For example, if you hear that a key player for one team has been injured in training or while away on international duty and is likely to miss out. Or if you hear that a manager intends to rest key players for the game ahead of a crucial game the following week, so he may field a weakened team.
When this happens, I will revisit my initial predictions and make any revisions I feel necessary. For example, if I hear that Liverpool will be missing Mohamed Salah ahead of their game with Norwich City I may have initially put the Reds down to win 4-0, but with Salah out, I feel Liverpool's chances of scoring are less, so I could revise that score down to perhaps 3-0, maybe even 2-0, especially if I felt the striker was key to Liverpool scoring plenty of goals.
5 – If you can – always log in during the last hour before kick off
The last hour before kickoff is crucial in Super 6 as it is the time when you will know the team selections for all the teams competing in these games.
I cannot state how much of an advantage it is knowing the team selections to tweak your final match result selections.
In this last hour you have the most information available to you about each of the six fixtures than at any other time in the week, as such, it is good practice to log in, review each of your selections quickly over this period and finalise your predictions before the game kicks off.
Sky Sports website is a great place to get the latest team news and lineups in that last hour, so you can use that alongside the Super 6 app to play via mobile, if you can't access a desktop at that time.
The new Super 6 app, which is regularly updated, offers a slick and easy way to access the game while on the road.
6 – Check out the following historical stats for football scores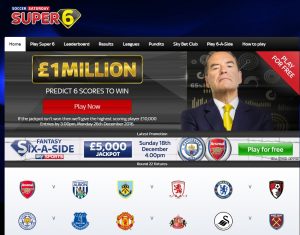 A little research in what historically are key stats for football results is always welcome and what I have done is collated some of the most important of these for you here to help you when making your predictions. Some of the most important stats to consider are the following:
The 15 most common scorelines in the Premier League so far this season (as of March 2022) are the following – 1-1, 1-0, 0-1, 2-0, 2-1, 2-2, 0-0, 0-2, 1-2, 3-1, 3-0, 2-3, 0-3, 1-3, 1-4. Any other scoreline appears less than 2% of the time. Around 11.6% of games finish 1-1, 9.36% finish 1-9 with 8.9% finishing 0-1. Just 7.12% of games finish 2-0 and 5.99% of games finish either 2-1, 2-2 or 0-0. These are by far the seven most common scores which cover over 51% of the games in the EPL this season.
There are some interesting anomalies with these stats. This season we have seen as more 7-0 victories in the Premier League than 5-1 or 6-0 scorelines. Similarly, we've been as likely to see a 2-2 draw as we have a 0-0 draw.
Six of the eight most popular scores in the EPL this season will see two or fewer goals scored in the game.
So far this season in the Premier League there have been the same number of 3-3 draws and 0-4 away wins as there has been 4-0 home wins.
Only 5.99% of games in the Premier League finished 0-0 so far this season.
Unusual scorelines such as those individual scores which have occurred less than 2% of the time this season account for around 15% of scorelines in the Premier League this season. If you consider that a Super Six coupon has six games on and that on average 3 games in two ten game weeks will produce one of the unusual scorelines, there is a good chance you will come across these games on at least some of your coupons. The key is being able to identify which of these games are most likely to be those unusual ones with less frequent scores!
Armed with this knowledge, a little research on each of the six games and a healthy dose of luck, you should find you get the right result more often, higher weekly points scores and in doing so, give yourself a better chance of landing that Super 6 Jackpot prize more often.
FAQs
What Is Soccer Saturday Super 6?
Soccer Saturday Super 6 is a free to enter prediction game available throughout the Premier League football season.
What Prizes Can I Win On Soccer Saturday Super 6?
The top prize on most weeks for the game is £250,000, although some weeks may see a bonus prize of £1,000,000 made available to be won.
How Do I Win The Top Prize On Super 6?
To win the top prize on Super 6 you need to predict all six scores correctly on any given game week.
If no player correctly predicts all six scores, then a smaller prize of £5,000 is given to the highest scoring player with a tie-breaker used to decide which player lands the prize in the event of more than one player having the same top score.
How Are The Points Awarded In Super 6?
You receive 5 points if you correctly predict the scoreline of any game on the coupon and two points if you correctly predict the result but not the scoreline. If you do not predict the correct scoreline or result, then that selection receives no points.
The maximum number of points you can get on any Super 6 gameweek therefore is 30.
Should I Enter The Beat Jeffs Predictions Bonus Game?
Yes, this is a free to enter game that runs separately to the Super 6 main game. Here if you manage to get a higher points score in any game week compared to Soccer Saturday presenter Jeff Stelling, then you are entered into a draw with all other players that achieved the same for a chance to win one of 10 £500 prizes for each game day.
Is Soccer Saturday only based on the Premier League?
No, you will find that the Super 6 competition can also be run on midweek games, such as Champions League fixtures, as well as for Championship and League One and Two games when the Premier League teams are on an international break. Fixtures from different competitions can be combined on a single game week coupon.
Is There A Mobile App For Super 6?
Yes, and it is free to download and very easy to use. You can also check on past performances as well as a list of the weekly winners of past Super 6 game weeks.