Most weeks we focus on Sky Bet and Bet365 Sport for are articles on BonusReferrerCode, chiefly because we believe these sites offer users the best deals, but occasionally, we'll also have a look at what is on offer at another site that offers good value to punters, BetVictor.
The company has been on something of a charm offensive over the past year or so with a raft of new advertisements featuring Paul Kaye, but also a number of top sports personalities including former Liverpool and Republic of Ireland defender, turned BBC football pundit Mark Lawrenson and former England manager Sven-Goran Eriksson.
Earlier this year, we had a look at why many punters believe BetVictor offer arguably the best option for football bets in the UK. That's a debatable point when you consider some of the deals on offer at other bookmakers, such as Bet365's Euro Soccer Bonus, and Sky Bet's price boosts and numerous special soccer-themed promotions and markets that you cannot find anywhere else.
However, there's no denying that BetVictor is a very popular site and they do run some excellent promotions and do have some exciting new site features, so this week we are going to take a brief look at some of the top promotions you can access on the site at present.
5050 Sports promotion to win a cricket bat signed by former England cricket skipper
If you are looking for a top quality piece of sporting memorabilia, then you need to check out this exciting promotion on BetVictor, which is offering cricket fans the chance to win a cricket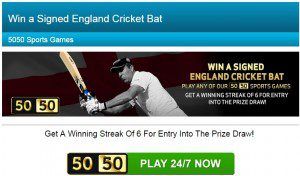 bat signed by the former England captain, Michael Vaughan.
The competition is based on the 5050 sports games that can be played as mini games on Sports, In Play and Games websites, as well as full games on the Games website too.  There are a number of games you can play to qualify for this offer: Michael Owen's 5050 Sports, Ricky Hatton's 5050 Sports, Michael Vaughan's 5050 Sports, Simon Whitlock's 5050 Sports and the 5050 Mini Games.
All you need to do to earn yourself a ticket for this big prize draw is play any of the games above and achieve a streak of 6 or more successive victories. With the chance of each option being 50/50, statistically at least there is a strong chance you can achieve this within a relatively short space of time.
To qualify for the offer, all bets must be a minimum of £1. There is also no limit on the number of tickets any single player can earn for the prize draw, which means that if you win several tickets, then you have more chance of landing the top prize.
The competition is running from the 23rd February through until Sunday 15th March. There are two signed cricket bats up for grabs as part of the promotion and both winners will be notified of their success shortly after the draw has taken place on Monday 16th March 2015.
You can play any of the 5050 series games at any of the BetVictor sites outlined above, but you do need to be a BetVictor customer to participate in the offer. Click for the latest BetVictor sign up bonus information, including information on how to get your £25 free bet.
2. New Customer Offer – Cheltenham Festival – enhanced price available for new customers

If you are not yet a customer with BetVictor then there may never be a better time to join the company, thanks to its exciting Cheltenham Festival-themed new player offer.
Ordinarily, new customers at BetVictor can receive a free bet up to the value of £25 when they join the site (depending upon how much they place with the company as their first bet). However up until the 10th March 2015, the first day of the Cheltenham Festival, BetVictor customers have a choice of BetVictor sign up deals.
You can elect to take the £25 free bet offer, or you can also try and earn around £5 more if you elect to take on the Willie Win? promotion.
In this promotion, you need to join BetVictor and place a deposit into your account and then with your first bet, place a maximum of £5 on the special offer bet; which is Irish trainer Willie Mullins training a winner on the first day of the Cheltenham Festival.
As a special offer, BetVictor are offering 6/1 against this for new customers only, rather than the stated 1/20 price available on the site.
New customers who take up this offer would be paid out to their cash account at the 1/20 price, which would see them earn £0.25 in real cash plus their £5 back, if Mullins successfully trains any winner on the first day of action. Not a great return, you would state but indicative of the quality of horses Mullins brings to the event.
However, in addition to this, they will also receive back a free bet of the value of the extra winnings as decided by the special 6/1 price for the offer, which means that you would receive back £30 in free bets to use, if a Mullins horse is successful.
The Irish jockey has a fantastic record at the Cheltenham Festival, posting four winners last season and in his post Cheltenham press conference on 18th February, Mullins stated that "It could be a hell of a year" for his horses as he expects to take approximately 50 horses with him to the meeting.
Several of those are hot favourites, including many on the first day of racing, which is what makes this offer from BetVictor well worthy of consideration.
If, as expected, Mullins leads one of his charges to victory on the opening day, then all bets made in conjunction with this new starter offer will be paid out, meaning that new players will receive up to £30 in free bets credited to their account, depending on the size of their initial bet.
However, it is worth remembering that you only have 30 days within which to use the free bet before it expires.
BetVictor has some exciting promotions available for betting fans at the moment, so it is well worth taking a close look at what is on offer from this popular sports betting company.