One of the most appealing aspects of Sky Poker is there range of Cash Table games. Located under the Cash Games tab on the website and mobile app, there are a wide choice of games you can
play including Omaha, Omaha Hi Lo and of course the ever-popular Hold'em tables.
In this article, we are going to examine exactly what is on offer at Sky Poker for the cash game player. What tables are available and what the stakes are at the tables. We'll look at the "Spin Up" game variation available at the site as well as some of the skills and traits you need to be a more successful cash game player.
Let's begin however by taking a simple look at the different stakes you can play for at Sky Poker's Cash Tables.
Remember, you do need to be a Sky Poker customer to enjoy all the games outlined below. Click here for details on the latest Sky Poker promo code which could see you handed a tidy bonus when you join and start playing on the site today.
What Cash Tables does Sky Poker offer?
As we have already mentioned, Sky Poker already offers Cash Table games in three versions of the game, Hold'em, Omaha and Omaha Hi Lo. Of the three types, Hold'em is by far and away the most popular version of the game and as such, this will be the primary focus for this article.
Each cash table at Sky Poker has either two seats (in the case of heads up games) or six seats (in the vast majority of cash table games). The only other choice is a nine-seat game called "November Nine" which is available across all three different types of poker on the site and is a reference to the famous WSOP final table at the Main Event each year.
The stakes you can play at in terms of the small/big blind bets for each of the three different types of cash game at Sky Poker are as follows:
| | |
| --- | --- |
| Cash Game Type | Tables Available at Sky Poker |
| Texas Hold'em | £0.02/£0.04, £0.04/£0.08, £0.05/£0.10, £0.10/£0.20, £0.15/£0.30, £0.20/£0.40, £0.25/£0.50, £0.50/£1, £1/£2, £1.50/£3, £2/£4,  £2.50/£5, £5/£10, £10/£20 |
| Omaha | £0.02/£0.04, £0.05/£0.10, £0.10/£0.20, £0.25/£0.50, £0.50/£1, £1/£2, £1.50/£3, £2.50/£5, £5/£10, £10/£20 |
| Omaha Hi Lo | £0.02/£0.04, £0.05/£0.10, £0.10/£0.20, £0.25/£0.50, £0.50/£1, £1/£2, £1.50/£3, £2/£4, £5/£10, £10/£20 |
In addition to these standard tables, Sky Poker also offers its own fast-play version of a cash table game, Spin Up.
What is Spin Up poker?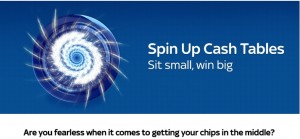 Spin Up Poker is a version of a Cash Table game where players can only buy in for a maximum of 10 big blinds at the table or a minimum of 3 big blinds.  Of course, with such small stacks this means players are required to act faster and play more hands, hence this is a game for players that like to play as many Cash Table hands as possible in a short amount of time.
Therefore, in Spin Up poker, players bet more freely, play a wider range of hands and you can win and lose money at a much faster pace than you can on other tables.
The game is offered across both No Limit Hold'em and Omaha Poker cash tables at the following stake levels:
10p/20p  (both NLHE and Omaha tables)
25p/50p (NLHE & Omaha)
50p/£1 (NLHE)
£1/£2 (NLHE & Omaha)
£1.50/£3 (NLHE & Omaha)
£2/£4 (NLHE & Omaha)
£2.50/£5  (NLHE)
Spin Up poker should be viewed as a cash table variant of a speed poker game, where players have such small stacks that they are forced to bet more often and play more hands to try and retain an interest in the game.
What table should I play at?
In terms of what cash table you should play at with Sky Poker, there are a number of key factors you should consider before making your choice.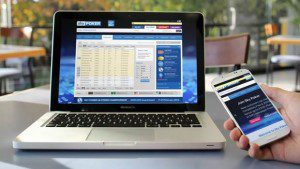 The first thing you need to look at is the size of your total bankroll. You do not want to sit down at a cash table with all your bankroll on the line, but simply a small fraction of it. So if you have £50 to play with, you want to find a table where you can sit down with plenty of chips for a £5 maximum buy in.
As in all cash table games, it is better to sit down at a lower stakes table with a £5 maximum buy in, than to sit down at a higher stakes table with a £5 minimum buy in. The more chips you have to start with, the more flexibility and less pressure you will have on your play.
The second factor you need to consider is time; how long do you have to play? If you do not have much time, then Spin Up poker may be a much better option than a regular cash table game which can take many hours of play before you start to see a decent profit.
Lastly, you also need to factor in your level of ability in poker terms too. You don't want to be playing for higher stakes at Sky Poker if you don't have the skills to at least be able to make a profit some of the time, or you will simply haemorrhage money away. If you are not a strong or experienced cash table player, stick to the lower stakes games until you have mastered at least some of the key skills you need to succeed.
What are those skills? Well we've outlined five key skills and abilities below.
What skills do I need to improve my chances of profitability at the Sky Poker cash tables?
Patience
In a traditional cash game (not Spin Up poker), patience is an absolute virtue that all the best players have. The ability to wait until the precise moment to strike and deal a blow to one or more opponents when the cards are in your favour, is quite simply the key to long term cash table success.
By patience, we do not just mean waiting to hit a decent hand, but also knowing when to fold a hand you may be invested in to avoid losing more money, or using your position at the table relative to the blinds, in order to pick up some cheap pots and top up your bankroll at regular intervals.
If you are not a patient player able to wait for these opportunities but still want to play cash table games, then Spin Up poker is the best option available to you.
Bankroll management
One of the most common ways people hit the wall at cash table games is taking too much of their bankroll to the table and at the end of a session, finding that their overall bankroll has taken a huge hit or has been depleted entirely.
Strong bankroll management is key to long term cash table success. Only play with a fraction of your bankroll, even if it means playing very low stakes. This not only means you won't risk losing as much, but also means that you are able to be more flexible at the table and not as pressured to start making money immediately or risk being blinded out of the game.
Clear understanding of cash table poker strategy
Your poker ability is, of course, always key when it comes to any form of the game, but perhaps it is more evident in a true cash game environment when blinds remain static and it is, in many experts view, the purest form of the game.
In a MTT or Sit & Go, your aim is to eliminate opponents and stay in the game. In Cash Table games, it is a different aim – to accumulate chips from other players over a sustained period of time. That requires a slightly different mindset to playing other forms of the game and with it a slightly different strategy for cash games compared to other forms of the game.
Counting your outs / calculating your percentages
To be a strong cash game player there are two more advanced skills that are incredibly beneficial to you as a player. The first of these is being able to quickly calculate how many "outs" you have depending on the community cards shown and how they compare with your hole cards.
The second skill is more complicated and takes a good degree of skill to master and that is to calculate what the estimated percentage probability is of you winning a hand based on the cards shown and your pocket cards/
Reading players actions
Lastly, even in online games, it is possible to read a little into players actions at the tables. Pauses between betting, betting quickly, betting in patterns all occur in online games as much as real world casino games and if you can tune in to how a player is betting, you can start to predict their movements and in the end, work out what their hand likely holds.