It is fair to say that the mobile poker industry in the UK is still very much in the first flushes of youth and that the industry is still evolving. That said, compared to the options available for those punters who like to enjoy sports betting via their mobile, or even play on casino games, there are relatively slim pickings for poker fans.
Worse still, the entire mobile poker arena in the UK is extremely confused at present and depending on where you search, you will either find only a few of the mobile poker sites available to you, or you will find links to sites that perhaps once did, but now do not offer a mobile poker client for download.
In this article, we'll attempt to create a little order from the somewhat chaotic background of the UK mobile poker scene. We'll look at some of the top mobile poker providers, some of those that offer slightly cut down services and those whose services are either just downright poor, or non-existent.
We'll also give you guidance on where you can find each of these sites and how you can play them. Whether they are available on Android or Apple devices, or both and lastly, whether as a mobile player you'll receive the same bonuses and offers that players who register and play via the website using a PC receive.
In addition, we'll take a look at the positive future for the mobile poker industry in the UK, with some exciting developments on the horizon for 2014 and beyond.
But first, let's take a look at the apparent disparity between the number of sports betting and casino options available for people to play via mobile, compared to the far fewer options for poker players.
Why the lack of poker apps for UK players?
Why is this the case when the popularity of the game is at an all time high?
Especially given that according to recent research, 63 million people across the globe used their mobile for gambling in 2013, why are there so few mobile poker apps compared to those for mobile casinos and sports betting?
In 2007, a study by Poker Players Research found that 3.2 per cent of all adults in the UK play online poker for real money. Yet the number of players who are interested in the game has increased markedly since then.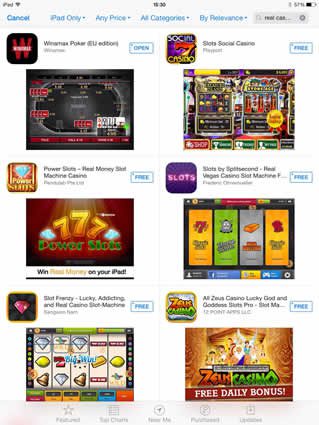 By 2012, research by Econsultancy.com revealed that poker made up 15% of the online gambling market in the UK, just 2% less than bingo and 8 per cent less than online casinos.
Yet, the UK Gambling Commission, when it looks into the habits of the UK gambler, does not include poker in its statistical analysis, thus making a clear understanding of the size of poker in the UK, very difficult.
With an estimated population of 63.23 million people, seven in ten of whom  have smartphones and/or tablets, it is fair to assume that the there is a considerable, multi-million population of poker players, who have a smartphone or tablet who may be interested in playing via mobile.  
Given this number, you would expect to see the same number of real money poker apps available as there are real casino apps, but there are not. In fact, it is not even close.
A search for "real cash poker" on my iPad reveals a choice of seven apps, six of which are slots or casino games, only one of which is a genuine cash poker app (Winamax).
A search for "real money poker" turns up more hits for poker apps, but still the majority of apps in the list are unrelated to poker (they offer sports betting or casino games) or offer pretend cash games.
While there are literally hundreds of casino apps and sites that are fully compatible with mobile devices on Android and iOS7, when it comes to poker, the choice is far more stark. Many of the biggest gambling operators in the UK are still to have a mobile poker product, even if they have a successful online poker room in operation.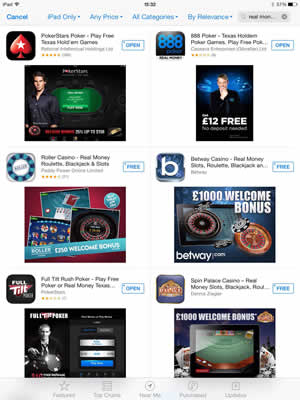 Currently the following big money multi-user gambling sites in the UK and Ireland do NOT offer a mobile poker service (despite offering a full poker service on their website):
William Hill

Ladbrokes

Stan James

Coral

BetFred

BetVictor

Boylesports

Betfair

Sporting Bet

Unibet

32Red Poker
Why is this? The answer lies in the detail and most likely, the software requirements for a multi-user, mobile game.
The software conundrum
The real problem for gambling companies is not that they don't want to offer poker to their customers, but that the software that the initial poker games were developed in (usually HTML, Java or similar) are not particularly compatible with playing the game via mobile.
Without wishing to get too technical, the limitations of this software meant that while it is perfectly feasible for this software to be used by a single user, such as when they place a bet, or when they play a mobile casino game, the software is able to cope with a single user playing via their mobile.
This is why there are so many mobile sports book and casino apps available. The companies in question did not have to radically alter the coding that powered their site in order to offer these services to mobile providers because connecting to the site via an app did not cause issues with the software.
However, when it came to a game that was played by several users, for real cash, such as poker. Many sites found that the software they had used when they first developed their choice of poker room, was unsuited to the mobile experience and caused problems for the user, or in many cases, just refused to work.
The development of the programming language HTML 5 (amongst others) has helped alleviate this as HTML 5 is fully compliant with mobile devices, however many companies now face the prospect of upgrading their poker software. This can be both expensive, time consuming and fraught with problems as there are always likely to be bugs and issues with any new software when it is released initially, regardless of how much behind the scenes testing goes on.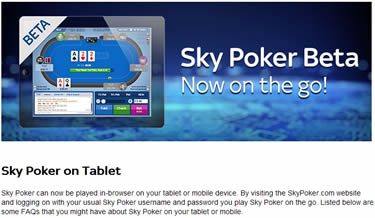 This is precisely what is happening right now with Sky Poker. The site has been in the process of updating its software since early 2013 using the new HTML 5 programming language to enable the site to offer mobile poker games to smartphone and tablet users.
Currently, the site is in the beta stage and users are able to connect to the site via a mobile device, by logging into the site from a browser, though the finished version will have a fully downloadable app.
While Sky Poker is still at work on its mobile version, which we imagine will be quite popular given the reputation of the site and the excellent Sky Poker bonus offers, for now the mobile version remains something of a work in progress.
It is also rumoured that several other big players in the UK gambling scene, such as Ladbrokes, William  Hill and Paddy Power are all working behind the scenes on their own compatible mobile poker product.
So the software issue explains why so many poker companies in the UK are not yet offering mobile apps for download for Android and iOS7 devices, but that is not the only problem facing the UK poker fan who wants to play via mobile.
When are the App Store and Google are not entirely accurate?  When you are searching for real money poker apps.
Now that you know which sites don't yet offer mobile poker, you'd assume that it would be relatively easy to find those that do, well unfortunately, you need to think again.
As we've already revealed, if you head into the App Store on your iPhone, iPad or iPod Touch and search for terms like "mobile poker", "real cash poker" or "real money poker", you end up with either list, the majority of which contain links to apps that do not offer either poker, or real cash games, or sometimes both.
What then happens is that the user then faces a somewhat time-consuming trawl through the list of apps shown to find the ones that do offer real cash mobile poker.
However, more annoyingly, not all the same apps appear in each list. The Winamax App for example, is the only app to appear when you search for "real cash poker." Yet if you search for "mobile poker" it doesn't appear in the list.
Therefore, if you want to see all the apps on offer in the App Store that offer real cash mobile poker, you need to perform several searches and work through a long list of results on each one, the majority of which bear no resemblance to a real cash mobile poker game.
This is intensely frustrating, but perhaps manageable if you believe that by the end of your search, you will have all the available options for real cash mobile poker on your Apple device. Unfortunately though, that isn't the case.
This is because the App Store don't seem to have access to all the iPad/iPhone compatible real cash poker apps or websites that are available.
So you fire up your browser and load up Google. If you enter a search term for mobile poker then you'll find lots of choice however you'll also discover that, like the App store, a great many results don't really offer you a chance to play real money poker on your smartphone or tablet.
Some will just link to websites of companies that offer poker via their website (like those listed above), while others will link to genuine mobile poker compatible sites. Some offer links to 'expert' sites on mobile poker, which seems at first to be a great shortcut.
'Expert' mobile poker sites

The next problem you encounter is when you visit sites proclaiming that they are expert on mobile poker, you are confronted with something like this little snippet of information to the right.
At first, this looks great, you can now easily see six sites which offer users the chance to play real cash poker via their mobile.
Only there's one small problem.
William Hill is listed in the six and as this screenshot of the full list of downloadable items from the William Hill website on the day this article was written shows, they do NOT offer a mobile poker download.
Sadly, this is not an isolated case, site after sites which profess a degree of knowledge about mobile poker for UK customers reveal a consistent pattern of links to sites that do not offer mobile poker.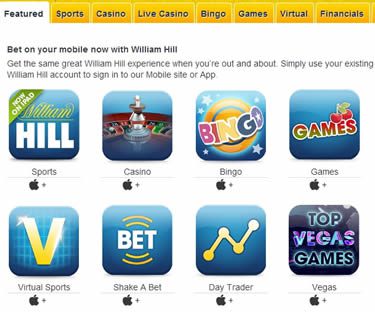 In this list for example, TitanPoker is listed as compatible with iPad, well it certainly isn't compatible if you do not have Flash installed on your iPad (as most iPads don't).
Furthermore, BetOnline Poker is a US-based site that has had some pretty dodgy reviews from customers and which has somewhat excessive withdrawal play-through limits, which would certainly put us off from recommending it. (Although in fairness we have not yet reviewed it fully).
Once again, this leaves the user searching valiantly through a long list of search results, looking for the sites that do offer real cash mobile poker for their chosen smartphone or tablet, which can be a long and involved process.
So to save you the hassle, here are the sites and apps that we can confirm 100% as having Real Cash Mobile Poker ready and available:
Bet365 Mobile Poker  – (accessed via a browser, not a downloadable app)

PKR 2D and 3D

PokerStars

Party Poker

Full Tilt Rush Poker

Bwin Poker

888 Poker

Switch Poker

Winner Poker

Winamax Poker

Sky Poker (beta version)
At present we have not fully reviewed a number of sites that offer mobile poker, however we intend to do this over the coming weeks.
We can give a hearty recommendation to Bet365 Poker, even though its current mobile offering is browser-based. Sign up an account today to cash in on a Bet365 Poker no deposit bonus code.
Those we are not 100% sure offer this to customers (certainly on iPad) include:
Titan Poker – Requires Flash Player to use, so players on Apple devices need to use a special browser or install Flash on their device in order to download. No information on the site about mobile play, despite several sites recommending it can be used by mobile players in the UK.

BetOnline Poker – Seems to be a US Based site, but it may allow UK players. High play through limits of 4 x your initial deposit seems a little unfair.

mFortune Texas Holdem – Confusing but seems to work ok.

WinPoker – Accessed via a browser – to be fully reviewed.

Terminal Poker – Another browser accessed site – to be fully reviewed.
We are certain that as we continue to trawl through the list of sites that say they offer mobile poker and find out those that do, and those that do not, then we will undoubtedly add more to this list.
Unfortunately, using a usually reliable search engine, does not make finding mobile compatible real cash poker apps and sites any easier. The information is at best sketchy, often wrong and occasionally misleading or confused.
This is also often the case when you visit "expert" poker sites where the information is, at best, often outdated and occasionally completely inaccurate.
Little wonder then that so many UK poker players, who would like to play by mobile, only tend to play on relatively few of the sites they know, they can find and that they can trust.
All apps are equal – it's just that some apps are more equal than others
Do you think that because most poker websites offer a similar type of cash games and tables, that mobile poker apps and sites will do the same?
Well once again, you would be completely and utterly wrong.
Of the companies that do offer real money mobile poker, they can be split into one of three groups.
There are apps that simply offer cash table games (which may include a variant of speed poker as part of their offering). There are no sit & go or multi table tournament games available on these sites.
There are apps that offer a choice of sit & go games and cash tables and lastly there are the apps which offer all types of games including speed poker, play cash games, multi table tournaments, sit & go games and cash tables, including many varieties of each type of poker.
Cash table only sites/apps
Bet365 Mobile Poker  (Cash Tables & Speed Poker)

Party Poker (Cash Tables & Speed Poker)

Full Tilt Rush Poker (Speed Poker Only)

Bwin Poker (Cash Tables & Speed Poker)

Winner Poker (Cash Tables & Speed Poker)
Cash table/Sit & Go sites/apps
PKR3D/2D
Cash table/Sit & Go/MTT's & more apps & sites
1. 888 Poker App
2. PokerStars App
3. Winamax App
4. Sky Poker App (Beta Version – Some Limitations In Place)
What this list essentially shows you is the type of apps which have a very limited scope and only really cater for the cash table player, or the poker player who wants to play speed poker (which is a very enjoyable game when played via a mobile and is perhaps the best suited to those playing on-the-go).  
The list also shows you which apps are the ones that have the greater number of different poker games and as such, which apps are likely to have better long term appeal, especially if you like to grind out your cash in Sit & Go games and MTTs.
If you want to be hyper-critical (and perhaps a tad pessimistic) you could equally argue that this list provides you with a list of companies who are genuinely interested in offering a top notch mobile poker product to the vast majority of poker players, as opposed to those which are only offering what they can, in the hope of generating a little extra cash.
The bonus conundrum – do you get one as a mobile player or not?
One of the biggest disappointments I have come across when joining many of the mobile poker sites listed on these pages, is that although many of them promise a new customer bonus, the actual number who make good on that promise, without any fuss or nonsense, is actually very small.
My first issue is this, many of the sites listed above simply do not make it easy or simple for a new player to understand how to activate their bonus. They state that a user may need to enter a code, or send their mobile number through to receive a text, or that they need to complete some other seemingly meaningless task in order to get at the bonus.
The only problem is, as a new customer to the site and as a new poker player, you don't actually know this until AFTER you have signed up, deposited cash and joined the site. By then, you've missed the chance at your bonus.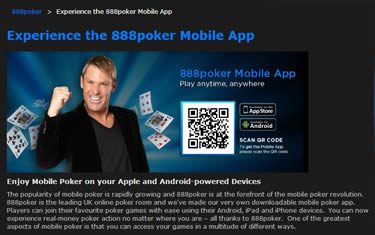 This is hugely frustrating and disappointing, especially if you have deposited a relatively large sum into your account in order to access what appears to be a promised bonus. 
Not all sites do this, 888 Poker and Sky Poker are two examples of excellent practise, where as soon as the new user signs up, they era eligible for a raft of bonuses, including free cash to play with on the site, a large deposit bonus (automatically applied to their first deposit) and freeroll tickets.
Being honest, this should be the norm across all sites. The fact it isn't means that new customers need to be wary of this "bonus conundrum" and have a good read of the site and the conditions that come with activating a bonus.
Once you have successfully negotiated this on your chosen poker site(s) you are now ready to play, however it can be a real effort to find the right site for you, especially if you are a relative newcomer to the game and just want somewhere quick and fun to play on your mobile. 
The chaotic nature of the UK poker scene is a bit of a mess right now, but hopefully this article has put you on the right track and the good news is, there is better news ahead.
The good news – the future is bright 
One of the most pleasing aspects about mobile gambling in general is how hugely popular it has been. In the UK now, many bookmakers are reporting huge increases in the amount of money they are taking from mobile gambling.
You can also be sure that the long list of UK gambling companies that do not yet offer a mobile poker service, will be keenly aware that they are letting the money from thousands of potential players, slip through their fingers.
Already we have seen Sky Poker make radical changes to its software to allow the site to be fully compatible with mobile. Ladbrokes too are believed to be readying a similar development for release in 2014 and it would be naive to think that these two companies are the only two on that list that have this development work going on.
Over the next year or two, we expect to see many of the companies without their own dedicated mobile poker app move into this industry in a far more organised and structured way, offering players exciting new deals to sign up and plenty of incentives to get them playing at the tables.
Hopefully they will have learned from the mistakes made by some apps, and the successes of others, as to what is the ideal type of poker app or site for the mobile poker player. 
If they do then 2014 and beyond looks like being a very exciting time if you want to be a real cash mobile poker player in the UK.