This weekend, the new Premier League season gets under way with a full weekend of action, starting on Friday Night with Arsenal hosting Leicester City at the Emirates Stadium in a clash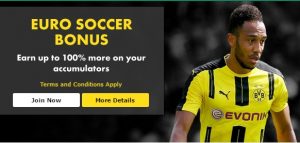 between two previous Premier League winners.
The full list of games taking place on the opening weekend of action is outlined below:
All games are 3pm kick offs on Saturday 12th August unless stated.
Arsenal v Leicester City (Fri 11th Aug – 7.45pm)
Watford v Liverpool (12.30pm Kick Off)
Chelsea v Burnley
Crystal Palace v Huddersfield Town
Everton v Stoke City
Southampton v Swansea City
West Brom v Bournemouth
Brighton v Manchester City (5.30pm Kick Off)
Newcastle United v Tottenham (Sun 13th Aug – 1.30pm)
Manchester United v West Han (Sun 13th Aug – 4pm)
Bet365 Sport will of course be focusing hugely on all the Premier League matches taking place this weekend and every day of the season with its extensive coverage of the competition, including Live In Play betting on all the matches as well as a trio of fantastic promotions which are available all season long.
In this article, we are going to take a look at these three top quality football offers which you can use time and time again throughout the football season.
Bet365 Euro Soccer Bonus
Bet365's flagship promotion is back and you can start to enjoy the fantastic benefits of the Euro Soccer Bonus with the Premier League starting this weekend. Over the next few weeks, further competitions that are part of this long-running promotion will start, allowing you greater choice of games in the hope of landing one of the bonus-paying accumulators.
To qualify for Bet365's Euro Soccer Bonus, your accumulator must consist of three or more selections from the Full Time Result, Match Result/Both Teams to Score market. You can select matches from both markets on the same accumulator coupon, but all selections must be from either of these two markets.
In addition, your selections can only include matches that are played in the following  five leagues and competitions:
English Premier League
German Bundesliga
Spanish Primera Liga
Italian Serie A
Group Stage Games and Onwards in the Champions League.
Provided all the selections on your bet slip meet the criteria listed above then your bet will automatically qualify for the Euro Soccer Bonus, which will be paid out on your bet should you land a winner.
How your bonus is calculated is based on the number of selections on your bet slip. The more selections you had in your successful accumulator, then the greater the value of the bonus you will receive. The full list of bonus payouts are displayed below
Treble –           5% bonus paid
4-fold and 5-fold – 10% bonus paid
6-fold –           20% bonus paid
7-fold –           30% bonus paid
8-fold –           40% bonus paid
9-fold –           50% bonus paid
10-fold –           60% bonus paid
11-fold –           70% bonus paid
12-fold –           80% bonus paid
13-fold –           90% bonus paid
14-fold or more – 100% bonus paid
How your bonus works
Let's say you had a successful 8-fold accumulator bet that was of odds of 100/1 upon which you placed a £10 bet. Ordinarily, this would see you earn a return of £1,000, plus your £10 stake back.
However, with Bet365's Euro Soccer Bonus, your successful 8-fold also triggers a 40% bonus based on your total winnings (in this case, £1,000). That means that your bonus is worth £400. So you would receive back £1,000, plus your £10 stake money, plus £400 bonus cash. A total return of £1,410.
The best thing about the Euro Soccer Bonus however is that it can be used time and time again throughout the season on matches in any of the five leagues provided the selections made are from the two named markets. Do this and you can enjoy a bonus on your winnings every time you land an accumulator winner at Bet365 Sport.
Bet365 Bore Draw Money Back Guarantee
The second great offer from Bet365 Sport can be used across any football match that Bet365 offer odds on the Match Result, Half Time/Full Time or Scorecast markets. It is its famous Bore Draw Money Back Guarantee.
This is a very simple offer to understand. Place a bet on any of the above three markets on any football match anywhere in the world with Bet365 and if your bet is a losing bet and the result of the match in question is a 0-0 draw, then Bet365 will refund your stake as a free bet.
If a customer uses the new Edit Bet function on the Bet365 site and places an edited bet on one of the qualifying markets, then only the remaining active stake (rather than the original stake) will be refunded as part of this offer.
Bets that have been partially cashed out will see only the remaining active stake refunded on the bet should the game finish 0-0. Any bets that have been cashed out in full will not be refunded.
Statistics show that over the course of a season anywhere between 7% and 9% of matches in most professional leagues finish in a 0-0 draw, so this is an offer which is of particular interest to punters that bet on these three markets regularly throughout the season.
Bet365 Each Way First Goalscorers
The third great offer that is available all season long at Bet365 is Each Way betting on the First Goalscorer market. How often have you placed a bet on a first goalscorer in a match and then watched as your selection doesn't score the first goal, but does go on to score in the game. It can be hugely frustrating when this happens.
However, that frustration is now a thing of the past with Bet365's Each Way First Goalscorer offer. On any match that Bet365 offers First Goalscorer betting markets on, you can back any of the players available as an Each Way option. This of course increases the size of your bet as you need to cover two lines on the bet (To Win and Each Way) but it means that if your player scores at any point in the game, then you will receive a payout from Bet365.
It works in a very similar way to each way betting on horse races, only in this case it is based on goals. Your initial bet is split into two separate bets, a bet on your player scoring the first goal (Win part) and a bet on them to score at any other time in the game (Each Way part).
If your player then scores the first goal in the game then you win both the To Win and Each Way parts of the bet and receive a healthy return. However, if your player doesn't score the first goal in the game, but does score at another point in the match, then you lose the first part of your bet, but your Each Way part will come in and offer you a return at 1/3 of the stated odds.
Each Way First Goalscorer Example
Here's an example of how it could work. Let's say I back Manchester United midfielder Juan Mata with a £10 (£20 total) Each Way First Goalscorer bet with Bet365 at odds of 6/1.
If Mata scores the first goal of the game then my first bet wins (£10 at odds of 6/1) which would return me £60 winnings, plus my £10 stake back. My second Each Way bet also wins (£10 at odds of 2/1) which returns me £20 winnings plus my stake money back again. That would be a total return of £100 on the bet if Mata were to score first.
However, if Mata did not score the first goal, but did score at another point in the game, I would not win the first part of the bet, but I would still win the Each Way part, picking up £20 winnings and my £10 stake back, meaning I would still make a £10 profit on the bet.
Each Way first goalscorer betting is a fun way to minimise your frustration with the notoriously variable First Goalscorer market while still enabling you to pick up a return, provided your player grabs a goal at some point. It is available throughout the season on any game with the First Goalscorer market offered at Bet365 Sport.