After you have placed your bets, what do you do to keep an eye on how your wagers going? Are you someone who watches every moment of the event in question to see how your bet goes, or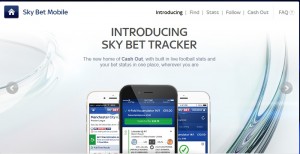 do you forget about it and only check back when the result is known?
Most punters generally like to see how their bet is going while a sporting event is in progress and now if you are a SkyBet account holder (and if you aren't click on our Sky no deposit bonus page here for more information on how to join) there is a quick and simple way to do this.
The software is called Sky Bet Tracker and you can download it direct from the SkyBet website and this new piece of software may well revolutionise how you keep tabs on your bets with SkyBet.
What is Sky Bet Tracker?
As the name suggests, Sky Bet Tracker is a piece of software which is used in conjunction with your SkyBet account. The software links to this account and can detect when you have placed a bet on a sporting event. What the tracker does is when the event is in progress, it will track your bet as well as the event itself.
This means that the Bet Tracker will track not just how your bet is doing, but also real time statistics to do with the event you are betting on in question, which of course you can use to help you place further bets, such as wagers on In Play betting markets.
Another great option which Sky Bet Tracker gives you easy access to via the software is the ability to cash out your bet (if eligible). With your SkyBet account linked to the Sky Bet Tracker software, you can cash out your bet when available by clicking the button.
Essentially, Sky Bet Tracker is a piece of software you can open up when your chosen sporting event is in play to keep a close eye on how the event is going and how your bet is performing, allowing you to make real time decisions about what you should do with your bet. Keep it running, or cash it out?
How is useful to me as a SkyBet punter?
In truth, Sky Bet Tracker is only as useful to you as a punter depending on how many bets you make, how regularly you make bets and how often you make bets that may need you to keep a close eye on how events are unfolding (such as multiple selection bets, accumulators and similar).
If you are a relatively infrequent bettor, who doesn't place many bets in a typical month, then Sky Bet Tracker will only have limited use to you on the rare times you have a wager in progress.
However, if you bet more frequently and typically place bets that can be offered cash out options at various points, then the Sky Bet Tracker software is certainly something you should look to add to your portfolio of betting utilities.
That's not to say that anything you can see on Sky Bet Tracker cannot be found on the SkyBet site, it can, but what is better about Sky Bet Tracker is how quickly and easily you can access your specific bet data to make your decision more speedily.
What devices can I use Sky Bet Tracker on?
Originally, the Sky Bet Tracker was devised simply for mobile devices and was available for both iOS devices (Apple) as well as an Android version. However since the original release, Sky Bet have now got a version available for desktop computers, so you can now use the software on a traditional desktop PC or laptop, as well as a number of mobile devices.
The app looks and is used in exactly the same way regardless of what platform you use the software on.
What are the main sports and bets featured on Sky Bet Tracker?
At the moment, you can only follow a number of different bets on two sports using the Sky Bet Tracker software, these are Football and Horse racing.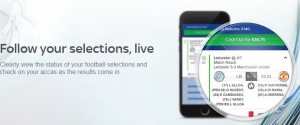 You can get updated information and statistics about the following bets on the service:
Horse Racing – Win and Each Way Bets
Football Betting – Full Time Result, Both Teams to Score, Correct Score, Full Time Result & Both Teams to Score, Double Chance, Half Time Correct Score, Half Time Result, Half Time Over/Under 2.5 Goals, Under/Over X.5 Goals, Soccer Saturday Price Boosts, Super Sunday Price Boosts, Soccer Special Price Boosts, Champions League Price Boosts, How Will The Tie Be Decided, plus a number of Extra Time based bets.
If you place an accumulator bet using horse racing selections, or football selections from the markets above, then you will be able to track this bet using Sky Bet Tracker (and you should be able to cash out the bet too at various times).
What bets is Sky Bet Tracker best for?
If you are looking at the number of bets that the software covers above, then you will likely notice that all the major horseracing and football bets are covered.
While as single bets, it is handy to be able to see how your bet is going, the real usefulness of Sky Bet Tracker's service comes when you place multiple bets, specifically accumulator bets. With this software, it is very easy to keep track of all the different selections in your horseracing or football accumulator, thus allowing you to make a clearer decision on when to cash out, or not.
It will be interesting to see whether SkyBet decides to add other sports to the service in future, particularly the likes of cricket, tennis, rugby union, rugby league and golf, all of which are popular with punters who place accumulators and also sports that are heavily featured on the Sky Sports TV channel.
So if you are a punter that bets regularly with SkyBet and want to have even more control over how your bets go, then the Sky Bet Tracker app or software is well worth downloading both onto your PC as well as your mobile device. Simply use your existing SkyBet log in details to use the software once you have placed a football or horseracing bet.