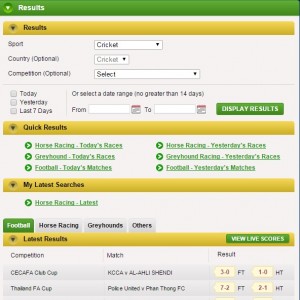 After you have placed a bet, the next important thing you need to do is to check whether the bet is successful. There's an easy way to do this of course, and that is by checking your betting slip, which will indicate whether your bet has won, or lost.
However, if you are a serious gambler, then you will likely want more information about each aspect of your bet, especially if it was an acca or a multiple. Yes, you may now know that your bet lost, but why did one of your selections that you were so confident would win, let you down?
To gain insight into the reasons behind your selections failure and to gain a greater understanding of sports betting markets in a wider context, you need to get yourself familiar with a key area of the Coral Sports website.
That is the Results section.
Coral Sports Results Service
Once you have logged into Coral – if you aren't a customer then be sure to check our Coral Sports bonus offer review page – then you can access the results service from inside the Sports Betting option (Sports) and then clicking on the green tab labelled "Results" underneath the main blue tab. This will bring up the Results sub-menu and it is from here you can access a wealth of sporting results.
There are several ways you can navigate this section in descending order these are:
Search Bar
Here you can decide what Sport, the Country and Competition you are searching for results for. You can then go on to determine what timescale you want results from, either today, yesterday or the last 7 days, or you can state a time period using two calendar dates.
Once you have set your parameters, click on the Display Results button and the results pertaining to your search will be shown.
Quick Results
This is a shortcut to some of the most popular sports betting results that will have occurred recently. They include horse racing results, greyhound race results and the latest results from soccer matches.
My Latest Searches
This looks at your history on the site and looks at which results you have been searching for most recently and lists them, so if you are revisiting the same results section time and time again, then this may be the quickest way to access these results for you.
Latest Results
This section lists a number of sports (Football, Horse racing and Greyhounds with other sports listed under the Others tab.) and it lists the latest results that have been confirmed for each of these sports at the time you view them on the site.
Once you have navigated to your chosen market, all the results of the events played or competed for over the time period selected are shown. The initial list shows the basic information about the result, but for some sports, you can access full betting results of the event by clicking on the "Click Here" option under the View Full Results column.
Once you have done this, this brings up a detailed list of all the results for that specific sporting event, including all the key markets that Coral Sport offered markets on.
So for example, in the case of a football match, your basic data on the list would show you the result of the game (as in which team won, or if it was a draw) the score of the game and then clicking on the Full Results, will show you how all the other markets, First/Last Goalscorer, Over/Under 2.5 Goals and many many more.
Coral's Results service incorporates data from a huge number of sports including American sports, Australian Sports and Gaelic (Irish) Sports.
In terms of offering punters access to detailed results for sports betting markets, Coral's Results service is certainly one of the best we've come across on a betting site, chiefly because the amount of detail provided and its multiple-search interface which makes finding the right results extremely quick and easy even for a novice punter.
Does the Results Service serve any other purposes?

Of course, the Coral Results service is great for finding out how your sports bet did, but can it serve any other purpose other than that?
Well, savvy punters have long realised that these huge databases of information provide them with a great deal of research material for when they are planning bets. Especially if the user is planning an ante-post bet, or perhaps a large wager.
By using the search facilities on the results section, you effectively have access to a huge sporting database of results. This allows you to research your bet and decide whether or not you want to place it based on a great deal of information.
When used in conjunction with Coral's excellent Statistics package (which is located on the green tab next to the results page) this offers punters a very powerful package for researching bets across a huge number of sports.
It is particularly useful in identifying trends, which can help you decide whether a bet offers good value for money or not. For example, if you are thinking of placing a large bet on there being Over 2.5 Goals in a football game, but your research of the recent results of the two teams involved suggests that there is likely to be fewer than 2.5 Goals, that is potentially a losing bet saved.
Conclusion
If you want a comprehensive results service that covers all the top sports betting markets in great detail then you will not go far wrong with Coral's option. It is quick and easy to navigate to the market you want to review and the amount of detail provided about the market is really what sets it apart from others available online.
When used with the Statistics pack on the site, the Results service on Coral Sports can be a powerful tool, not just for evaluating the success of your betting selection, but also in helping you formulate future bets.