For many years, when a punter placed a bet with a bookmaker, the chances of them getting any cash back from the bet depended entirely on how their selection performed. If their bet came in,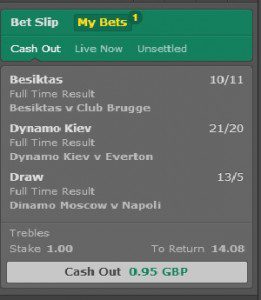 then they'd earn cash, if it didn't, then they'd lose the entire amount they had wagered.
That remained very much the case up until very recently when sports betting sites decided to offer customers a new feature. That feature was the option to cash out a bet, or a percentage of it, before the final result of the bet was known.
The name for that feature on Bet365 Sport is Cash Out and in this article, we'll explain exactly how it works, how it can be used and whether it is an option that punters should be taking at all.
Remember, you can join Bet365 right here at BonusReferrerCode by simply clicking on our detailed Bet365 Bonus Code review.
What is Cash Out?
Cash Out is an option that is available on some bets at Bet365 Sport where a punter can place a bet, yet before the final result of their bet is known, may have the option to Cash Out the bet for a stated amount.
What happens is a punter may place a bet, let's say for example a football accumulator bet of five teams, and those five matches may take place at various times over a weekend. Let's say now that on Saturday night, your first three choices on the bet have all proven winners, but you have two further bets on Sunday to come in.
At this point, Bet365 may allow you to cash out your bet based on the results so far, and the fact you have two more matches to go tomorrow. How much they offer you depends on a lot of different factors (we'll look at this in more detail below) but you can choose to Cash Out your bet at this point and take the money on offer, or you can keep your bet running.
If you elect to Cash Out, you receive the stated cash and your bet is completed. Even if your other two selections were winners, you would still only receive the cash out sum.
How do Bet365 Calculate what the Cash Out offer is worth?
This is a very good question and in truth it depends on a number of different factors including:
When you want to cash out, or more to the point, how far into the bet you want to cash out. The further you are into the bet and the stronger your position in terms of results then the more likely it will be that Bet365 will offer a larger amount. If you are just into the bet and few results are known for certain, then the amount offered will likely be considerably smaller.
The odds on your bet succeeding – If you have picked a Win Double and the first of your bets has won and the second is an odds on favourite, then you will likely find you'll get a more favourable Cash Offer than you would have if you had made a five-fold bet and only two of your selections had come in.
The odds of your selections – Lower odds selections have a greater chance of success according to the bookmaker, while longer odds have less chance. If you have packed your bet with longer odds chances, then the cash out offer may be considerably less than if you have picked lower odds selections
Events in a game/match – If one or more of your selections is in progress, then events within a game can influence the size of the cashout on offer. For example, if you have a bet running on a soccer match on one team to win and then your team gets a man sent off, the odds on your team winning will plummet, so your cash offer will also decrease in size. However, if the opposition have a man sent off, your teams chances of winning increase, so you may find the cash offer increases in value.
Is Cash Out available for all bets?
While Cash Out is available for a high percentage of bets, Bet365 does reserve the right to not offer cash out on some bets. Bet365 states that:
"Cash Out is available on selected events, fixtures and markets both pre-match and In-Play on single and multiple bets for a variety of sports including Soccer, Tennis, Horse Racing, Cricket and Basketball"
What is Partial Cash Out?
One option that is very appealing to people who want a bit more flexibility with their bet is a Partial Cash Out option.  Bet365 Sport currently only offer Partial Cash Out bets for selecte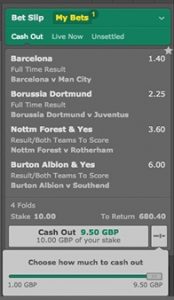 d single bets and straight accumulator bets, no other betting types are covered by this offer at present.
A Partial Cash Out is very much as the name suggests. Here on qualifying bets, customers can cash out a percentage of their initial bet and receive cash back immediately for that part of the bet, while the remaining part of the bet remains active and can still win.
For example, let's say a punter had placed a £10 four-fold accumulator bet and had seen his first two selections come in. He would now be able to cash out his bet, keep his bet running or partially cash out his bet.
If he partially cashed out his bet, he could take, for example, 50% of the cash out value offered by Bet365, which would be paid into his account. This would equate to the 50% of his initial bet. The remaining 50% of his bet would remain active on the bet and would pay out if his remaining two selections won (although he would only receive half the amount he originally would have won).
What happens if I cash out an accumulator bet, but the bet then wins?
If you fully cash out a bet and then your bet subsequently goes on to win, then you only receive the cash out amount you accepted initially.
If you partially cash out a bet. You receive a cash out amount for the percentage of the bet you cashed out and you will be paid out for the remaining percentage of your original bet that won.
Should I use Cash Out?
There are many punters that view cash out as a device used by bookmakers to play on punters insecurities. Many argue that if you have the courage to place a bet, you should see it through and that the Cash Out option is more of a penalty than a help to punters.
On the flip side of this, there are punters who feel that the Cash Out option offers them a chance to ensure profitability, or minimise losses, but opting to cash out or partially cash out bets at certain times and that longer term, this can be more profitable for the punter.
In truth, Cash Out is simply an option punters have to manage their bets as they see fit. It can be extremely useful to secure a profit when your bet would have eventually failed, equally it can be expensive if you cash out and your original choices go on to win. That is the cash out gamble, so the key is to use it wisely.