The days when a bookmaker could empty the pockets of customers with a gambling problem and then wash their hands of the mess that ensued, are thankfully long gone. As part of the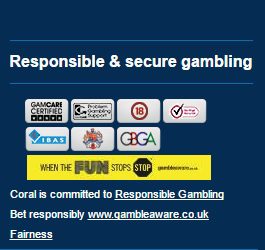 gambling reforms that came into being with the advent of the online betting and gaming industries, there is now greater emphasis than ever on companies to ensure they promote responsible gambling to their customers.
Of course, not all companies share the same ideas about how to go about this and while these issues will likely only be pertinent to a tiny fraction of customers of any one site, the importance of promoting responsible gambling remains huge.
It is therefore key to identify how a company approaches this issue, especially if you feel you could be at risk of problematic gambling habits, or perhaps know a friend who may suffer with this unwanted affliction and addiction.
With Coral being one of the pre-eminent bookmakers in the UK and having a strong online and high street presence, it is well worth taking a closer look at how they deal with the issue. But before we examine Coral's strategy, let's take a look at what actually is meant by responsible gambling and of course, factors which can flag up when gambling becomes irresponsible.
Identifying responsible gambling and irresponsible gambling?
The good news for punters is that identifying responsible gambling is generally very easy as it is the form of gambling that the vast majority of punters undertake with Coral Sports and other sites, whenever they bet or wager with the company.
Good betting habits are the bedrock of responsible gambling and some of the key factors include:
Only bet with disposable income that you can afford to lose
The ability to lose a bet and accept that, without trying to recoup that loss
Only bet as a form of enjoyment, not to make money
Having an affordable budget for betting that you can afford and that you stick to without exception
Being able to control when you bet and being able to go long periods without a bet or even visiting the website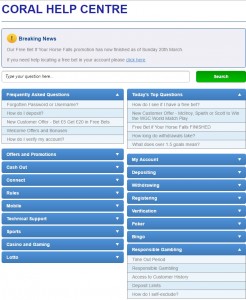 Of course, it is easy to infer from this list of positive traits what some of the poor betting habits are that lead to gambling addiction or at best, problematic gambling as they are the polar opposite of these statements:
Problem gamblers often bet with funds that they cannot afford to lose.
Often as a result of the above, if the person loses, they will then try to recoup that loss by making additional bets, often of increasing value, that they cannot afford
They see betting as a way to make money and not as a leisure pursuit or something to enjoy
They bet with whatever funds they can get their hands on at the time and do not budget for it
They underestimate how much time and money they are spending betting
They are constantly thinking about the next bet and feel a need to bet constantly
You will notice that there isn't a monetary value at which gambling becomes problematic. This is simply because every punter has different amounts of money available to them to spend on gambling. If someone has just £10 a month spare, but spends £50 on gambling, then this is clearly irresponsible gambling as they are using funds required for something else to fund their gambling.
Alternatively, if someone has £500 a month in disposable income and wagers £400 a month on bets and wagers, then provided they can bet responsibly as outlined above then this is their choice. It is not the amount that matters, but the availability of funds and how you view and approach gambling that determines whether you are a responsible gambler or not.
How do Coral promote Responsible Gambling on their sites?
Coral Sports have a Responsible and Secure Gambling section at the foot of the home page when you load up the site. This has links to a number of problem gambling organisations such as Gamcare and GambleAware. In the Responsible Gambling section outlined below, there are links to several more organisations tasked with helping individuals with gambling addition or problems.
These are organisations that are there to help people who may feel they have a gambling problem and need professional help. However, there are also several options available on the Coral site to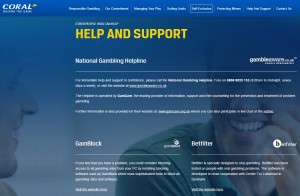 help gamblers mediate their gambling habits before they reach that stage.
Clicking on the Responsible Gambling link will bring up the detailed help section listing the options available to help punters that feel they need it to control their gambling more effectively.
The key options available with Coral are:
Time Out Period – If you feel you need a break from gambling, you can contact Coral customer services team and ask for a Time Out period. This will put a freeze on your account for the amount of time you state and you cannot then place bets on your account until the time period expires.
Set Deposit Limits – Coral allow players to set the maximum amount of money they can make as a deposit and also how often they can make a deposit. So one deposit limit could be £10 per day or £50 per week as rough examples.
Self–Exclusion – This is similar to a Time Out Period, but lasts for longer between 12 months and 5 years. Simply complete a form and return it to Coral and they will exclude you from using your account for the time period stated.
Account Closure – If for any reason you feel the need to close your account permanently, Coral allow you to do this by contacting customers services who will help you close the account permanently.
In addition, you can monitor the amount of time you are spending on Coral sites, and your gambling habits, by checking the transactions and deposits that have been made on your account. This is all easily accessible from the My Accounts section of the site and allows you to review your playing online.
Furthermore, there is a simple nine-question Responsible Gambling Self-Assessment test you can take with Coral which can help you identify if you are likely to suffer with or already have a problem with your gambling.
Nowadays, companies such as Coral must offer their customers every possible opportunity to evaluate and understand their wagering habits as to avoid problem gambling and additionally, they need to provide support for customers that may experience these issues, regardless of how few in number they may be. Fortunately, Coral takes promoting responsible gambling very seriously and the site offers superb support for all customers to ensure they enjoy all aspects of the Coral gaming empire safely and responsibly.