There are some offers that just grab the attention of casino gamers more than any other. Usually, these offers are simple to access and offer the player the potential for reward for undertaking a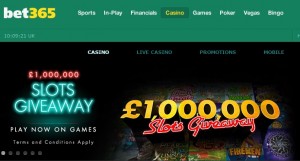 relatively simple task. Well if you are a customer at the popular Bet365 Casino (or indeed just have a Bet365 account with Poker, Bingo, or any other Bet365 platform) then you can participate in a fantastic promotion throughout October and into November.
It's called the Bet365 Casino £1,000,000 Slots Giveaway and as the name suggests, Bet365 have set aside a total prize fund of £1,000,000 to be shared amongst its customers up until the promotion ends on the 16th November 2015.
This isn't the first time that Bet365, through its Casino sites Bet365 Casino, Bet365 Vegas or Bet365 Games, has run such a promotion. Back earlier this year in May we let you know of a very similar promotion that was ongoing at that time on sister site Bet365 Games.
This new promotion operates in a very similar way and we'll explain how it all works below. If you are not yet a Bet365 customer, join today to participate in this fantastic offer. Click through for your dedicated Bet365 Casino bonus to help you get started playing.
How to participate in the Bet365 Casino £1m Slots Giveaway
Each week of the promotion there will be two prize draws made and a number of cash prizes will be awarded from those prize draws to thousands of winners.
Prize draw tickets are earned by Bet365 Casino players logging into their account and playing any of the featured slots selected for the current prize draw period. These games will change for each prize draw, so it is important that you check which slots are those selected for the current draw as it is only play on these slots which will earn you prize draw tickets.
The featured slots for each of the eight prize draws are outlined below:
Prize Draw 1 (19th to 22nd October) – Pirate Plunder, Nest Egg, Mafia Millions
Prize Draw 2 (23rd to 25th October) – Big Top Tombola, Bouncy Balls, Rich Treats
Prize Draw 3 (26th to 29th October) – Leprechaun's Luck, Rainbow Riches (only on Bet365 Bingo) and Who Wants to be a Millionaire
Prize Draw 4 (30th October to 1st November) – Clover Rollover, Wild Gambler Arctic Adventure, George and the Dragon
Prize Draw 5 (2nd November to 5th November) – Adventures in Wonderland, Britain's Got Talent Superstar and Mini Dragons
Prize Draw 6 (6th November to 8th November) – Bounty of the Beanstalk, Zodiac Supernova, The Glass Slipper
Prize Draw 7 (9th November to 12th November) – Fairest of them All, Dynamite Digger, Fireman
Prize Draw 8 (13th November to 15th November) – Amazon Wild, Chests of Plenty, Heart of the Jungle
You then load up any of the featured slots and for every £10 that you spend playing on the slot during the prize draw qualification period, you will earn yourself a free prize draw ticket. The more you spend playing the slots in this period, the more prize draw tickets you earn.
However you can earn more tickets for your money by electing to play the Double Ticket slot games that are also part of the offer.
Double Ticket Slots
For each of the four weeks of the offer (covering the two prize draws held in any given week) Bet365 Casino will designate one of their featured slots as a special Double Ticket slot.
On these slot games, for every £10 you spend in the qualifying period that this slot is designated as a Double Ticket slot, then you will earn TWO prize draw tickets for your money. Giving you double the chance of winning a prize for every £10 spent, compared to the other feature games.
Bet365 Casino have informed players which four slots will be the games to play in each of the four weeks of the promotion.
Week One (19th October to 25th October) – The Winnings of Oz
Week Two (26th October to 1st November) – Full Moon Fortunes
Week Three (2nd November to 8th November) – Fireworks Blitz
Week Four (9th November to 15th November) – Wild Gambler
Each of the Double Ticket slots is available for two prize draw periods (for example, the Full Moon Fortunes slot is the Double Ticket game for the third and fourth qualifying periods from the 26th to the 29th of October and the 30th October to the 1st November)
The Prize Draw – Schedule and Prizes
Over the four weeks of the promotion there are eight prize draws in total scheduled. The number of prizes awarded and the amount of prize money distributed via the prize draw increases with every week of the promotion that passes.
The prize draw schedule is outlined below:
Week One (Prize Draws 1 & 2) – £75,000 in prize money distributed in 5,000 total prizes per draw
Week Two (Prize Draws 3 & 4) – £100,000 in prize money distributed across 6,000 total prizes per draw
Week Three (Prize Draws 5 & 6) – £125,000 in prize money distributed across 7,000 total prizes per draw
Week Four (Prize Draws 7 & 8) – £200,000 in prize money distributed across 12,000 prizes per draw
One thing to note is that you can stake £10 across different slots, provided that they are featured slots in the relevant qualification period and you will still qualify for the offer. So you could spend £5 playing one featured slot and £5 playing another and you'd still earn a prize draw ticket.
There is no limit on the number of prize draw tickets you can earn for any single prize draw, nor is there a limit on the number of prize draw prizes your tickets can earn you. It is entirely possible to win more than one prize in any given prize draw.
Each prize draw will be conducted at 10am on the Friday and Monday of each qualifying period and if you win a prize, the money should be in your Bet365 account within two business days.
Can I participate in the £1m Slots Giveaway via mobile or tablet as well as desktop?
Yes, all the games selected as the Feature Games and those you can earn double tickets playing each week will be compatible with the mobile version of Bet365 Casino, meaning that you can play the games on any compatible mobile device and still earn tickets for entry into the prize draw.
This is a fantastic opportunity for you to earn your share of a guaranteed £1m prize fund, with the prizes on offer increasing in size and number as you work your way through the promotional period.