How would you like a chance to win €100 every day until 13th May with Bet365 Poker, simply by playing in real cash games on the site. You don't even need to win those games in order to give yourself a chance at a €100 bonus thanks to Bet365 Poker's brand new promotion Golden Scratchcards.
However this promotion doesn't just offer you one way to win as if you manage to earn yourself a single scratchcard through your play in each day's qualifying period, then you will also earn yourself a tournament token to take place in a €1,000 Daily Freeroll which will be played at 19:30 GMT each day throughout the promotion.
Of course, you need to be a Bet365 Poker customer to participate in this offer, so why not join today? New UK players can use Bet365 promo code to ensure you get the best possible deal when you join.
Let's take a look at this new promo from Bet365 Poker in more detail.
What is a Golden Scratchcard?
A Golden Scratchcard is simply a way for those people who have opted in to Bet365 Poker's new promotion to measure their progress against a series of ten daily milestones. For each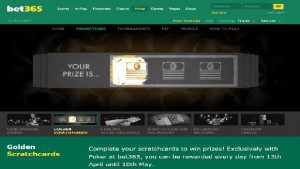 milestone, a certain number of coins is needed to be earned and coins are earned by converting Merit Points earned by playing real cash games into coins.
In real life scratchcards are games where you scratch away panels with a coin to reveal a possible cash prize underneath. Camelot, the company who run the National Lottery, produce a large number of scratchcards that you can buy in the shops in the UK and in the online version, the process is essentially the same, except you use a 'virtual' coin to scratch off your card to see if you have won.
Once you have earned the stated number of coins for the first Golden Scratchcard (which is a total of two coins), you then need to earn the next number of coins to earn your next Golden Scratchcard.
You can see how many coins you need to earn for the next Golden Scratchcard in the poker software when you load it up and you can also see your progress towards earning the next Golden Scratchcard.
Once you earn your second Golden Scratchcard you will receive a bonus cash amount for earning the Scratchcard. The more Golden Scratchcards you earn in a single qualifying period, the bigger the bonus you will receive.
However, that is not all you could win. Each day, ten of the Golden Scratchcards randomly given out by the Bet365 Poker software contains an added prize of €100. If you are one of the lucky ten players to receive one of these scratchcards on any day, you'll win a €100 bonus on top of anything you have won for earning that Golden Scratchcard.
The qualifying period for each day runs from 12:00 (midday) GMT through until 11.59am on the following day. Once a qualification period has ended, your Merit Point and Coins balance are reset to zero and you can start earning towards the next day's Golden Scratchcard.
Any cash awards owing to you in the promotion are then paid to the user as quickly as possible after the closing of the previous qualifying period, with any tournament tokens owed paid into the players account by 15:30 GMT, to allow them to use it to register for the next €1,000 Daily Freeroll taking place four hours later.
How do I earn a Golden Scratchcard on Bet365 Poker?
Earning a Golden Scratchcard on Bet365 Poker is very simple. However the first thing you must do, however you elect to play, is to Opt In to the promotion by clicking on the page on the site dedicated to it and clicking on the green button.
Once you have opted in to the promotion once, you do not have to opt in every successive day, you will be opted in for the remainder of the promotion.
Only once you have opted in does your play on any of the Bet365 real cash games start to count towards your first Golden Scratchcard. If you play real cash games on the same day, but opt in following playing them, then the cash you spend playing these games will not count towards the promotion.
Once you have opted in then all you need to do to start earning is to play any real cash games, sit and go events or multi table tournaments on Bet365 Poker. As you earn Merit Points through playing these games, these Merit Points will be converted into coins at the rate of one coin per two Merit Points.
However, if you play on the Premium Tables, then you will earn coins at the rate of one coin for each Merit Point earned, so you can earn your coins twice as quickly.
As you progress through the promotion in any given qualifying period, the number of coins you need to earn for each Golden Scratchcard successively increases, though the rate at which you earn coins remains the same throughout the promotion.
How many Golden Scratchcards can I earn in a qualifying period?
You can earn a maximum of ten Golden Scratchcards in a single qualifying period.
Am I guaranteed a Scratchcard win?
If you earn yourself a Golden Scratchcard then you are guaranteed a bonus win. For the first Golden Scratchcard, you will win yourself a free tournament token. For the second Golden Scratchcard and each successive Scratchcard you earn, you will earn yourself an increasing cash bonus for every scratchcard you earn up to a maximum of 10 in any one qualifying period.
You are guaranteed to win these prizes if you earn the relevant scratchcard for the prize.
However, you could also win one of the 10 randomly assigned €100 Golden Scratchcards which are available each day. Once you receive your scratchcard and have activated it, it will inform you whether your card won or did not win the €100 prize.
The more scratchcards you earn each day, then the more chances you give yourself of winning one of the ten daily €100 prizes on top of any guaranteed cash bonuses and the free tournament token.
How do I earn a tournament token to the €1,000 Daily Freeroll?
Each day alongside the ten free €100 Golden Scratchcard prizes, Bet365 are holding a €1,000 Daily Freeroll event at 19:30 GMT. Entry into this event is by tournament token only and you can earn one of these any day of the promotion by simply earning your first Golden Scratchcard of that promotional period.
One thing to remember is that your Tournament Token is only valid for the next €1,000 Daily Freeroll and if you do not use it, once the tournament starts, if you have not registered to participate then you will forfeit the tournament token.
Is this offer suitable for mobile Bet365 players?
While mobile players can't access sit & go or multi table tournament games, mobile players can access the full range of cash games, as well as speed poker and the Merit Points earned by playing these games will contribute towards the offer, so mobile players can participate in the offer yes.
If you're looking to learn more about the ins and outs of Bet365, be sure to check out our guides to betting at Bet365.