If there is one sport that Bet Stars has focused upon delivering a high quality sports betting service for during its relatively short existence, then that sport is football. While the whole site has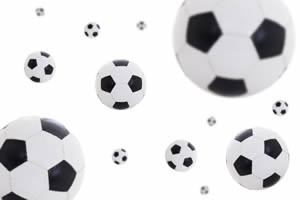 undergone big advances since its release, the amount of work done enhancing the options for the football punter at BetStars has been immense.
And no place better emphasises just how carefully the site caters for the football punter than its Football Coupons section.
To access this section, all you need to do is log in to your BetStars account and then click on the Football tab at the top of the page. This will then load up the main Football page in the space below and at the top of this, you will see six tabs. Select the Coupons tab and click on this to load up the coupons page.
Displayed down the left hand side of the Coupons column is a list of different coupons that BetStars offer. These coupons cover a wide range of football markets including all of the most popular types of football bets you want to make. In addition to sorting the options by bets, you can also sort the coupon by games (such as European Elite matches) and there is even a 100/1 Multi Builder option which puts together a selection of matches which when the odds are combined into an accumulator, add up to 100/1.
What is so useful about these coupons?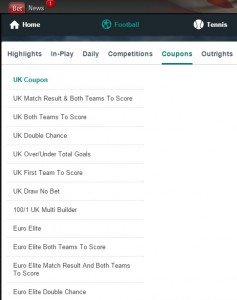 BetStars is by no means the first site to offer coupons, but what BetStars have done is make their coupons not just easy to find, but also covering the most popular types of matches and bets that people want to bet on.
In addition, by organising their coupons in such a way, BetStars makes it very easy to place accumulator bets, as well as other types of multiple selection bets, using a selection of the most popular fixtures for the key markets.
So in addition to placing a standalone accumulator on the usual match winner market with BetStars, by using coupons, it is easy to place a number of different accumulator bets on a huge range of markets such as:
UK Match Result and Both Teams to Score
UK Both Teams to Score
UK Double Chance
UK Over/Under Total Goals
UK First Team to Score
UK Draw No Bet
In addition to these bets, you can also place the same kind of multiple bets using selections from across Europe's top football leagues, such as Serie A, the Bundesliga (Germany), Ligue 1 (France) and Spain's La Liga.
What are the "Multi Builder" coupons?
If you are looking to place a low risk/high reward bet and don't have the time to wade through a whole host of fixtures and markets to place a bet yourself, then the Multi Builder coupons are a perfect choice for the punter with a small amount of time on their hands.
With the Multi Builder coupons, when you select this coupon, it will automatically search through all the different markets available across a huge range of matches in different leagues and place a number of these selections (around 5 usually) onto a single coupon. You can then place a single accumulator bet on these selections that, if successful, will return at combined odds of 100/1.
Essentially, this is a very quick way for you to place a bet on an accumulator that will offer you a return of £100 profit if you bet £1 on the selections.
The sheer number of coupons on BetStars, combined with how easy it is to put together a whole host of different bets, ranging from simple Singles, Doubles and Trebles, up to more complicated full cover bets means that this is a great way for a football punter that loves accumulator betting, to afford themselves a wide choice of betting options. What is particularly appealing is that this is the case regardless of how much time they have to spend perusing the markets as if time is an issue, they can use Multi Builder coupons.
So if you are looking for high quality football betting across a wide range of markets and with a huge number of promotions available, check out BetStars this week and see what you have been missing.