When it comes to slot games, there is one particular type of game that is incredibly popular with punters and that is the progressive jackpot slot, in particular, those small number of slots that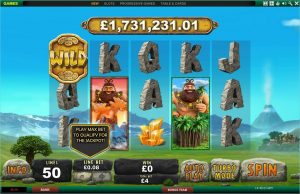 offer the player chance to win a life-changing amount of money on every spin.
As a Bet365 Poker customer, you have access to the full range of Bet365 sites through your membership and outlined below is a selection of five of the biggest and best progressive jackpot slots that you can play. Some of the games are available on multiple sites and some are even available from within the Bet365 Poker side game option.
Remember, all you need to do to play any of these games is sign up with a Bet365 site. Get the latest list of Bet365 bonus code details from our page and ensure that you pick up a fabulous starter bonus when you sign up with one of the sites.
To get you started on the road to winning a huge amount of money, we've outlined five of the best progressive games in a little more detail below.
Jackpot Giant Slot – Bet365 Poker, Games & Casino
Developed by Playtech and hosted on three different sites, the hugely popular Jackpot Giant slot regularly offers the chance to win a progressive jackpot well in excess of £1m and often it can be several million pounds more than this.
It is a 5×3 reel slot that has 50 paylines in play and in order for your spin to potentially qualify for the progressive jackpot prize you must make the maximum bet of £4 per spin.  You can win the massive progressive jackpot by landing five of the Wild symbols across the reels on payline one.
In addition to this feature, the Bonus symbol, when landed on reels 1 and 5, triggers a bonus round where you get to select three from six volcanoes which allows you to claim a cash prize, extra pick or even a "win 'em all' option which also offers the chance of a big cash win.
In addition to the progressive jackpot, you can win up to 1,000 coins if you land four Wild's on a payline, or a 50,000 coins base game jackpot if you land five wilds on a payline other than payline 1.
Mega Fortune Slot – Bet365 Vegas
The Mega Fortune Slot is one of NetEnt's most popular games given that it regularly boasts a progressive jackpot of several million pounds. It is available to play on Bet365 Vegas, the home of all Bet365's NetEnt's slots and games.
As the name suggests, Mega Fortune is a slot all about wealth and luxury and this 5×3 slot which has 25 paylines in operation can be played from between £0.25p and £50 per spin. You can trigger the progressive jackpot bonus game on any spin, although the more you wager, the more chance you have of triggering the bonus feature.
The bonus feature is triggered by landing the Mega Fortune Bonus on three consecutive reels. When triggered this bonus sees you spin three reels, the outer, middle and inner reel. On each reel are a number of cash prizes, increasing in size as you progress through the reels, or an arrow.
Land a cash prize and that is what you win. Land on an arrow and you progress to the next reel. Manage to land three arrows and you win the Mega Jackpot, which has paid out a top prize of €17.8m back in January 2013.
Age of the Gods slots – Bet365 Poker, Games & Casino
One of the most recent additions to the wide choice of progressive jackpot games on the Bet365 family of sites is the Age of the Gods series of slots. There are a number of different games available in the series and each pays into the same progressive jackpot fund and each can trigger a winner. The jackpot prize tends to be between £200,000 and £1m.
The Age of the Gods slots are set to replace the Marvel progressive jackpot games and as such, the different slots available are mirror images of the Marvel slots they have replaced, so if you have played any of the Marvel games before, you'll likely find the Ages of the Gods slots very similar in terms of how they play, bonuses and return to player percentages.
There are several Age of the Gods games to pick from including the title game, King of Olympus, Battle of the Gods, Goddess of Wisdom, Furious 4, Prince of Olympus, The Fate Sisters and Hercules as well as an Age of the Gods Roulette option which also pays into the progressive fund.
Monty Python's Spamalot – Bet365 Poker & Casino
Without doubt one of the wittiest and most amusing progressive jackpot games you can play at either Bet365 Casino or as a side game at Bet365 Poker is the Monty Python-inspired Spamalot
slot.
This is a 5×3 reel, 20 payline slot that is absolutely packed to the brim with comedic touches throughout all aspects of the game, including the four different bonus games, all of which are themed on a famous scene from the Monty Python and the Quest for the Holy Grail movie. In addition, there is a free spins round with additional Wilds on the reels to try and activate too.
Collect enough of the jackpot symbols during free spins and you'll get a chance to play for the progressive jackpot (currently standing at over £3m) by taking on the Holy Grail Jackpot Game. Ascend through six levels and avoid the stomping giant foot and you could be taking home the progressive jackpot and a life-changing amount of money.
Even if you don't you are guaranteed an epic time on one of the most enjoyable, feature packed and humorous progressive jackpot slot games you can play today.
Mega Moolah – Bet365 Games
Perhaps the most famous progressive jackpot game of all and the current world record holder for paying out the largest ever progressive jackpot prize to an online player, Mega Moolah is a 25-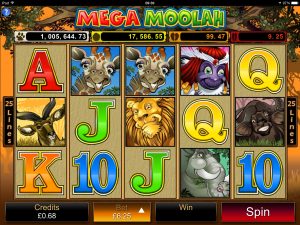 payline slot that has a guaranteed jackpot fund of £1m and which can climb to much larger amounts.
Based on an African Safari theme, the slot can be played from as little as £0.25 up to £6.25 per spin and you can win the massive progressive prize playing at any price, but you stand more chance of triggering the bonus game that offers access to the big jackpot the more you wager.
The game itself is a simple and enjoyable slot with wild symbols and free spins making the base game fun to play. However, when the randomly triggered bonus wheel game is activated, you now stand a chance of winning one of the four jackpots available. Mini, Minor, Major or Mega.
The Mega jackpot is the huge progressive, but the Major jackpot is still a significant amount of money to win, with the Mini and Minor jackpots, smaller amounts. This is the slot that has paid out the largest wins to an online player and a player playing via mobile and you can play it now at Bet365 Games.