One of the most exciting aspects of playing at any casino, or indeed any form of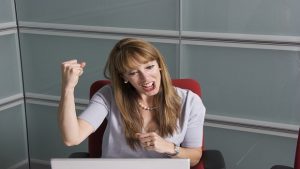 gambling, is when you are placing a bet that could, if all the luck in the world goes your way, see you win a life-changing amount of money.
Over the years, the top prizes available on online slot games has steadily increased. Prizes of hundreds and thousands of pounds, dollars, euro or whatever currency you play in, are now commonplace. You can even find games available that offer you a chance to win tens of thousands pretty commonplace at modern online casinos.
However, there are just a few games where the potential wins are so huge, that they could be life-changing. Many of these games are progressive jackpot slots. Games which take a small percentage of every stake wagered on the game, collect them together in a fund and then award them at various intervals to lucky players who get incredibly lucky. Pay outs in these games can reach into the hundreds of thousands and in some, over the million mark.
If you are not yet a member of a site offering progressive jackpot games, then why not sign up with the latest bet365 Games New Player Bonus? Not only will this get you started on the site and able to play any of the great games mentioned in this article, but you will also be able to try out a wide selection of other top casino games and slots, including a wide number of card games, table games and even Instant Win games.
Remember too, even though bet365 is not yet available in the United States or Pennsylvania, you can still enjoy a wide range of similar slot games at the different casino, poker and sports betting sites now legally available in Pennsylvania. Check out the current playsugarhouse promo code details in the link for details on the latest offer available for customers that want to join a top-rated online casino.
Let's now take a look at some slot games which have the potential to change your life for the better thanks to the size of their jackpot prizes.
Mega Moolah
Mega Moolah currently holds the record for the largest ever win paid out to a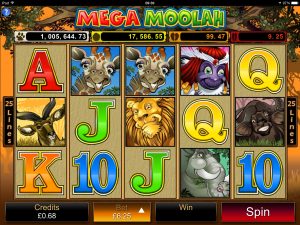 player on an online slot game. While British player Jonathan Heywood still holds the record in the Guinness Book of Records for winning over £13 million back in October 2015, in January 2019, a jackpot of over $20 million in Canadian Dollars was paid out to one player, and a few months before that, we also saw a winner who landed a prize of over €19 million.
The largest of the four progressive jackpot prizes on the Mega Moolah slot, is the Mega jackpot and this is guaranteed to be at least £1 million (or a million in the currency you are playing the slot with). However, if not won, the jackpot can climb considerably higher than this seed amount.
In 2019 alone, the progressive has already paid out its top jackpot prize 11 times in total at the time of writing and it has cemented itself firmly in the psyche of slot players seeking that life-changing win.
Gladiator Jackpot
With a current progressive jackpot prize in excess of £2.3 million at the time of writing, the Gladiator Jackpot game is the same as the original Gladiator slot from Playtech, with one small addition of a progressive jackpot prize fund that can amount to anything from a few hundred thousand, up to over £2 million and rising so far.
The base game plays the same way as the standard Gladiator slot, which is based on the famous Ridley Scott film of the same name. However, in this Jackpot version, there is a Gladiator Jackpot Bonus feature which is triggered when you land three of the Gladiator Helmet Wilds across the middle three reels.
This loads up the bonus game where you get to pick from a series of icons on screen. Manage to land the nine gold helmets having triggered the bonus game from the base game, and you will land the progressive jackpot prize.
Age of the Gods Series
If you enjoy playing progressives but don't like being restricted to just one game to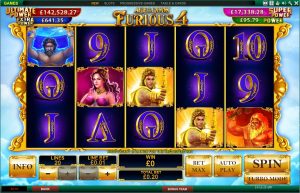 play, then there are certain progressive jackpots that offer a series of games you can play, all of which offer you a chance to win the same jackpot prize and the Age of the Gods series is a great example of this.
The jackpot on this progressive has only recently been won, which means that it is currently at a relatively small amount for its top jackpot prize (just over £119,000). However, its prize can increase well beyond that and increase towards the million mark.
Like Mega Moolah, there are four progressive prizes available on this slot, Power, Super Power, Extra Power and the biggest is the Ultimate Power prize.  There are also a number of games you can play to try and win the jackpot prize, all linked in with the ancient Greek Gods and they include King of Olympus, Fate Sisters, Furious 4, Prince of Olympus and the original Age of the Gods slot.
Jackpot King Series
One series of progressive jackpot slot games that are, at the time of writing, offering a prize in excess of £1 million is the Jackpot King series of games, all of which are available at bet365 Games. These games are all simply versions of standard slot games, that have been linked together to one large progressive jackpot prize fund.
The aim is to collect crowns as you spin the reels and as you land more crowns, you increase the size of a multiplier on your winnings. If you manage to collect enough, you can enter the Wheel King bonus, which offers you the chance to land the progressive jackpot prize.
There are a good number of games part of this progressive series and they include Ave Caesar, Wish Upon a Leprechaun, Star Spinner, Slots of Gold, Irish Riches, The Pig Wizard, Vikings of Fortune, Super Spinner, Lion Festival and The Naked Gun to name but a few.
Kingdoms Rise Series
Bet365 Games is also home to the exciting and new Kingdoms Rise progressive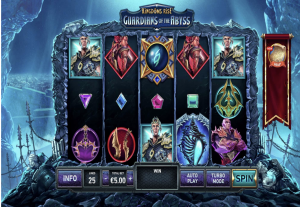 jackpot slots. After a couple of recent releases, there are now three different slots part of this progressive network. Kingdoms Rise Forbidden Forest, Guardians of the Abyss and Sands of Fury.
These progressive games offer three different jackpot prizes. First up is the Daily Strike Jackpot which has to be won each day by midnight. The second is the Power Strike Jackpot, which has to be won before the jackpot reaches £2,000.
However, it is the third jackpot prize, the Epic Jackpot that is of most interest to us as this is a true progressive and can increase to any value and be won at any time. Currently, the jackpot stands at just over £139,000, but it could increase well beyond that, especially as the game grows in popularity over time.
These are just a few of the different progressive jackpot slots available at bet365 Games but it is worth noting that some games available on site, such as Immortal Romance, offer huge jackpot prizes of millions of credits too, and these non-progressives can also offer potentially huge rewards to the lucky player.