If you had conducted a straw poll of betting offers across betting sites then there is no doubt that offers regarding accumulator bets, particularly football accumulators, would likely come out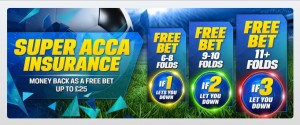 on top of the list.
The reason for this is somewhat simple, perhaps more so than any other type of bet, football accumulator betting has exploded in popularity over the last few years with more and more people attracted to this low risk/high reward type of betting.
As such, it makes sense for sports betting sites to offer customers a great deal when it comes to their football accumulator betting and alongside the likes of Bet365 Sports Euro Soccer Bonus deal Coral Sport have developed a fantastic accumulator-based offer for its customers.
You can join Coral today by getting the latest Coral bonus codes by clicking here. Then you can take advantage of their fantastic football themed accumulator promotion.
It is called Super Acca Insurance and here's a breakdown of how the promotion works.
What is Super Acca Insurance on Coral Sport?
As the name suggests, Coral's offer is a form of betting insurance where you could earn your stake back if your accumulator doesn't quite come off. Now usually in these accumulator insurance offers, punters receive their stake back on a minimum acca bet of usually five or six selections, if one selection lets them down. However with Coral Sport, it is a slightly different and potentially more flexible promotion.
First off, the number of selections you make on your accumulator bet with Coral decides how many of your selections can lose. In most other accumulator insurance offers, this is limited to just one of your selections losing, but with Coral it changes.
If you place a six-fold, seven-fold or eight-fold accumulator bet, then if one selection lets you down you can receive a full refund of your stake as a free bet from Coral up to a maximum value of £25.
For nine-fold and ten-fold bets, you will receive your stake back (again to a maximum of £25) if up to two selections let you down.
However, if you place an accumulator of eleven selections or more, then if up to three matches let you down on your bet, then Coral will return your stake (up to a maximum of £25).
All stakes are refunded as a free bet, which means that they fall under Coral's rules for free bets, which states that the bet will be credited to your account around 30 minutes after the bet has been settled and that you have seven days within which to use your free bet token.
Furthermore, if your free bet wins, the free bet stake is not returned with any winnings you earn from the subsequent bet.
Key questions about Coral's Super Acca Insurance offer
Is the offer available for any other sports other than football?
No, at the moment, Coral are only offering the Super Acca Insurance offer for football and for accumulators consisting of selections from the Match Result market only.
What happens if one of my selections is void?
In this case, it depends how many selections you have made on your accumulator bet and how many of your selections have lost to determine the effect of the void result. If a match is declared void for any reason on an accumulator then it is assumed the accumulator is still placed, simply with the void match removed, so a six-fold accumulator would become a five-fold.
In this case, then a void match would not see you see your stake returned as the offer is only available on accumulators of six or more selections.
In the case where a void match sees your number of selections drop from one threshold (initially 9 selections or 11 selections) into another grouping, whether you receive a refund would depend on you meeting the criteria of the part of the offer that your bet now falls under.
So if a nine-fold bet has one match void and becomes an eight-fold, then if one match let you down, you would receive your stake back. However if two let you down, you would not.
In a similar situation, if an 11-fold bet becomes a 10-fold and 3 matches let you down with one void, you would not receive the stake back. However, if 2 matches let you down and another is void, then you would earn your stake back as a free bet as you fulfil the criteria for a return on a 10-fold wager.
Can I combine selections from other sports with my football accumulator bets and still receive by stake back?
No, all your selections must be from the Match Result market from football matches in order to qualify for the Super Acca Insurance offer.
If I place a multiple bet, such as a Goliath, Heinz or similar, will I qualify for the offer for qualifying accumulators in this multiple line bet?
No, multiple bets are not included in the offer. Only single line accumulator bets are returned as free bets if they meet the criteria.
What happens if I Cash Out my bet before the result is concluded on a selection?
If you Cash Out your bet at any point, then you do not receive the offer.
Are there any limitations on what competitions and football matches I can bet on to qualify for the Coral Super Acca Insurance offer?
Unlike the Euro Soccer Bonus with Bet365 (which focuses only on Premier League, Serie A, Bundesliga, La Liga and Champions League matches), you can use Coral's Super Acca Bonus on any football match, from any league and any competition from around the world, provided that Coral are offering odds on the Match Result market.
Conclusion
If you enjoy accumulator betting on a regular basis and especially if you find that just one or two selections regularly let you down, then the Coral Super Acca Insurance promotion is one that should definitely be on your radar. The chance to earn back your stake, even as a free bet, can make accumulator betting all the more affordable while still giving you the chance of that low stakes, big money win that all accumulator punters dream of achieving.