Ever since the National Lottery was launched in the UK back in November 1994, it has become something of a national institution. New games were added to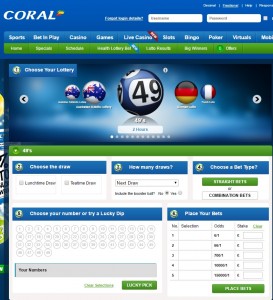 complement the original draw over the years, scratch-card sales were also popular as the British public became increasingly aware of this new way to play.
Over time, the popularity of the Lottery has ebbed and flowed, but it remains one of the most popular ways people elect to wager money every week. Of course, the UK is not the only country to offer lottery services to its citizens and there are many different lotteries around the world that offer similar competitions and prizes to be won each week.
It didn't take long for sports betting sites to realize that they could seize on the popularity of lottery type games by offering their customers the chance to wager not just on their own lottery, but lots of other lotteries around the globe. Thus the era of Lottery Betting was born.
Coral's version of this is called LottoBet and we are going to take a much closer look at this service, explain how it works, what the prizes are and how you can play in the main body of the article below.
Before we start, remember you do need to be a Coral customer to play LottoBet, so why not check out the Coral signup offer that suits you best at any of the top Coral sites available via the link.
What is Coral's LottoBet?
The LottoBet service is a betting service that is based upon a number of lottery draws around the world. It is not entry into any of the lotteries, simply a bet on the numbers that will be drawn the next time the lottery is held.
This is key to understand. You are not entering the lottery to win a prize, you are simply placing a bet with Coral based on what the numbers in the draw will be.
What you can do is scroll through the list of lotteries available at Coral Sport at the top of the page until you find the lottery you wish to bet on.
You then place your bet in a very similar way to completing your lottery ticket. This is done by selecting the draw you wish to bet on, how many draws you want to place your unit stake bet on, whether you want a straight bet or combination bet and then there are the numbers that can be drawn in the lottery.
What Lotteries can I bet on?
Coral's LottoBet service offers you the chance to bet on a 13 different lottery-based draws from around the world. The full list of lotteries is as follows:
French Lottery – 3 Times Per Week (Mon, Wed, Sat)
German Lottery  – Twice per week (Wed, Sat)
Hong Kong Lottery – Three Times Per Week (Tue, Thu, Sat)
Irish Lottery – Twice Per Week (Wed, Sat)
49s Lottery – Two Per Day (12:49 and 17:49 UK Time each day)
New York Lottery – Twice Per Week (Thu, Sun)
Singapore Lottery – Twice Per Week (Mon, Thu)
Spanish Lottery – Twice Per Week (Thu, Sat)
Oz Lotto (Australia) – Once Per Week (Tue)
Tatts Lotto (Australia) – Once Per Week (Sat)
Daily Million (Ireland) – Once Per Day (20:55 UK Time)
Health Lottery (UK) – Twice Per Week  (Wed, Sat)
As you can see, the different lottery draws take place on different days and at different times throughout the week which means that there is always a lottery you can bet on that will be taking place within the next 24 hour period, if not sooner.
How do I place a bet on a specific lottery draw?
There are two ways you can place a bet on a lottery draw and that is determined by whether you select the Straight Bets or Combination Bets options for your chosen lottery. Let's examine what both types of bets are:
Straight Bets
If you select the Straight Bets option then you have a choice of bets available to you, depending on how many numbers out of those available in your chosen lottery you wish to select.
A straight bet is one, or more bets that the number(s) you select on your lotto betting slip will be selected in the forthcoming lotto draw. You can select one or more numbers to come up, with the more numbers you select to come up, the greater the odds of success for the bet.
Unlike the lottery itself however, you cannot perm any three numbers from six selected for example. With the LottoBet, you simply would select three numbers and all three need to be drawn for your bet to win. However, you would then be paid out at much greater odds than you would in the actual lottery.
With Straight Bets you can place bets on one or more numbers being selected in the lottery. You can place multiple bets for one, two, three or more balls, for the same unit stake, but of course, this would mean that your stake would increase by each bet that you wish to make.
Also, if you do place multiple bets, then not all combinations of numbers are covered by your selection. For example, if you entered the 49s Daily lottery and picked five balls, then only your lowest number selection could win the 1 ball bet. Your two lowest numbers could win the 2 ball bet and so on.
Combination Bets
Combination bets offer more flexibility than straight bets but because there are more lines to cover in a multiple number bet, they are generally more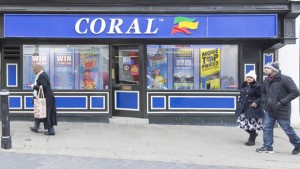 expensive to place.
For example, to cover every possible combination of bets for five numbers would require 31 individual bets to be placed:
5 x Single Bets
1 x 5-fold accumulator bet
5 x fourfold accumulators
10 x treble bets
10 x double bets
If you are familiar with Full Cover betting from horse racing, then you will be familiar with the terms used to describe these Combination bets (Doubles, Trebles, Folds, Canadians, Lucky 31's & similar).
However, if you wish to keep the cost down, you can just elect to bet on one type of Combination bet. In the example above, you may wish to place the 10 Double bets for a 10 x your Unit stake, which means if two of your five numbers come up, then you would win and guarantee yourself a profit as any double bet being successful would guarantee a return greater than your stake.
If I win, do I "win the lottery"?
No. You are not playing the lottery, just betting on what numbers will be drawn in it, so even if you pick six numbers and all those numbers come up, you would not win the lottery jackpot. However, you would likely win a huge amount of money from Coral due to the odds of successfully predicting all six numbers.
Many people enjoy the flexibility of LottoBet as it allows them to bet on lots of lotteries and generally if they can hit two or three or four numbers in a draw, then they are likely to win considerably more money than they would if they had hit those same numbers in the draw itself. The down side is that often the top prize payouts are smaller than those offered by the lotteries, however the chances of hitting them are so small, that this is a moot point for many players.
You can play LottoBet every day at Coral across a wide range of lotteries, why not give it a try today and see if you can win?