Everyone knows that Coral Sports offers a wide range of sports betting opportunities and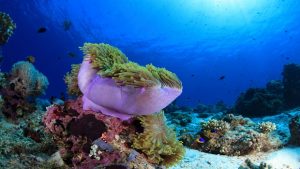 promotions across a broad range of different sports and games, from the NFL and Ice Hockey, to Tennis and Soccer, if you enjoy any form of sports betting, then Coral Sport certainly will have a fantastic selection of bets just for you.
That's not all however as the company is also offering a fantastic sign up offer across its different sites. Sign up with Coral Vegas and you can get a £10 no deposit bonus from your mobile, while with Coral Sport, you can receive £20 in free bets when you bet just £5 as a new customer.  Click on the following link to get all the latest information on these top Coral bonus offers.
However, in amongst all the different sports you can bet on at Coral Sports, did you know that there is a selection of sports that do not exist in the real world, but which you can bet on 24 hours a day, 7-days a week? This is the world of Virtual Sports and before we outline what Coral have to offer, let's give you a brief explanation as to what these games are and how they came into being.
What are Virtual Sports and how did they come into being?
Do you remember visiting an amusement arcade when you were a child and one of the most popular forms of entertainment back then amongst all the slot games and Space Invaders, was a simple mechanised horse racing game, where you put a coin in a slot next to one of the runners and then the machine would take your wager and then run the race and if your horse won, then you would be paid out?
Well, from that type of somewhat humble beginning, Virtual Sports was born. Over time with the development of computer software and the Internet, it became possible not just to recreate horseraces, but a whole host of different sports visually, based on simple data. Add to this a program which works out odds on selected markets on these sports events and you have the framework for a virtual sport.
However, Virtual Sports are different from real world sports as they are not based on any form, or data or anything other than the weighting for each competitor and a random number generator, which ensures that the results of all Virtual Sports are fair and allow punters the opportunity to bet and win as they would a real-life sport.
So, in Virtual Sports a favourite is a favourite not because they have won lots of Virtual Races previously, but because they are handicapped to be the favourite, but the random element of the game means that the favourite will not always win. So, essentially Virtual Sports echo what happens in real life sporting events.
This has led to the development of a number of different Virtual Sports. Most are based on 'race' sports such as horseracing, greyhound racing, cycling and motorsports such as F1 and Speedway. However, there are also a small number of 'game' based Virtual Sports you can play, such as football and tennis.
What Virtual Sports does Coral Sport offer?
At Coral Sport, you can play the following Virtual Sports. Each is listed below together with a brief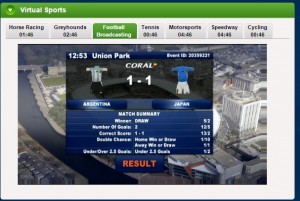 description of the main betting markets you can find on each Virtual Sport and the number of teams/runners/riders competing.
Virtual horseracing includes races both over the jumps and also on the flat and each race takes place at either Surrey Downs, Wokingham or Victor Park fictional racecourses. Races can have a varied number of runners, ranging from smaller races which contain 6 or 7 horses, up to larger races which can have around 13.
You can place bets on the Win or Each Way betting for each race as well as Forecast and Tricast betting on each race with Coral Sport.
Virtual Greyhounds features races of six dogs which take place at two fictional courses, Leapwood and Barking Hall. Each race has six runners regardless of whether it is run on the flat or over jumps.
As with horseracing you can bet on the Win or Each Way markets and the Forecast/Tricast markets too.
With Virtual Motorsports, you are watching races from the Silver Circuit and each race consists of 12 drivers of varying odds each racing in a different coloured car.  You can bet on the Win or Each Way markets as well as enjoying Forecast or Tricast betting on each race.
Virtual Speedway takes place at the aptly named Rapid Park and there are a total of four riders in each race. Given the small number of competitors in each race you can only place bets on the Win or Each Way market with Virtual Speedway.
In Virtual Cycling, you can bet on the Win, Each Way markets as well as enjoying Tricast and Forecast betting. Races take place at the Velo Stadium and there are between six and nine cyclists taking part in each race.
In Virtual Tennis, as this is a game based Virtual Sports things are slightly different. All matches take place on a grass court at the fictional Coral Open tennis tournament and are between two randomly selected male players.
You have a choice of betting on three markets with Coral's Virtual Tennis offering and they are the Match Betting market (who will win the match), the Correct Score of the match, and the Total number of points that will be contested in the match (between 5 and 12).
Each Virtual Tennis match is conducted over 1 game, so whoever wins the game, will win the match.
Virtual Football features matches between club sides (with made up names) and international teams (with real names) and edited highlights of the match are shown which features goals scored, chances missed, saves and similar.
With Virtual Football at Coral you can bet on the largest number of markets including Match Betting, Correct Score, the Total Number of Goals in a game, the Under/Over 2.5 Goals market and the Double Chance market.
How are the Virtual Sports organised on Coral?
The start times of each of the Virtual Sports on Coral are staggered so you can enjoy more bets across a range of Virtual Sports if you prefer. However, if you prefer to focus on one sport then each Virtual Sport event from the start to its completion, including time for betting and all the highlights of the event, takes about five minutes to complete.
Virtual Sports are the ideal pathway for customers who are more used to playing slot games or casino games, to cut their eye teeth on sports betting as it offers fast, quick-resolution betting over a number of games meaning you can place plenty of bets and get all the results back in a short amount of time.