It's been a little while since we've revisited the Sky Vegas site and had a look at some of the offers available on there, so it is nice to be able to head back to familiar ground and take a look at how Sky's youngest site has progressed.
Things seem to be going well for the site as it now boasts a large number of top quality games and slots and of course, there are a number of promotions that are well worth a closer look. Two in fact, both of which will run throughout the summer and are offering players a little bit of a bonus when they Opt In to the offer and take part.
Remember, at Sky Vegas now if you sign up as a new customer you will receive £10 free to play with on the site before you even make a deposit and then when you make your first £10 deposit, you'll receive a deposit bonus of up to £40 free of charge using the promo code WELCOME.
Let's take a closer look at each of the two promotions which have attracted plenty of interest on the site this summer.
Sky Vegas Road Trip Promotion
To participate in this easy to follow promotion all you need to do is log in to your Sky Vegas account and then click on the promotional page for Road Trip. Once there you will see a yellow button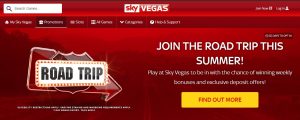 with Opt In written on the front. Click on that and you will be entered into the promotion immediately.
The promotion is a re-run of a very similar promotion the site run at the same time last year. The aim of the player is to play on as many of the qualifying slot games throughout a qualifying week and as they spend money on the slots, the player will earn points.
As the player earns points, they will start to progress through each of the eight individual US-state themed levels of the promotion. For each level, there is a threshold at which you will receive this award at the end of the promotion. In addition, there may well be a Pit Stop Bonus and a Deposit Offer which you can take advantage of once you have been awarded it.
Over the course of the qualifying week, you earn as many points as you can to progress through each of the levels. At the end of the week, the number of points you have collected is added up and if you have qualified for a prize based on the Level you reach, then you will receive that prize. You only receive one prize for the level you have reached, you do not receive prizes from levels beneath the one you reach. Your points balance is then reset to zero at midnight on Sunday, so you can try and qualify for another bonus the following week.
Outlined below is a list of the prizes available at each of the levels:
Level 1 – Michigan
20 to 249 points required
Pit Stop Bonus – None
Deposit Bonus – 25% up to £10
Level 2 – Illinois
250 to 499 points required
Pit Stop Bonus – None
Deposit Bonus – 50% up to £20
Level 3 – Missouri
500 to 999 points required
Pit Stop Bonus – £1 Scratchcard
Deposit Bonus – 100% up to £20
Level 4 – Oklahoma
1,000 to 2,499 points required
Pit Stop Bonus – 5 Free Spins
Deposit Bonus – 100% up to £30
Level 5 – Texas
2,500 to 4,999 points required
Pit Stop Bonus – 10 Free Spins
Deposit Bonus – 100% up to £50
Level 6 – New Mexico
5,000 to 9,999 points required
Pitstop Bonus – £5 bonus
Deposit Bonus – 100% up to £100
Level 7 – California
10,000 to 29,999 points required
Pitstop Bonus – £20 bonus
Deposit Bonus – 100% up to £200
Level 8 – Las Vegas
30,000+ points required
Pitstop Bonus – £50 bonus
Deposit Bonus – 100% up to £500
There is also a special Level 9 option which is invite-only and which is based at a secret location and offers prizes which are different to the ones outlines in the standard eight levels of the bonus.
To earn points playing the games you can play almost any of the games on Sky Vegas. The only games that are specifically excluded from this promotion are: Celtic Spirit, Poker Keno, Triple Chance Hi Lo Mini Game and Caribbean Stud Poker.
So why not take part and enjoy some high quality gaming at Sky Vegas kinowing that as you pay, you are progressing on the Sky Vegas Road Trip promotion and earning yourself a tasty little bonus in doing so?
Sky Vegas Prize Machine Promotion
This is another Opt In promotion and you can opt in to this offer in the same way as you can the Road Trip offer, by clicking on the yellow Opt In button, while logged in to your account, on the promotional page for the Prize Machine promo.
Sky Vegas Prize Machine is a great offer as it really can offer players something for nothing. Once you have opted in to the promotion then every day throughout the promotion from 12 noon, you will be awarded one free spin on the Sky Vegas Prize Machine.
The Sky Vegas Prize Machine will then spin through a number of different prizes and one of these prizes will be selected as a gift to you. Prizes can include a cash prize award credited to your Sky Vegas account, scratchcards, free sports bets on SkyBet, Free Spins on one of a number of selected slot games at Sky Vegas and plenty of others too.
You will receive one free spin of the Prize Machine each day from 12-noon. Some prizes do have a wagering requirement attached or require you to complete other tasks (such as Staking £5 on slots or Instant Win games to receive a £5 bonus).
The top prize awarded each day is £100 in cash of which 10 prizes are awarded every day. You can win up to 20 Free Spins, £5 to play with at Sky Casino, plus a number of Free Bets, Poker Tournament Tokens, Tickets for Sky Bingo and even Prize Draw tickets for Sky Vegas.
Remember, this is a free to enter competition and all the prizes are awarded to you free of charge, so you can't really lose with this fantastic summer giveaway on Sky Vegas.