The football season is now in full swing with the English Premier League and plenty of other top domestic leagues in Europe now well under way, not to mention the elite of European soccer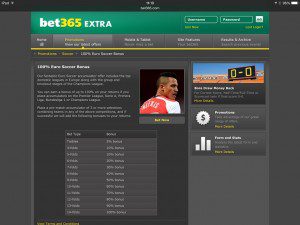 clashing in the Champions League.
Furthermore, with the football action set to continue right the way through until May 2017, there's plenty of time to enjoy some high quality football betting action at Bet365 Sport and where better place to start than by taking a look at the three long-term football offers available on the site.
Remember, all you need to access these offers is to be a member of Bet365. Click on the following link to sign up today with the latest Bet365 bonus code.
Each Way First Goalscorers
Betting on the First Goalscorer is one of the most popular bets in football betting because it is deceptively simple. All you need to do is correctly guess which player will open the scoring in a
particular game and with the odds generally very tempting, this appears to be a very good value bet.
However, in truth picking the first goalscorer can be a very tricky task. Even the regular goalscorers will not always score the first goal in a game, they may score the second, third, fourth goal and so on. Hence, this can be a volatile bet. However, Bet365 now offer a great solution.
Simply place a bet on the First Goalscorer market on any match and make your bet an Each Way option. This means that if your player scores at any point during the game you are guaranteed a return.
Half of your total stake is placed on the player at the stated odds to score the first goal and half is placed on the player at 1/3 of the stated odds to score at any time i

n the game. Therefore, if your player scores a goal in the game that isn't the first goal, you'll win the second part of the bet. If he scores the first goal in the game, then you win both parts of the bet and a bigger return.
For example, if you placed £1 Each Way Goalscorer a bet on George Boyd to score the first goal in Burnley's match with Watford at odds of 12/1, that bet would cost you £2.
If Boyd scored a goal in the game but did not score the first goal, then only the second part of the bet would win. Therefore, your return would be 1/3 of the stated odds of 12/1 (4/1) and as such, you would win £4 plus half of your £2 stake back (£1) for a total return of £5.
However, if Boyd scores the first goal in the game, then both parts of your bet win. Hence you would win the anytime bet of £5 total return outlined above, plus the first goalscorer part of the bet, which is a £1 stake at full odds of 12/1, for a return on that part of the bet of £13. Therefore, you would win £18 for a £1 each way bet.
You can place this bet on any game where Bet365 Sport is offering odds on named players as the first goalscorer, which means that is a hugely flexible bet and can be used across a wide range of matches and across a massive range of football competitions throughout the course of the season.
Bore Draw Money Back Guarantee
Many of the most popular bets in football are based upon goals being scored and there's nothing more disappointing for a punter to have a flutter on a game placing one or more bets on goal

markets, only for that game to end in a 0-0 scoreline and to see their bet lose. Well, with Bet365's Bore Draw Money Back guarantee, you will no longer lose your stake when a game finishes goalless on some markets.
Simply place a bet on a match on any of the Correct Score, Half Time/Full Time or Scorecast markets for any football match and if the game you have bet on finishes in a 0-0 draw, then Bet365 will refund your stake if your bet loses.
The only proviso to remember with this offer is that if you fully cash out your bet at any point in the game, then this offer is no longer available. If you partially cash out part of your bet, then only the part of the bet still running will be refunded if your bet qualifies for the offer.
This is a good offer for punters over the season as depending on the league between six and twelve percent of matches in the top European leagues tend to finish in a goalless draw.
Euro Soccer Bonus
This is perhaps one of the best known, most used and most popular bonuses football fans can access every week of the season. Over the years, Bet365's Euro Soccer Bonus has become one of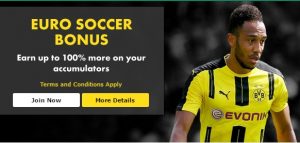 the main reasons why so many UK football fans place their regular accumulator bets with Bet365.
The offer gives you a chance to earn an additional 5% to 100% on your winnings on successful accumulator bets of three or more selections, on both the Full Time Result or the Result/Both Teams to Score markets for matches taking place in the following competitions:
English Premier League
Serie A (Italy)
Bundesliga (Germany)
Primera Liga (Spain)
UEFA Champions League (league section onwards)
The size of your bonus depends on the number of selections in your accumulator. All selections must be from the competitions outlined above and the bonus ranges from 5% for a successful treble bet, up to a 100% bonus for a successful 14-fold bet or more. The maximum bonus awarded for any successful bet is £100,000.
Selections can be made from any of the qualifying two betting markets or any of the five competitions in any order and number, however if you include a market or fixture not from those outlined above, then your bet will not be eligible for the bonus.
This is a hugely popular bonus with football accumulator punters as it can radically increase the value of any potential return, meaning that even if Bet365 don't offer the best odds on each of the individual selections, once any bonus is applied to the winnings you will earn far more as a return with this offer, than you would with another bookmaker.
Daily In Play Betting On Live Games
Finally, another key ingredient for football fans that bet regularly with Bet365 is that the company offers a huge number of Bet In Play services for football matches across many different leagues and divisions.
With the massive surge in games being shown live on satellite TV, domestic TV and even streamed online via the Bet365 streaming service, betting in play is a huge industry and no company has promoted this form of betting moreso than Bet365.
The result is a comprehensive betting in play service across a wide range of games from all over the world including all top level games in the top European leagues, lower league games from the English leagues and much more.
With games taking place every day, simply tune in to the In Play section of the site or app to discover what the latest in play football betting markets are.
Bet365 offers a stunning service for football punters including a wide range of bets available every day and a massive number of markets on the top games across Europe. With this and all these excellent offers, it is easy to see why it is the first choice for many football betting enthusiasts.