It is fair to say that here at Bonus Referrer Code we do tend to focus on the Sports, Poker and Casino-based sites (Vegas, Games and Casino) in the Bet365 Family, but they are not the only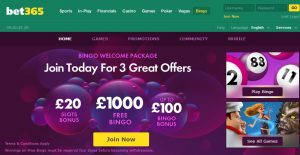 things on offer from the company.
One of the most popular sites in terms of traffic (and certainly with the female half of the population) is Bet365 Bingo, so we are going to learn a little more about the site, its introductory offer and other promotions, plus the games you will find to keep you amused while logged in to the site.
Remember, if you have joined any Bet365 site then you will have a Bet365 Bingo account ready to use and you can still use the relevant Bet365 Bonus Code to claim your starter bonus when you sign up.
Let's start by taking a look at the first thing you are likely to want to take full advantage of when you join Bet365 Bingo, or begin to play as an existing Bet365 customer; the offer for new players or as the site calls it the Bingo Welcome Package.
What do I get when I sign up with Bet365 Bingo?
There are three different parts to the bonus that you receive as part of the Bet365 Bingo package.
The first thing you can do is simply sign up and register a Chat Name to gain entry to the Welcome Party room on the site. These games are completely free to play, so you don't even need to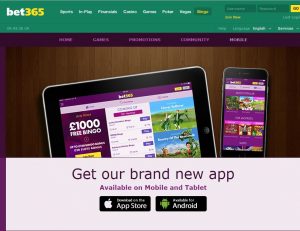 make a deposit, and over the next seven days, you can play between 13:00 and 19:00 UK Time free of charge with £1,000 in prize money up for grabs for all players
In addition, when you place your first deposit into your account and play through your first £10 at Bet365 Bingo (on bingo or slots), then you will become eligible for a second bonus. This is a £20 Slots Bonus, which allows you to wager the bonus across a wide range of slot games available at Bet365 Bingo.  You must wager the bonus 20 times in total before any cash attributable to it can be withdrawn and you have 14 days within which to meet the wagering requirement.
Additionally, when you make your first deposit and spend over £10 on Bingo Tickets, then you can also receive a third bonus of a Bingo Bonus worth up to £100. To receive this offer Bet365 Bingo will send you an email with an offer code that ends BBFTB.  Enter this code into the offer section of the site and Bet365 will give you a 200% bonus based on your deposit amount and spend on bingo tickets. Spend £50, to receive the maximum £100 bonus.
Remember, if you already have another account with Bet365 for any site, you can still claim the bingo bonus by ensuring that any offers you have running on your account are expired or complete before you activate the bingo bonus.
How is the Bet365 Bingo site organised?
When you download the client software (and you can play Bet365 Bingo from mobile devices as well as desktop PC's) and install it, you will discover that you can navigate around the Bet365 Bingo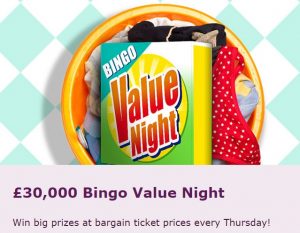 site by using the different rooms as a guide. There are a number of different rooms each offering different bingo games to play.
Alternatively you can scan through a list of bingo games with start times closest to the current time, find a game that offers a buy in that you would be happiest with and join that room beforehand to buy your tickets and get ready to play.
Once you have bought your tickets, the countdown to the start of the game will end and the game will start and you can sit back and relax as the Bet365 Bingo software will automatically keep track of all your cards and mark them for you and even submit your card if you earn a cash prize.
At this point, during the game, the Chat Op may decide to play a little Chat Game, which is another way you can interact with people in the room or participate in small challenges some of which offer a small cash prize for the winner.
What other attractions does the site offer?
In addition to a huge number of bingo games, Bet365 Bingo offers its customers the chance to play a wide range of slot games, casino games and other novelty gambling games all from within the Bingo client software.
Furthermore, sometimes play on Bet365 Bingo games can be part of a promotion on another site, such as the recent £1,000,000 Slot Giveaway at Bet365 Games, which allowed customers to play a number of slots at Bet365 Bingo to qualify for one of the bonuses.
There are a wide choice of slot games you can play including progressive jackpot games (such as Mega Jackpots Siberian Storm and Cleopatra games), video slots and a choice of multiplayer slots which you can play alongside other Bet365 Bingo customers.
Alongside the slots are a number of other games such as scratchcard games, casino games and a good selection of betting games that don't fit easily into any of the categories outlined above.
All funding for these games will come from your Bet365 Bingo account and any winnings you receive will also be credited back to this account meaning you don't need to keep swapping sites to play these games but can access them all from the Bingo site.
Does the site also offer other promotions?
Yes it does and in truth, alongside Bet365 Sports, Bet365 Bingo is arguably the site that offers the widest variety of promotions and the greatest number of promotions in any given month out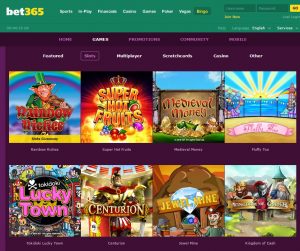 of all the Bet365 family of sites.
In addition to the Welcome Package, there are a large number of promotions running on the site at any one time, which include short term offers, which are usually themed and available at a set time (such as the recent Deal or No Deal £25,000 Prize Night on the 18th November).
There are also a number of recurring promotions, such as Bingo Value Night, which takes place every Thursday and offers players the chance to compete for £30,000 worth of prizes.
There is a long list of all the different promotions available at Bet365 Bingo listed under the promotions tab on the website and with so many to choose from, you are spoilt for choice when it comes to which offers to participate in.
So if you have never tried Bingo online before, then Bet365 Bingo is certainly well worth a closer look. This is a very popular site and joining in is extremely easy and with the focus very much on being party of the bingo community, it is very much a social site, as well as being great fun to play at.