How would you like the chance to earn a free bet throughout the football season every time a player you backed grabs a goal in the English Premier League? Given that the likes of Harry Kane,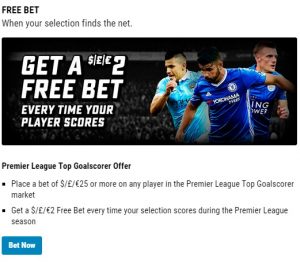 Sergio Aguero, Daniel Sturridge, Zlatan Ibrahimovic, Jamie Vardy and Diego Costa are now plying their trade in the top division of English football, there is a chance that this offer could keep you supplied with free bets right the way through until the end of the season in May.
This is all thanks to the exciting new Betstars Free Bet promotion based on the Premier League Top Goalscorer market that the site currently has in operation.
Participating in the offer
All you need to do to participate in this offer is to make a bet of at least £25 on any player in the Premier League Top Goalscorer market at BetStars at any time up to 23:59 UK Time on Monday 29th August 2016.
You can, if you wish, elect to make this an Each Way bet, which will mean that the minimum stake to qualify for this offer is £50. Each way pays out to the first four places at ¼ the stated odds for each player.
Once your bet is placed inside that time frame then the offer will activate and what happens then is every time your player scores a goal, between now and the end of the season, BetStars will credit your account with a Free Bet worth £2 for every Premier League goal that the player scores.
What this means is that if you back, for example, Harry Kane to be the Premier League top goalscorer and place a £25 bet on the Tottenham man achieving that. Then every time Harry Kane scores in the Premier League from the minute you place your bet, then for each goal he scores, you receive a £2 free bet. If he scores two in a game, you get two £2 free bets, should he nab a hat-trick, you get three £2 free bets and so on.
This is a great offer which has the potential to pay out a considerable amount of money in free bets over the course of the season and the great news is, the more free bets you receive the more likely it is your initial bet will win and you'll receive a bumper payday at the end of the season too.
Let's take a look at some of the main contenders for the Premier League Top Goalscorer title and who will succeed Harry Kane as the leading scorer after netting 25 goals last season, one ahead of Jamie Vardy and Sergio Aguero who both netted 24.
Top Goalscorer Contenders 2016-2017
The three main protagonists for the title last year, the aforementioned Kane (Tottenham Hotspur), Aguero (Manchester City) and Vardy (Leicester City) are once again in the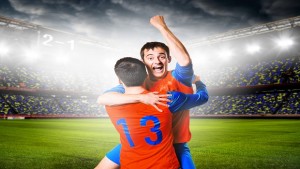 running. Kane is an 8/1 shot with BetStars, with Vardy a somewhat distant 20/1, while Sergio Aguero is the red hot 11/4 favourite with BetStars to win the race.
However, he could face some competition from other top names most notably Manchester United's new striking ace Zlatan Ibrahimovic, who is a 6/1 shot, while Chelsea's Diego Costa is a 12/1 shot. Everton's Romelu Lukaku, who hit 18 goals last season for the Toffeemen, is a 16/1 shot with Daniel Sturridge of Liverpool the same price.
Chelsea's new striker Michy Batshuayi is a 20/1 shot with Arsenal duo Alexis Sanchez and Olivier Giroud both 25/1 alongside Liverpool's new striker Sadio Mane. Other intriguing options include 33/1 shots Philippe Coutinho (Liverpool), Anthony Martial & Wayne Rooney (both Manchester United) and Tottenham Hotspur's new striker Vincent Janssen.
Perhaps the best outside bet however could be Chelsea's Eden Hazard, a 33/1 shot who looked to be coming right back into form over the last weeks of the season and over the summer. On his day, Hazard is amongst the best in the Premier League and at 33/1, he could score enough goals to seriously contend at the top if he finds his best form.
Whoever you decide to back, remember for every goal they score, you will get a free bet of £2. If Kane scores 25 goals again this season in the Premier League, that is £50 worth of free bets over the course of the season that could be yours.
So why not make your qualifying £25 bet today and see if you can earn yourself free bets throughout the course of the football season.