Our tips for the Premier League last weekend produced some fantastic

results, with me landing all three tips, including big money Correct Score wins on the Leicester v Liverpool and Burnley v Manchester United games, while I picked up a number of other great value wins across several other games too.
All in all, that ensured a profitable weekend and I hope you managed to get lucky yourself especially if you had just signed up with the latest bet365 New Player Welcome Bonus. . The action changes though this week as the Premier League is on a break because the first set of International games of the new season are to be played over the next week or so and it is a big deal because there is a brand-new tournament set to start.
This is the UEFA Nations League, a tournament designed to ensure that there are no more meaningless friendly games played between teams. The tournament is very different to the standard European Championships or World Cup qualifiers and it is probably wise to explain how the tournament works.
UEFA Nations League Explained
The Nations League is played over the course of two years with the first tournament starting in September 2018 and the winners decided in June 2019. The tournament starts in even-numbered years only, which means the second Nations League tournament will begin in September 2020.
The 55 member nations of UEFA will all compete in the tournament and they have been split into four different divisions, which have been called Leagues for the purposes of the tournament.
League A – comprises of the 12 highest ranked teams from UEFA
League B – comprises of the next 12 ranked teams from UEFA
League C – comprises of the next 15 ranked teams from UEFA
League D – comprises of the bottom 16 ranked teams from UEFA
The initial four Leagues were decided this way initially, but from the first competition onwards, teams will be promoted and relegated between each of the leagues to decide which league they participate in the next time the competition is run.
Each of the four leagues is then split into four smaller groups of either three or four teams. In each group, the teams will play each other home and away to decide who finishes top, second and bottom of the group.
In League's B, C and D, the teams finishing top of their respective group will gain promotion to the League above. The teams finishing bottom of their group in Leagues A, B and C will be relegated down one League for the next tournament. The other teams retain their place in the current League.
For the four Group Winners in League A, they will contest semifinals and a final the following June to decide the winner of the tournament. There will also be playoffs for the Group Winners in Leagues B, C and D, with the winners of these playoffs earning a place at Euro 2020.
UEFA Nations League Draws
League A
Group 1 – Germany, France, the Netherlands
Group 2 – Belgium, Switzerland, Iceland
Group 3 – Portugal, Italy, Poland
Group 4 – Spain, England, Croatia
League B
Group 1 – Slovakia, Ukraine, Czech Republic
Group 2 – Russia, Sweden, Turkey
Group 3 – Austria, Bosnia-Herzegovina, Northern Ireland
Group 4 – Wales, Republic of Ireland, Denmark
League C
Group 1 – Scotland, Albania, Israel
Group 2 – Hungary, Greece, Finland, Estonia
Group 3 – Slovenia, Norway, Bulgaria, Cyprus
Group 4 – Romania, Serbia, Montenegro, Lithuania
League D
Group 1 – Georgia, Latvia, Kazakhstan, Andorra
Group 2 – Belarus, Luxembourg, Moldova, San Marino
Group 3 – Azerbaijan, Faroe Islands, Malta, Kosovo
Group 4 – Macedonia, Armenia, Liechtenstein, Gibraltar
Game Schedule
Outlined below are the 20 games taking place in the opening round of UEFA Nations League fixtures over the first three days of games (Thursday 6th to Saturday 8th September).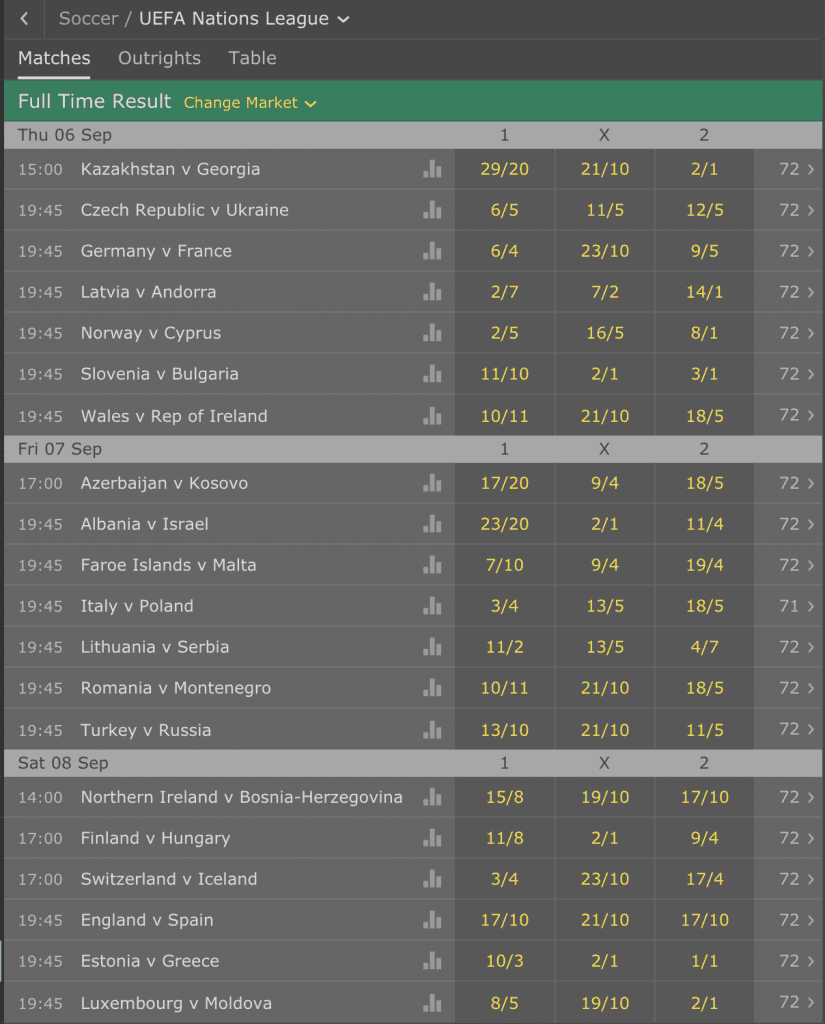 *Odds shown were correct with bet365 Sport at 12.50pm GMT on Monday 3rd September 2018
Here's our tips for the big games taking place in the UEFA Nations League this week.
Thursday 6th September
What an absolute cracker of a game to get the UEFA Nations League started in earnest with the last two winners of the World Cup clashing in Munich. France's win last summer was their second World Cup triumph, but Germany followed up their success in Brazil with a shocking performance in Russia, as they were eliminated at the group stage. Joachim Low will have licked his wounds from that chastening experience and he'll be relishing the chance to put things right here. However, we feel France are looking very strong at the moment and as such we think the draw at 23/10 is the best option here.
Wales v Republic of Ireland
These two teams battled it out in qualifying for World Cup 2016, with Ireland pipping Wales to a place in the playoffs behind Serbia. The Welsh will be keen to gain revenge for that with a solid performance here and with Gareth Bale likely to be back, their chances of a win look strong. Both these teams look very well matched but I think Bale will be the big difference between the two and I am backing Wales to edge a very narrow victory probably by a single goal here which is a 10/11 shot with bet365.
Friday 7th September
Italy missed out on the World Cup last summer for the first time since 1958 and they will feel that it was a missed opportunity given how the tournament in Russia panned out. The Azzuri will be keen to get back to winning ways against a Poland side that has struggled for goals against top quality sides in recent times, even with the excellent Robert Lewandowski in attack. This will be closer than many people think but I am backing Italy to get off to a good start with a win here at 3/4 with bet365.
Russia made it into the World Cup quarterfinals in the summer on home soil, defying expectations of an early exit. They'll be keen to continue that improvement here against a Turkey side that missed out on qualifying but who are very talented and tough to beat on home soil. This is a very even contest and while Russia improved in the summer, it was all on home soil, hence I am backing Turkey to get the win here at 13/10.
Saturday 8th September
Northern Ireland v Bosnia-Herzegovina
Both these teams missed out on the summer in Russia but both will begin the campaign hoping for better things in Group B of the UEFA Nations League. Northern Ireland's recent form, especially at home, makes them a real threat here, but Bosnia-Herzegovina have some outstanding players, namely Pjanic of Juventus and Roma striker Dzeko and they will be a real threat to Ireland and as such, I think the visitors will likely be the happier if this one ends in a draw (19/10 with bet365).
Both these teams earned plaudits for their performances in the summer, especially against the top South American sides they faced. However both teams are rather similar in that they are both defensively minded but find goals hard to come by. As such, I think this is going to be a game with few opportunities, though home advantage could just favour the Swiss. As such, I am backing Switzerland to gain 1-0 win here.
The final big game of the first set of UEFA Nations League games pits England against Spain in what should be another cracker and a real test for Gareth Southgate's men. With Croatia the other team in the group, these are two teams England have had trouble beating of late so a good performance and a win here at home against Spain is vital. However the Spanish have a good record against England and I am backing them to come away from this one with a point. Back the draw here at 21/10.