What better way to round off the summer and head into the shortening days of autumn is there, than with a chance to earn yourself a portion of a fantastic £200,000 prize pool? If that sounds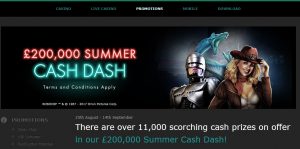 like an offer you do not want to miss, then you need to head on over to Bet365 Casino where you could be one of thousands of lucky winners of their latest promotion.
Does that mean that you need to join Bet365 Casino especially for this offer? Not if you have already taken advantage of the superb Bet365 Poker no deposit bonus available as you'll already have your log in ready to go. Just deposit some cash into your casino account and you can begin. If you are not yet a Bet365 customer then follow the previous link to get set up with a superb introductory offer in no time at all.
Remember too, if you are a Bet365 customer with another site and have not yet played at Bet365 Casino and you have no active bonuses on your account, then you can still activate the Bet365 Casino bonus when you make a qualifying deposit or transfer into your account.
Whatever way you elect to sign up, once you are logged into Bet365 Casino you can then start to get to grips with the sites brand new offer. The £200,000 Summer Cash Dash promotion.
What is Bet365 Casino's £200,000 Summer Cash Dash?
You will have to be quick to take up the gauntlet for the Summer Cash Dash promotion as it is only available for three weeks in total from the 25th August through until the 14th September.
The essence of the promotion is that you play a number of pre-selected slot games at Bet365 Casino during each of the three promotional weeks of the offer. As you play, you earn tickets into each of the three weekly prize draws. The more tickets you earn into a prize draw, the more chance you have of winning one or more cash prizes in that draw.
The first two prize draws each have a prize pool of £50,000, with the third and final prize draw having the largest prize pool of £100,000 to be won. There are thousands of prizes available to be won in each draw and in total, there are over 11,000 cash prizes waiting to be won.
There are no limits on the number of prize draw tickets you can enter into each prize draw, or across the promotion as a whole and every prize draw ticket you earn could be a winner, meaning that you could win multiple prizes, if the gods of fortune smile down upon you on draw day.
Of course, with promotions such as this, the key is always to understand the details of the offer, so we are going to explain exactly how you can participate in this offer most profitably and outline exactly which slots at Bet365 Casino you need to be playing for this offer.
What are the Featured Slots for the £200,000 Summer Cash Dash offer?
For this offer, Bet365 have decided to utilise six of their most recently released and exciting slot games to be part of the offer. It is important to note that only play on these six games will count towards the offer. You can of course play other slots at Bet365 Casino during this period, but play on any other slot will not count towards your wagering requirement to earn prize draw tickets.
All you need to do is play through £10 real cash on any of the following six slots across any of the three promotional weeks. For every £10 that you play through on these slot games, you will earn one prize draw ticket:
Age of the Gods God of Storms
Heart of the Frontier
Ice Cave
Legacy of the Wild
Robocop
Tiki Paradise
You can wager £10 across more than one of the slots above and still earn a prize draw ticket, so you could for example wager £5 on Legacy of the Wild and £5 on Ice Cave and still earn a ticket into the active prize draw.
However, to make things easier for players, Bet365 have decided that in each of the three weeks of the promotion, one of the named slots above will be designated as a Double Ticket game and this means players have an even better chance to earn themselves a prize if they play this particular slot during that qualifying week.
What are Double Ticket games and how do they work?
As the name suggests, a Double Ticket game is a slot on which if you wager £10, instead of receiving one ticket into the current prize draw, you would receive two tickets. This means if you focus your playing on that slot alone during a promotional week, you would earn twice the amount of tickets that you would playing any of the other five slots.
Only one game each qualifying week is designated as a Double Ticket game and these are outlined below, together with the times each is active in the promotion:
25th to 31st August – Legacy of the Wild
1st to 7th September – Age of the Gods God of Storms
8th to 14th September – Robocop
Other than the qualifying period outlined above, the named slots above will be awarding prize draw tickets at the standard rate of one per £10 spend.
What prizes are available in the prize draws?
The first two prize draws of this offer from Bet365 have a total of £50,000 in cash prizes to be won while the third and final prize draw has a prize fund of £100,000. The size of the cash prizes on offer in each draw is the same, but what changes is the number of prizes of each cash amount available for the different value draws.
The cash prizes, together with the number of prizes that can be won in the specific prize draws are outlined in the two tables below:
First and Second Prize Draws of £50,000
| | |
| --- | --- |
| Cash Prize Amount | No of Prizes to be won |
| £5,000 | 1 |
| £1,000 | 5 |
| £500 | 9 |
| £100 | 30 |
| £50 | 50 |
| £20 | 250 |
| £10 | 2,500 |
Third Prize Draw of £100,000
| | |
| --- | --- |
| Cash Prize Amount | No of Prizes to be won |
| £5,000 | 2 |
| £1,000 | 9 |
| £500 | 20 |
| £100 | 60 |
| £50 | 100 |
| £20 | 500 |
| £10 | 5000 |
As you can see, the top cash prize you can win in the draw is £5,000 with a total of four of these prizes available across the three prize draw weeks.
What You Need To Know About The £200,000 Summer Cash Dash
The first thing to note about this offer is that prize draw tickets are only valid for the prize draw for which they were earned. So prize draw tickets earned in week one, will all be entered into the week one draw. No tickets will be carried forward into future prize draws.
Any cash prize you receive from Bet365 as a result of this offer will be available for 14-days in your account.
The great news about this offer is that any cash prize awarded by Bet365 Casino as part of the offer will not be a bonus cash prize, but instead a real cash prize. This means that you can use this cash as you would a deposit into your account, including withdrawing your winnings back to your bank account if you prefer. There is no wagering requirement attached to any cash prize that you win via this offer. All you need to do is either wager the cash, or withdraw it, within 14 days of receiving it before the cash prize will expire.
This is a great value offer which only runs for a short period including the remainder of this week and also next week, so it is a great time to head on over to Bet365 Casino and see if you can be one of the winners first past the post in their exciting Cash Dash promotion.