If there has been one easily identifiable shift in how we use the Internet and by default,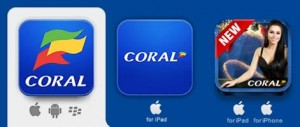 all the items contained on the Internet, it has been the movement away from using desktop and laptop computers as our sole means of access, and more towards using smartphones and tablets. Indeed for many people, their phone or tablet is their primary (and in some examples, only) source of accessing the Internet.
Now on the face of it, this shift away from the more traditional means of accessing the net means nothing more than mobile technology is getting faster, more reliable and more powerful and thus is able to do more. However, the knock on effect of this is that many companies, and gambling or sports betting sites like Coral are included in this, now have to cater specifically for mobile-based customers.
That means more than simply having a shiny new mobile no deposit bonus for new Coral customers. It involves developing software and in many cases, standalone apps that will offer customers access to the full range of services online.
The problem companies like Coral had to overcome when developing mobile services
When the first stirrings of mobile services started to come to the fore a few years ago, many companies hit an immediate problem. Their different sites, many of which had been designed many years previously using older technology, were a mish-mash. While some sites transferred from the desktop realm to the mobile realm easily (sports betting sites were generally easy to transfer from one to the other), other sites such as online casinos and poker sites in particular, were far more difficult.
This was because the software used on these sites was designed to work from a log in from a desktop computer using software specifically designed for that. The new software that powered these next generation mobile phones and then tablet devices, was not compatible with some of the software running slots, casino games and poker games on sites.
So, for many years, there was an uneasy mismatch in what mobile customers with some sites could receive in terms of poker and casino games, compared to what desktop customers could get, with the mobile customer often having to put up with a smaller, cut down and often inferior service.
However, the growing market for mobile devices meant that this was a problem that needed to be addressed and each of the top gambling and betting companies in the UK did it in their own way and in their own time. Coral was certainly one of these and after a few glitches a couple of years back, notably with their mobile poker service, the company now offers a high quality and extensive range of mobile apps.
The great thing is that extensive reprogramming has been undertaken over many years to ensure that these services are as future-proof as possible meaning whether you now access the Internet via desktop or mobile devices, you can still enjoy the very best of what Coral has to offer.
Let's now take a closer look at some of Coral's main services for mobile customers.
Coral Mobile Apps
Coral offers a number of different Mobile services and apps for download which are available for specific devices. Details of each of the available apps and which devices they are downloadable for are outlined below:
Coral Sports & Casino App – Apple, Android and Windows 10
This is Coral's flagship mobile betting app and it also incorporates the mobile version of Coral Casino too. The sports betting service is outstanding on mobile and key mobile-friendly items such as In-Play betting and Live Streaming are seamlessly incorporated into the slot making betting on them simple and quick.
The app offers access to Coral Mobile Casino too with a choice of over 250 games available on mobile, which is a considerable number for a mobile casino site. This Casino is a different version to the one that is available in Coral's two other Casino-based mobile services outlined below.
If you are a Coral customer and wondering which of the sites' apps to download first, then this should definitely be your first port of call as a mobile punter.
Coral Vegas App – Apple & Android
The Coral Vegas service is unique on Coral as it is their only service that has been designed from the very start to serve the needs solely of mobile-based players. Vegas is a casino-based app which offers a wide choice of popular slot games and a small selection of card and table games such as Blackjack, Baccarat and Roulette.
Coral Vegas is the newest addition to the Coral platform and it has been well adopted by mobile players as it offers some of the slickest gaming around for iOS and Android based systems, as well as all the benefits of being a Coral member.
Coral Live Casino App – Apple
In addition to having a Live Casino option available for desktop-based customers, Coral also have released a Live Casino app, which is downloadable for Apple devices only. This software allows you to log in to your account at Coral Live Casino and enjoy a number of card and table games such as Roulette, Hi-Lo, Blackjack and Baccarat, each with a human dealer controlling the action rather than a software program.
It is the closest thing to being in a casino, without actually being in a casino as you can see the action unfold on screen as you play via a live video stream which will play on your mobile device as you are enjoying playing at the tables.
Coral Poker App – Apple
This is Coral's second attempt at releasing a mobile poker app after their first effort fell some way short of being playable and stable. However, Coral have learned from that and produced a slick and intuitive new mobile poker app which is currently available for Apple devices only.
This new app offers total access to the full range of Coral Poker games available on the standard site, including Cash Table games, Sit & Go games, Twister Poker, Free Tournaments, Multi Table Tournaments and of course, you can also participate in any of the promotions you can find on the Coral Poker site.
Coral's new Poker App is a massive improvement on the older, flawed app and now offers a mobile poker experience that is one of the very best you can find anywhere online, even from dedicated poker sites.
Coral Connect App – Apple & Android
If you have a Coral Connect Card then you can download a special Coral Connect app for your Apple or Android device which will let you track any bets you have made in any of the 1800+ Coral shops, or will allow you to check the latest sports news, form and facts as well as the opportunity to cash out any bets you have placed that are currently in-running.  If you have a Coral Connect Card, then this is the perfect accompaniment to that service.
Coral Bingo – Apple & Android
If you are a fan of Coral Bingo, then Coral has now produced two apps for Apple and Android devices that allows you easy access to its Bingo platform.
Coral always used to have a bit of a reputation for not offering the best mobile services to its customers a few years back, but they have worked hard to improve that and they certainly have achieved that aim. So much so that Coral now offer a mobile service that is the match, if not better, than any of the top online gambling companies you can find anywhere online that offer a similar mobile service.