Over the past few years, a number of different types of betting
have proven to be increasingly popular on sports betting sites such as bet365 Sport. In Play betting has been a massive success (as has the Live Streaming service that accompanies it so well) and there has also been a huge increase in the number of people engaging in Virtual Sports betting with the extensive range of options available at bet365.
Alongside those two new betting options, there is another that is gaining in momentum as the years pass. That is esports betting and it is clear to see just how much this particular niche market has increased in size and scope over the years.
What is esports betting?
Before we clarify what esports betting is, we need to first understand what esports are. In the broadest possible terms, esports are computer games played either over the internet, or a local network, between two or more players or teams, competing against one another individually or in teams.
The aim of the esport is of course, to win, as it is for any sporting event. However, the skills required are very different to those that you need for a typical sport.
While almost any computer game you can play online against other players could be broadly termed an esport, generally what you find is that esports refers to a specific number of games and tournaments which attract large numbers of players and sponsors and which have professionally organised tournaments run for them.
The most popular types of esports are as follows:
League of Legends (LoL) – A multiplayer online battle arena (MOBA) game where teams of players compete against other teams using different characters to defeat their opponent using strategy and arcade skills to earn the victory.
Defense of the Ancients 2 (Dota2) – Another MOBA game which is set up similar to League of Legends, where teams of players compete against each other to earn victory.
Counter Strike: Global Offensive (CS:GO) – A first person shooter, which has several different game modes, but which pits a team of terrorists against a team of counter-terrorists and the players use their skills and strategy across different maps to secure the win for their team.
StarCraft II (SCII) – A strategy game set in space which is played by individual players who attempt to defeat their opponents using characters assigned to one particular race in the game (Zerg, Terran and Protoss).
FIFA – A soccer simulation game created by EA Sports that has a number of esports tournaments organised for it around the world, such as the FIFA eWorld Cup and the forthcoming ePremier League in England.
There are a number of other games that are also popular for esports and they include the likes of Hearthstone, Rocket League, Call of Duty, Rainbow Six, Overwatch, Brood War, Smash, Heroes of the Storm, Streetfighter, Mortal Kombat, Player Unknown Battlegrounds (PUBG), Fortnite and World of Warcraft.
As the name suggests, esports betting is a form of wager you can make on some of the top level tournaments across all of these esports. There are more betting opportunities for the top esports games (notably LoL, Dota2, Overwatch, CS:GO and SCII) than others, but across a typical day a punter will have a wide range of bets available to them with bet365 on a range of esports events.
In addition to the standard outright bets on the event, bet365 also offers specific betting on each match and in some esports, such as League of Legends, you can even bet on the likelihood or when a specific event in an esport will take place within that match.
What is notable is that the sheer number of tournaments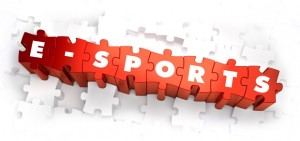 available to bet on, as well as the number of betting markets available for those tournaments, has increased greatly over the last few years. Just a few years ago, bet365 offered a small selection of esports to bet on each day, but now this has expanded to include a far wider selection of events.
Fuelling that has been a marked increase in interest in the fledgling esports betting industry, which is quickly expanding and offering esports enthusiasts as well as typical sports betting punters the chance to bet on a wide range of new events.
Is esports and esports betting legit?
Absolutely, with millions of dollars in prize money available for some tournaments, and hundreds of thousands at many, many more, top level esports gaming is as competitive as any top-level sporting event you would like to compare it to.
Add to that the further professionalisation of esports at the top level, with many players now professionals and signed to contracts, together with a rigid rule structure and the severest penalties possible for any player or team that doesn't always try their best to win, and you have a structure which is perfectly set up to enjoy many different forms of betting.
Furthermore, bet365 Live Streaming has also started to cover esports events as part of its service meaning you can often view a live stream of the esport event you want to bet on directly on the site, rather than using a third-party streaming service such as Twitch TV or similar.
One thing to note about esports betting however is that it can be a somewhat volatile experience. In some events, there is a real mismatch in quality between some of the teams competing and this can result in some very short and very long odds in selected matches between favourites and underdogs. However, there are also a large number of matches that are between more evenly matched teams and these can offer a nice mid-range selection of bets.
Betting on esports is also very easy at bet365 as you do this in the same way you do any bet, by simply clicking on the odds to add your selection to your bet slip and then entering your stake and clicking the place bet button.
Do I need to know lots about esports to enjoy betting on it?
No, you don't need to be an esports expert to enjoy a flutter on the outcome of a match or an event, but like with most forms of sports betting, a bit of knowledge about the teams or individuals competing and the event itself, will help you formulate better judged bets.
Esports is a fun, new and interesting way to bet on top level computer gaming tournaments, which feature some of the best players from all over the globe. This fast-growing market could be set to become THE betting opportunity of the 21st century, so why not see what all the fuss is about today?