Learn how to create your Bet Victor account and get to the poker tables in minutes.
Bet Victor Poker is a UK based poker site that is growing in popularity with UK-based players. In this article, we'll examine the steps you need to follow in order to get yourself an account and up and running on the site and playing some of the many different poker tournaments, Sit n Go's and Cash Games that it offers.
1. Opening an Account at BetVictor
The first thing to note is that to access BetVictor Poker, you do need a BetVictor account. If you already have an existing BetVictor account, either from using their sports betting service or casino for example, then you do not have to replicate your account. You can log into BetVictor Poker using the log in details you use for this part of the site.
If you don't have an account, simply head to the BetVictor website and click on the CREATE ACCOUNT button which is highlighted in green in the top right hand corner of the screen. (See Screenshot below).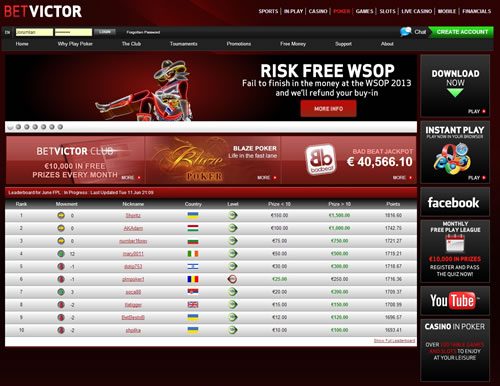 Clicking on this link bring up a typical registration page, into which you enter your contact details, as well as the details you would like to use for your BetVictor account, the deposit limits you would like to set on the account (if any), plus confirmation that you have read the terms and conditions and privacy policy of the site.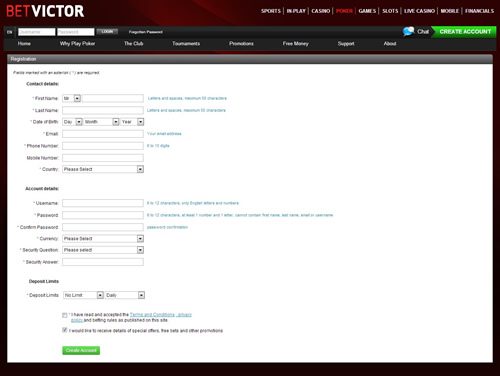 Simply enter your details in the relevant section of the page and when you have read the terms and conditions and privacy policy and decided whether you want BetVictor to contact you with details special offers, free bets and promotions (and opted in or out by selecting or deselecting the tick box).
Once completed, simply click on the green Create Account button and your account will be live within seconds.
Once you have logged in you will see your name and balance displayed in the top left hand section of the screen, together with the language you want the site displayed in (EN – signifying English).  You can opt to hide your balance if you prefer by clicking the hide button.
What you will now need to do in order to play poker on the site is deposit some playing cash into your account to kick start your bankroll.
2. Depositing cash into your BetVictor account
Once you have clicked on the Deposit button, you will be taken to the Account and Banking section of you account. Here you will find listed your account details, the balance of cash in your account, the bonus balance and any balance you have on your sports betting account with BetVictor.  Clicking on the Poker Wallet Get Poker Balance link will bring up your specific poker balance for your account.
To the right of this, is all your banking transactions, allowing you to deposit or withdraw cash to your general or poker accounts, transfer money and also a help section for those who are may require clarification on how to proceed with any of these transactions.
To deposit cash into your general account, click on Deposit (or if you only want to use cash for poker, you can click on Poker Deposit instead). Once you have clicked on that, choose your method of payment (there are many to select from including credit/debit cards, PayPal, Neteller, BACS and many more).
Once you have selected your preferred method of payment, you'll need to enter your financial details for your chosen method, such as your PayPal account details or your credit/debit card details. Finally, simply state how much you want to transfer into your BetVictor account and the transaction will be processed updating your account within a few seconds.
Don't forget about the deposit bonus at BetVictor
REMEMBER – BetVictor offer a 200% First Time Deposit bonus on your account, which is released in 10% increments as you gain playing points over the first 30 days of your account being in operation. If you plan to maximise your income from this offer, then you should make your first deposit as large as possible and play as frequently as possible during this 30-day period in order to maximise your bonus.
With cash now in your account, you are ready to take a look around the BetVictor Poker site and decide which of the large number of Sit n Go games, Multi Table Tournaments and Cash Tables that you would like to play.
Also remember to check out the new player incentives that BetVictor Poker offers to its new players. There are several freeroll new player tournaments held each week for the first six weeks of your membership that allows you to play for cash without risking any of your own. A great way to try and boost your bankroll if you are fortunate enough to win a prize.