If you are new to PokerStars Sports, or maybe a relative newcomer to the art of sports betting in general, then if there is one item on a site that you need to understand better than anything else,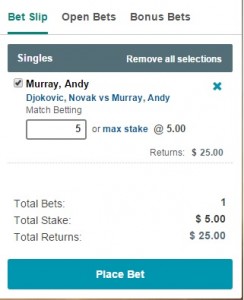 it is the contents and structure of your betting slip.
It is through this medium that you will place your bets and as such, it is vital you have a good understanding of what is included on a betting slip and the features available on it.
So this week, we are giving you a beginners guide to the PokerStars Sports betting slip and how it is used to make sports betting on the site quick and easy for all punters, regardless of the level of their experience.
If you are thinking of joining this new addition to the world of UK online sports betting, be sure to claim your PokerStars Sport welcome bonus before you create your new account.
PokerStars Sports Betting Slip
The first thing to note about PokerStars Sports betting slip is its location. It is located in the top right corner of the screen. However, if you log in and your screen is not full sized, you may need to expand the screen in order to locate the slip.
Once you have located where the betting slip is on PokerStars Sports (many other sites also have the slip in this location too) then you can begin to get to grips with the three different sections that make up the betting slip.
Bet Slip
The Bet Slip section is the first section of the whole Bet Slip, which admittedly isn't the best title for it as it could be confusing. In the Bet Slip section, all the selections you have added to the slip (by clicking on the odds as you peruse the betting markets available) will appear here.
As you add more selections, the slip will expand and in addition to showing all the single selection bets, underneath this list will be the full selection of multiple bets available based on the selections you have made. The more selections you make, the more multiple bets will be available to you.
When you have found the bet you want to make, all you do is complete the box with how much of your stake you wish to wager and then click the Place Bet button. PokerStars Sports will then process the bet and your bet will be accepted.
Open Bets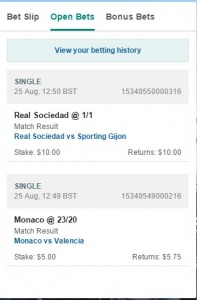 The Open Bets section of the bet slip lists all the bets that you have placed with PokerStars Sports that have not yet been finalised.
You can see here the bets you have placed, how much you have wagered and how much you stand to win if your bet is successful.
Of course, once a bet has been finalised and settled, the bet is then removed from this section of the bet slip, however you can still access any bets you have made from this section by clicking on the 'view your betting history' button at the top of the column. This brings up a list of bets you have made with PokerStars Sports that have previously been settled.
Bonus Bets
The final section of your Bet Slip is the Bonus Bets section. This is the section where any promotional offers or bonuses you have triggered when betting on PokerStars Sports (or if you receive a bonus bet from using PokerStars Poker or Casino) are stored and displayed.
However, unfortunately, you can't access the offers directly from this section of the betting slip. Only details about the offer available to you are displayed.
So if, for example, you have received a free $10 bet on a La Liga game, in order to use this bonus, you need to load up a list of La Liga games that are available on the PokerStars Sports site and select the bet you wish to make.
When you have selected this bet and added it to your Bet Slip, visit the Bet Slip section and underneath that selection you will see a blue tinged box which outlines the bonus bet available for this offer. Click this to activate the bonus bet and place it using your bonus cash.
Any bonus bets you place are also available to be viewed in the Open Bets section of the betting slip once you have placed them.
That in essence is how the betting slip on PokerStars Sports is used and in truth, it is very similar to most other betting slips used across a wide range of sports betting sites. Master how to use one and you should have no problem translating these skills across a wide range of online sports betting sites, both on desktop and via mobile.
Want to learn more about what PokerStars has to offer UK sports punters? How about a guide to multiple bet selections at PokerStars Sport UK?