Darts has really become a top quality sport and betting activity, particularly in the UK, the Netherlands and Australia, although its popularity is now transcending many other countries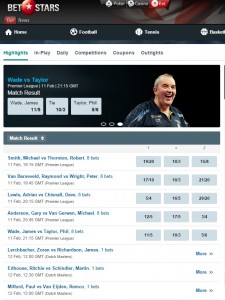 worldwide. Events such as the PDC World Darts Championship and the Premier League Darts have lifted darts into the sporting and betting mainstream.
Of course, any new betting site would want to ride on this wave of popularity to attract new punters. The question is whether sites like BetStars offer a darts punter a good deal?
BetStars Darts betting in focus
The good news is that this initial question is very easy to answer. Yes, BetStars provides its customers with plenty of excellent betting opportunities on a wide variety of Darts matches.
As you would expect, there is plenty of coverage of the top competitions in the world. These tend to be the PDC events, such as the Premier League Darts and similar and when a big event is on the horizon, BetStars have plenty of bets available throughout it.
What is especially pleasing however is that their coverage of darts does not just end there. The site will also offer betting markets on some of the lesser tournaments run around the world each week (including 'floor events' that are not televised, as well as some BDO events, plus a few BDO/PDC events too).
What this means is that throughout the Darts season, which is practically all year round nowadays, you can always find plenty of top quality darts betting at BetStars.
Popular BetStars Darts bets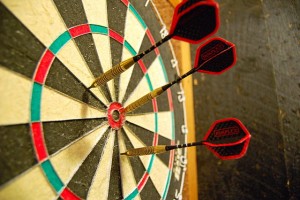 BetStars offers a range of different betting markets on Darts games, although the number of markets available does depend on how close the event is to taking place and how high a profile an event is. Bigger events, chiefly the big televised events, will have many more betting markets available (and In Play betting options) than lesser events.
All darts matches offered will have the win market available where you can bet on which player will win the match (or in the case of Premier League matches, there is a draw option available too).
Some of the other bets on darts available include.
Which player will win the First Set (with bets available for subsequent sets if there is In Play betting available)
The Correct Score of the first set
The total number of 180's that will be thrown in the selected match (this is usually an Over/Under bet rather than predicting the exact number)
The number of 180s that a selected player will throw in a match (again, this tends to be an Over/Under bet)
Which of the players will win the first leg of the game (and in In Play betting, you can often also bet on which player will win any of the subsequent legs played).
1st Set Leg Handicap bets. These are bets where a player is given a handicap (similar to an Asian Handicap) and if you back them and they still win the set with the handicap applied, then your bet will still win. However if they lose the bet with the handicap applied, even if they win the match, your bet loses.
Darts Accumulators
When there is a major darts event taking place, or it is one of the Premier League weeks, then one of the most popular ways to bet on games on BetStars is to place an accumulator bet selecting a number of players to win their game from the Match Result market.
Generally, the odds on a dart player winning are generally small, so backing several to win in an accumulator is a way for a punter to place a low stakes bet, yet still earn a decent return if all their selections win.
Given the wide range of bets available across a broad selection of competitions, BetStars Darts betting service has everything that a keen darts enthusiast would need to enjoy an outstanding range of betting on this hugely popular sport.