How would you like the chance to participate in an exciting new form of poker; one that rewards you every time you knock out one of your fellow opponents from the tournament in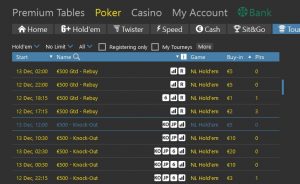 question? If that sounds like something you would like to try then you need to check out the latest addition to the Bet365 Poker tournament schedule, Bounty Knock-out Tournaments.
Remember, you can only experience these games if you are a Bet365 Poker customer. Joining is quick and easy to do by following the forthcoming link and signing up to snap up the latest Bet365 poker bonus code to ensure you get the best possible deal when you join.
So once you are a member and have logged in, what are you looking for and how do you play this new type of poker tournament at Bet365? Let's take a closer look to find out.
What is a Bounty Knock-out Tournament?
A Knock-out tournament on Bet365 is different from a standard tournament in that when you knock an opponent out of the event, you don't simply collect their chips and play on, but instead you receive a cash reward for knocking that player out of the tournament.
That cash reward is called a Bounty and each player that competes in an event starts it with the same Bounty on their head. The size of the bounty differs depending on the size of the total buy in for that event.
At Bet365, the Bounty is always the same price as the standard buy in (prize contribution) to the event and you still have to pay a tournament fee to play. So for example. If you enter a €500 Knockout tournament for a buy in of €10, then your breakdown of your fees for this event is as follows:
€1 in Tournament fees
€4.50 is your prize pool contribution
€4.50 is your buy in
€1 + €4.50 + €4.50 = €10 total entry
Once you have paid, you are ready to start the tournament when the starting time for the tournament is reached.
How does a Bounty Knock-out Tournament differ to a standard tournament?
The first big difference between a Knock-out tournament and a standard Bet365 Poker tournament is how your buy in is utilised. In a standard tournament all of your buy in (minus the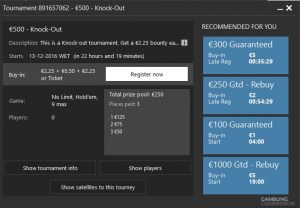 tournament fee) goes into the cash prize pool.
However, with a Bounty Knockout, half of your total buy in (minus the tournament fee) goes into the prize pool, but the other half of your buy in is placed metaphorically on your head and every other player also has the same bounty on their head when the tournament starts.
If you eliminate a player, then you not only boot them out of the tournament, but you also earn their Bounty, which means even if you don't progress too far in the tournament or finish in the cash prize positions, you can still earn a profit from it simply by knockout more than two players from the tournament.
With Bet365's Knock-out Tournament rules, if you reach the later stages of the tournament then in addition to all the Bounty prizes that you will claim as part of your run to this stage, you will also claim the usual tournament cash prize in addition to the Bounties you have earned.
If you can do this regularly, then the Bounty Knock-out tournaments can be a lucrative way to play on Bet365 Poker.
What skills do I need to thrive in a Bounty Knock-out Tournament?
One of the most important skills in this type of event is the ability for a player to know when to take on an opponent with a view to eliminating them and also when to avoid doing this if they could potentially be eliminated from the tournament themselves.
For example, if a number of players have gone 'all-in' on a single pot, then it is likely that you are going to be up against at least one premium hand and so if you don't have the stack to easily cover the bets of those who have gone all in, or if your hand is not quite as strong as what you believe your opponents to be, should you risk your participation in the event on this hand?
This ability to know when to take on opponents but also to know when to defer your hand and keep your chips under wraps until a future time when you have a better opportunity to take on opponents and win, is absolutely fundamental to being a good Bounty game player.
Of course, having a strong poker game, especially over a tournament format, is also a huge benefit if you want to achieve a higher degree of profitability in these types of games, but given that you are more likely to earn a profit if you can eliminate players, it is this ability to strike when the odds are most advantageous to you that will allow you to earn more from these types of events.
What stakes can I play for in the Bounty Knock-out Tournaments on Bet365 Poker?
Currently on Bet365 Poker, there are a number of different sized buy in Knock-Out tournaments with a guaranteed prize ranging from €200 up to €1,000.
The range of buy ins you will typically find available on Bet365 Poker are as follows:
Remember the amount shown above is the total buy in and 10% of the amount shown is a tournament fee, with 50% of the remaining cash being your prize pool contribution a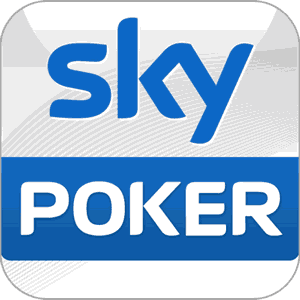 nd the remaining 50% of cash being your Bounty you have on your head in the tournament.
Do any other poker sites offer similar Bounty-style games?
If you enjoy this form of the game and want to play a similar style of tournament then it is worthwhile checking out the different types of Bounty Hunter games that you can find on Sky Poker too. These games operate in a similar way to Bet365 Knock-out games.
The main difference is that at Sky Poker, your Bounty money is allocated differently when you claim a bounty by knocking out an opponent. At Bet365, you claim the stated amount from the player and this money is added to your account.
At Sky Poker, half of the players Bounty is added to your Sky Poker account and half of the Bounty is added to the bounty on your head. This means more successful players have a higher bounty on their head and as such, they are more attractive to try and eliminate to players that remain in the tournament.