One of the easiest mistakes any new customer to any sports betting, poker or casino site can make, is not getting the best possible value out of their new player offer.
Not only is this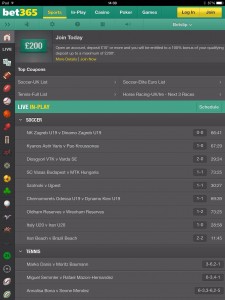 annoying when you eventually realise, it could cost you a lot of money, especially if you repeat the same mistake at several different companies.
First off, let's start by examining the basics of what a new player offer is. The answer is very much in the name, it is an offer that the company uses to entice people that are not customers of their site, to join up and start playing with them.
These offers can take many different forms.
Some sites offer a (usually small) no deposit bonus so you can trial the site for free before investing your own money (Sky Casino is a good example of this).
These are generally rare though, especially on sports betting sites. Instead, many sites offer users a chance to receive either a cash bonus, or a free bet to a stated value, once they have deposited a certain amount with the site and/or placed their first bet of a stated amount.
Of course, clarifying these issues is much easier using an example, so we are going to use the current Bet365 Sports new player offer as the focus for this article for two reasons.
Firstly, it is a great offer for new players to consider and secondly, it is certainly one of the best deals for one of the best sports betting sites you will find in the UK today, whether you choose to access it from your desktop, iOS device, or Android tablet or smartphone.
The Bet365 Sports new player offer
Receiving a Bet365 new player bonus is relatively straightforward. Once you have registered with the site, you need to make a deposit of at least £10 to qualify for a 100% matched bonus (up to a maximum of £200).
What this means is that for any deposit into your account of between £10 and £200, Bet365 Sports will give you the same amount of money again for you to bet with on the site. However there are some important terms and conditions to go along with that (full terms and conditions are detailed at the bottom of the page).
They significant terms and conditions to remember are that:
You must bet the full amount of your first deposit in order to release your bonus funds for you to bet with.
You can only withdraw your cash or money raised from your bonus cash when you have settled bets of three times the qualifying bonus plus your deposit.
Any bets with odds of less than 1.2 (1.50 in decimal odds) do not count towards lifting the requirements in the point above.
You have 90 days within which to meet the withdrawal requirements otherwise any bonus cash remaining in your account will be forfeited.
Once you have opened your account, Bet365 Sport will send you a ten digit offer code by email, ending in NCDB2.
To accept the offer, when you make your qualifying first deposit simply enter the 10-digit code you have received from Bet365 Sport and you will activate the offer on your account. You must enter this offer code within seven days of receiving it after making your deposit otherwise the offer code will expire.
Once you have then bet through the amount of your first deposit, you will then receive your bonus cash which you can choose to bet with on a huge number of sporting markets across Bet365 Sport.
Maximising your Bet365 Sports UK bonus
The key to maximising your Bet365 Sports bonus is to understand that the value of the bonus hinges on the size of your first deposit. So if you wanted to realise the maximum £200 under the terms of the offer, then you would have to place a first deposit of £200.
Now, if you have that sort of money available, then it is well worth taking full advantage of the offer. As this will give you £200 worth of bets completely free. However, if you can't afford that sort of deposit, then you should try and deposit the maximum amount you can afford over the £10 minimum limit to ensure you get the most bonus cash as you can.
Remember though that once you have deposited your cash and activated the bonus, you then need to use up your initial deposit by betting with it on the Bet365 Sports site.
So, if you deposit £200 to release a £200 new player bonus, you then need to place £200 worth of bets in order to release the bonus.  Remember, as per the terms and conditions, any bets below odds of 1/2 do not count towards the offer, so remember that when selecting your markets.
Once you have placed the bets, your bonus will now be activated and you have 60 days within which to bet through your bonus, plus your deposit, three times. So if you deposited £200 and received a £200 bonus (£400 in total), you would need to place £1,200 worth of bets within 60 days in order to release any funds raised .
The key to maximising the bonus is depositing as much as you can initially, betting through your deposit and then accessing your bonus cash.
Of course, you can bet wisely with your cash to try and maximise the chances of you getting a return on any bet, but remember the odds requirements of at least 1/2 for qualifying bets.
Is the offer for new Bet365 customers only?
Finally, one important piece of information for all Bet365 Customers is that if you have already joined one of Bet365's other sites (Bet365 Poker, Bet365 Bingo, Bet365 Vegas, Bet365 Games or Bet365 Casino) and activated a new player bonus on that account, then the great news is you can still receive this Bet365 Sports new player bonus.
All you need to do is wait until any current bonuses on from any Bet365 site on your account has finished and when you have no bonuses running, you can activate the Bet365 Sports new player bonus, even if you are already a Bet365 customer.
Furthermore, if you join Bet365 Sports, once you have completed the new player offer for Bet365 Sports, you can activate another new player offer on any of the other Bet365 sites. Which means you get the chance to activate many different bonuses over time.
This is one of the best features of the Bet365 family of sites and it is very rare for a multi-platform site to offer more than a single new player bonus to players.
Want to take your Bet365 Sports knowledge to the next level? Read our guide to acca bets on Bet365.