Like all of the top betting sites you can find online, Bet365 Sport is always on the lookout for ways to improve its service to customers. That can come by renewing promotions, offering additional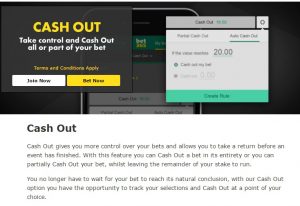 markets or new types of bets on current markets. More rarely, it can also come by introducing some brand new features that can make betting with the site even more enjoyable and that is precisely what has happened.
Over the last few weeks, Bet365 has rolled out a couple of brand new features for sports betting punters to utilise on the site. They are the Auto Cash Out and Edit Bet features and in this article, we are going to look at what each of these are and how they work so that you can start using them straight away.
Let's begin by taking a look at arguably the simplest of the two features to understand, the Auto Cash Out option.
Auto Cash Out
A while ago now, Bet365 introduced a method by which a punter could place a bet and then before the result of the bet was known, cash the bet out for the stated price. This was known as a Cash Out and you could either cash out your full bet, or partially cash out a percentage of the bet, allowing the remainder of your original stake to run on the bet until it was finalised.
This is a great option for punters as it allows them huge amounts of flexibility over their bet, but there was a slight problem experienced by a few people and that was, to cash out you had to be online and logged in to your account to process the transaction and for some players that wasn't always possible.
So these punters would have a dilemma, even if they wanted to cash out their bet because the cash offer had reached a certain level, they wouldn't be able to as they had to be on site in order to authorise the transaction.
What was needed was a facility whereby a punter could set up a rule, where if the cash out offer on their bet reached a certain level, then the bet would automatically be cashed out for them and that is precisely what the Auto Cash Out feature offers for punters.
Setting this up on your account for a bet is very easy. Simply create your bet as you ordinarily would at Bet365 and then place it. Once the bet is active and you have a Cash Out amount displayed, click on the cog to the right of the Cash Out amount.
This opens up a new form in which you will have a "If the value reaches" section. In this section enter the amount you would like your bet to be cashed out at. Once you have entered an acceptable level, you then click Create Rule. Once clicked, the Auto Cash Out amount is applied to your bet and when it reaches that level, it will automatically be cashed out for you, even if you are not logged in to the site.
Better still, you can even use the Auto Cash Out feature to partially cash out a percentage of your bet, allowing the other part of the bet to run to completion if you choose. This new feature offers punters even greater flexibility and choice when using the Cash Out feature with Bet365 Sport.
If you would like more details on the Auto Cash Out option then click on the previous link to bring up Bet365's official page on their new feature.
Edit Bet
The new Edit Bet feature is available on unsettled accumulator bets with Bet365 Sport and in general, it allows punters the flexibility to either add or remove selections from their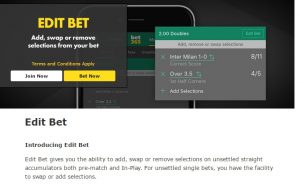 accumulator bet either before the event, or while some or all of the selections on the accumulator are in play.
The feature is available when the Cash Out option is available for all the unsettled selections within your bet and before the outcome of the bet has been determined. What this means in terms of an accumulator bet is that even if some of your selections for that bet have already been settled, you can edit the bet to change it from your original selection, provided the bet has not been settled in full.
Using this feature on Bet365 Sport is very easy. Once you have placed a qualifying accumulator bet, visit the Cash Out tab and find your bet. Ensure that it has a Cash Out option available and if it does, you should be able to click on the Edit Bet option in the top right hand corner of the bet slip.
To edit the bet you have three available options:
Add a Selection – Clicking on this will take you to the home page in a popup and from here you can add one or more selections to your bet. Additional selections are added to a temporary bet slip within the pop up and the returns amount will also change to reflect the bet. Once you have all the selections you wish to add, click the Add to Bet button to add them to the current bet slip. All you then do is click Save Changes and Confirm in order to submit the Edit Bet request.
Swapping a Selection – Clicking on this will allow you to select one or more items from the current bet that you want to swap out. Once you have selected these, then you are presented with a list of options from the same market that you can swap them for. Once finished, select Done and then Save Changes and Confirm to complete the swap.
Removing a Selection – This is simple to complete as you can remove a selection by clicking on the X to the left of the selection. If you make a mistake and remove the wrong selection, clicking Undo will bring the selection back into the bet. Once again, when you have removed all the selections you want, click Save Changes and Confirm to submit the Edit Bet request.
Both the Edit Bet and Auto Cash Out features will enhance punters ability to use the Bet365 Sports betting site greatly, while adding additional flexibility over how they bet and who they bet on. Why not try both these features right now at Bet365 Sport today?